The 1980s produced some totally radical slang terms. If prompted, almost anyone in Generations X or Y can spout off their own concoction of half-surfer dude, half-valley girl lingo. (No duh! That's gnarly! Psych!) Though these terms were rampant in PG-13 movies of the 1980s, they didn't make an appearance in children's books or standard preschool television fare such as Sesame Street or Reading Rainbow. My first exposure to this tubular way of talking was through four animated turtles named for famous Italian Renaissance artists.
The Teenage Mutant Ninja Turtles (or TMNT) made their world debut in a 1984 comic book, which was originally intended to parody the genre. But the illustrated adventures of Leonardo, Donatello, Raphael, and Michelangelo soon gained quite a following, and a licensing agent realized the marketing opportunities ahead. In 1987, Playmates Toys, Inc. received the license to develop a line of action figures based on the sewer-dwelling comic book characters. In December of that same year, the Teenage Mutant Ninja Turtles animated television series debuted.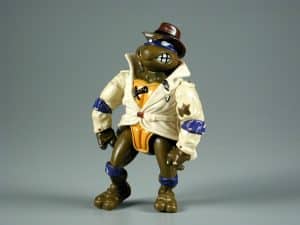 Catchy theme song? Check. Mass appeal to both boys and girls? Check. Snappy dialogue replete with contemporary slang? Check and check. Despite a downturn in the sale of action figures in the mid-1980s, Playmates' decision to launch a TMNT product line was a lucrative one. A December 1989 Playthings magazine article noted that more than $43 million in TMNT-related merchandise had been sold by Playmates since the previous summer. The plastic action figures showed the Ninja Turtles not only in their, er, birthday suits, but also in various costumes. By 1990, the pizza-loving, crime-fighting Ninja Turtles were the number one action figure line in America. Cowabunga!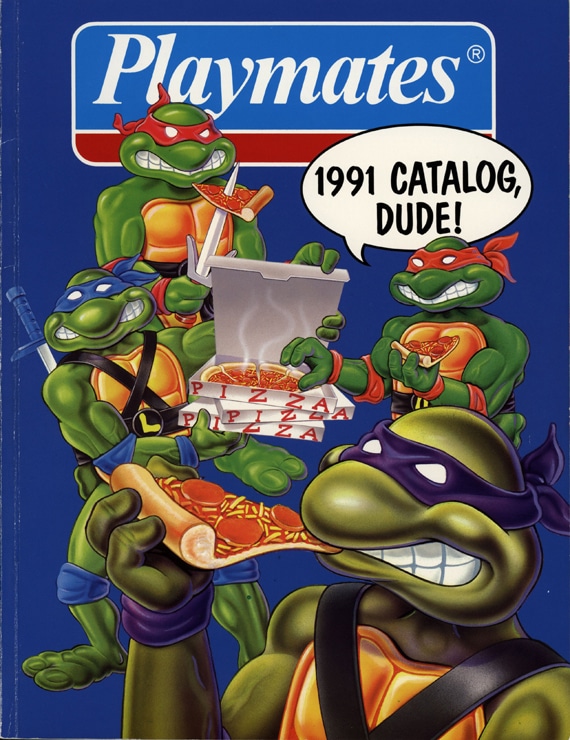 The images of Leonardo, Donatello, Raphael, and Michelangelo were ubiquitous, appearing in video games and on clothing. But they even showed up in places you wouldn't quite expect. TMNT partnerships emerged with fast-food companies, pizza chains, and cereal brands. The Brian Sutton-Smith Library and Archives of Play holds the Garth Parker toy design papers, which document the career of American product designer Garth Parker. Within these archival materials are sketches for giveaways by Ralston-Purina's Teenage Mutant Ninja Turtles cereal, including color-changing mugs, spoons, and bowls.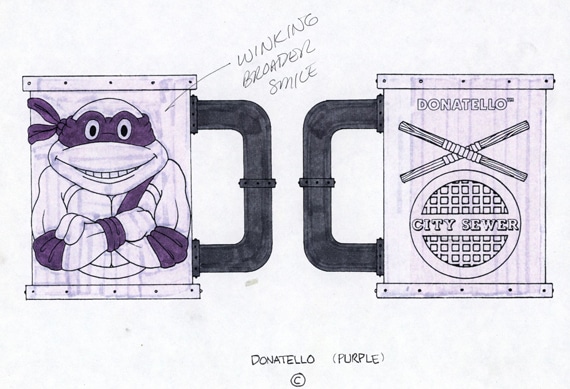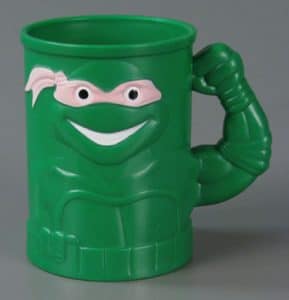 The Turtles invaded our snack cupboards as well; I clearly remember the Hostess Ninja Turtles pudding pies (which had a green-tinged sugary crust filled with vanilla custard) and the Farley Ninja Turtle Fruit Snacks. Thanks to the popularity of the TMNT brand, those four characters collectively dominated the pop culture landscape for the greater part of the early 1990s.
The Teenage Mutant Ninja Turtles have been rebooted several times since their original animated series ended in 1996. They may have received a makeover or two along the way, but the Turtles, now owned by Nickelodeon, are still practicing the art of Ninjitsu. In 2013, the Teenage Mutant Ninja Turtles "Shellraiser" playset by Playmates even won the "Boy Toy of the Year" from the TOTY Awards. I'm glad that today's kids can still experience the bodacious action stories and TMNT merchandise of yesteryear. That's totally awesome, dude.