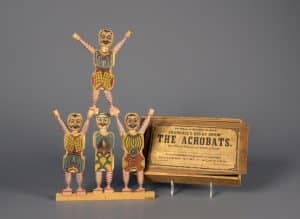 Last fall, The Strong's National Museum of Play began to look anew at some of the dolls, games, toys, and other playthings originally catalogued and photographed more than 30 years ago. Since that time, historians and collectors have added to the museum staff's knowledge of how these toys were made, marketed, and played with. Studying these playthings again lets curators apply the latest research and become reacquainted with some of the wonders of the collections.
In working on this project, I recently encountered a number of toys made by Charles M. Crandall, a 19th-century toy maker and inventor who worked in Pennsylvania and New York. Crandall started as a youngster in his father's woodworking and furniture business.  When his father died in 1849, he took over the factory. He was just 16 years old. Eventually, Crandall transformed the operation to making toys exclusively.
Crandall applied fastening techniques he learned in carpentry to the wooden toys he invented. The tongue-and-groove joint, for example, replaced nails in the first building blocks he made. Other tongue-and-groove toys soon followed. Crandall combined the novelty in woodworking technology with the whimsy of a kid at play, which led to some pretty fanciful toys.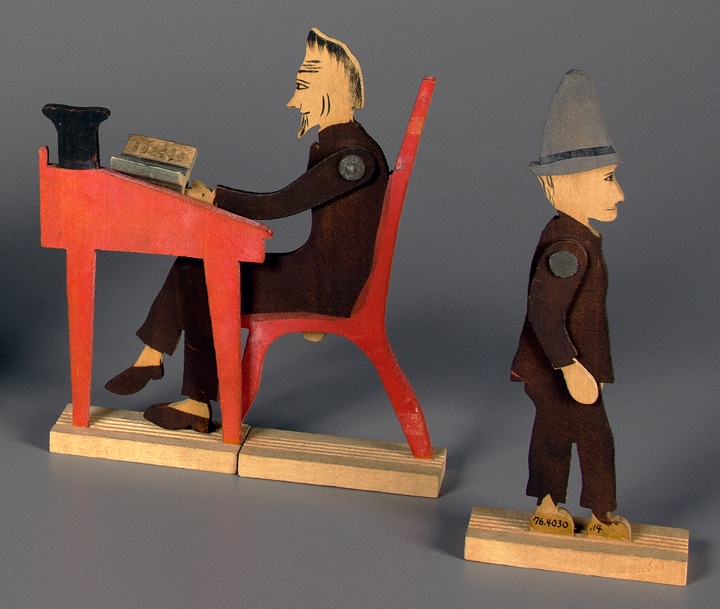 Take, for instance, his District School figure set: the figures of students, the schoolmaster, and assorted animals had moveable arms and grooved feet that fit into platforms. Assembling the figures helped youngsters develop manual dexterity and hand-eye coordination. And the play set not only warned them about the stern-looking teacher they would need to please when they started school but also what would happen to them if they did not.
To help children learn the alphabet (and thus avoid wearing the dunce cap when they got to school), Crandall offered Wide-Awake Alphabet figures designed to make learning fun. The play was in assembling the little men, each with a square body that bore a letter of the alphabet. The box of the play set promised (no doubt to parents' relief): "No more long faces over ABC. Amusement and Instruction combined."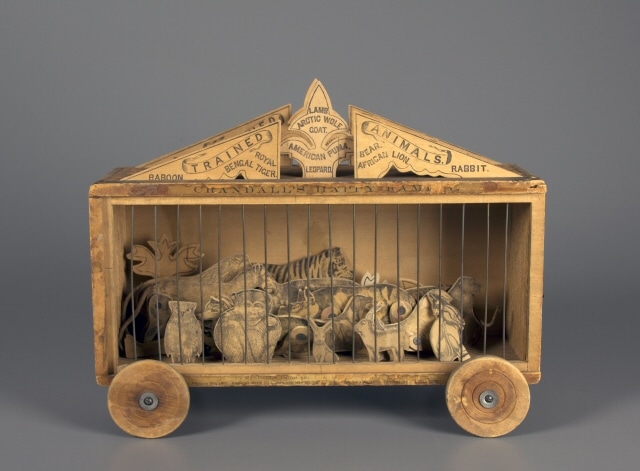 Popular entertainment inspired other Crandall play sets. Crandall knew that many people loved the circus, and his Acrobats set exploited its popularity. Promotional copy on the wooden box used humor to sell the set: "Crandall's Great Show. The Acrobats. Full of Fun and Frolic, and Most Brilliant in Costume. Will Exhibit at the House of the Purchaser Afternoon and Evening. No Postponement on Account of Weather. Matinee Every Morning. Admission Free, Children Half-Price. Patented Feb. 5th 1867." Yet another set, Crandall's Happy Family, depicted a circus wagon filled with the animal stars of the "Big Top."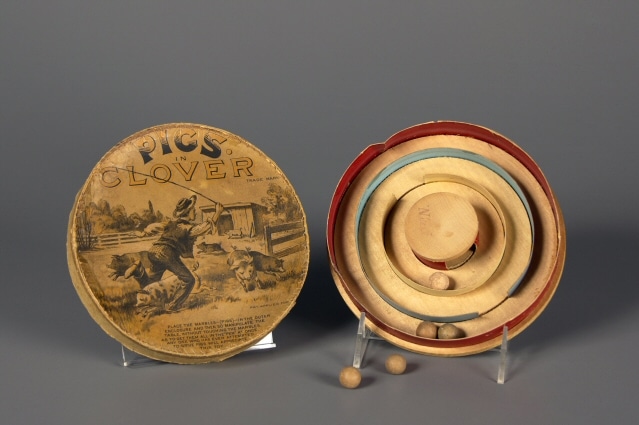 Crandall also made toy pianos and croquet sets, and in 1889 he filed patent papers for a game he invented called Pigs in Clover. These days we would call it a ball-in-a-maze puzzle, in which the player tries to manipulate one "pig," (a marble) into each set of concentric circles. Pigs in Clover became incredibly popular. A production run of 8,000 games per day could not keep up with demand. New York newspapers reported that the game captivated members of the royal court in Britain and that members of the United States Senate ignored their duties for hours while they worked on the puzzles.
Many playthings of today reflect elements of Crandall's toys, although it is hard to imagine today's members of Congress playing with them. (But on second thought, it might be a good thing if they did.) Some wooden toys and building sets available today recall the simplicity of Crandall's toys of old—all about assembling pieces and building figures and structures. And many of these modern mimics of Crandall creations also impart learning, sharpen motor skills, and encourage kids to use their imaginations, just as Crandall's did more than 100 years ago. Good play never gets old.