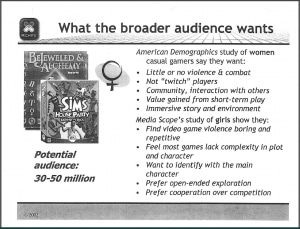 Since 2017, The Strong has directed significant energy toward our Women in Games initiative, which documents and celebrates the crucial contributions of women to the electronic games industry. Under the International Center for the History of Electronic Games (ICHEG), the initiative builds upon the holdings of museum artifacts and archival records which illustrate the impact of women in the field. (If you attended the Women in Games: Inspire! or Women in Games: Create! programs in 2018 or 2019, you experienced some incredible discussions with innovators and leaders such as Brenda Laurel, Megan Gaiser, Sheri Graner Ray, Bonnie Ross, Amy Hennig, Kellee Santiago, and Jacinda Chew, among others!) The museum's archives are constantly acquiring new collections, and we were especially delighted with a recent donation by renowned video game designer Jane Jensen.
Jensen is best known in the games industry for her Gabriel Knight series. After graduating from college, Jensen initially worked as a software engineer for Hewlett-Packard but was soon hired as a staff writer at Sierra On-Line. Jensen worked on documentation and dialogue for several games at Sierra before co-designing King's Quest VI: Heir Today, Gone Tomorrow with Roberta Williams. In 1993, Sierra published Jensen's first solo game, Gabriel Knight: Sins of the Fathers, a point-and-click adventure game about a bookstore owner and horror novelist who investigates a series of local murders. The game received high praise from game reviewers, as well as the greenlight for a sequel at Sierra. Jensen recognized the importance of developing games that would be popular with women and older gamers, as well as the conventional audience of young males. She noted that a good storyline was vital to attracting a wider range of game players.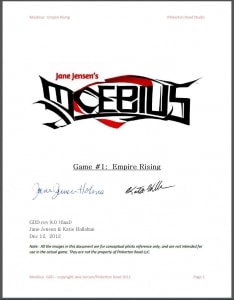 The Beast Within: A Gabriel Knight Mystery was released in 1995, produced entirely in full motion video; Computer Gaming World  magazine named it their game of the year in 1996. Jensen's strong writing skills and exciting game design cultivated a loyal fan base. The following year, Jensen began designing the third Gabriel Knight title (ultimately the final adventure game to be published by Sierra). Over the next decade, she continued developing games for various companies, including Oberon Media and Zynga. In 2012, Jensen and husband Robert Holmes established Pinkerton Road Studio to focus on graphic adventure games. They announced a project on Kickstarter to fund the development of two games; following a successful campaign with more than 5,000 backers, Pinkerton released their first games—Moebius: Empire Rising and a 20th anniversary edition of Gabriel Knight: Sins of the Fathers—in 2014. (For more on Jensen, check out Anastasia Salter's book Jane Jensen: Gabriel Knight, Adventure Games, and Hidden Objects.)
The Jane Jensen papers are a compilation of game design bibles, scripts, and other documentation on games written and designed by Jensen. They make an excellent addition to our considerable information on Sierra On-Line in the Brian Sutton-Smith Library and Archives of Play. These materials demonstrate Jensen's exciting career—and hopefully can give aspiring game designers some insights for the future of gaming.