Barbie has raised eyebrows since her debut at the 1959 Toy Fair. Modeled after the German Bild Lilli novelty doll, Barbie provided girls a playroom outlet for their dreams and aspirations. Inventor Ruth Handler knew that girls wanted to play at more than being a mother to life-sized baby dolls, but Mattel executives were skeptical. In the end, Handler was right and had the sales numbers to prove it. Little girls all over the country wanted to play at being a grown-up.
The fact that Barbie was a blonde-haired, blue-eyed grown-up with a full bust and tiny waist soon drew the ire of the second wave of the women's movement in the 1960s. Barbie appeared to present the societal standard of the pretty, vapid model of what all girls should strive to be—namely, easy on the eyes, obsessed with fashion, and white. She appeared to represent everything that the feminist and the black empowerment movements were fighting against—a perfectly-packaged bogeyman.
In reality, Barbie advanced from teenage model to fashion editor in just a year, became a registered nurse in 1961, an executive in 1963, an astronaut in 1965, and a surgeon in 1973. She was available as a blonde, brunette, or redhead as early as 1961. Additional "friends" with different hair and skin tones appeared soon after Barbie's debut as well. Christie, her first African American friend, appeared on the scene in 1968. Julia appeared in 1969, capitalizing on the popularity of the television series of the same name, starring Diahann Carroll as a single mother working as a nurse in the aerospace industry. By the 1980s, the Barbie product line was respectably diverse, and the "bimbo" had explored nearly 40 different careers.
In addition, girls had been busy with scissors, markers, and tiny curlers making Barbie and her friends look more like them, or like who they wanted to grown up to be, for decades. In the playroom, Barbie could be whatever or whoever a little girl wanted her to be—either by sheer force of imagination or through clever ingenuity. Barbie's body and personality have a long history of being "hacked" for both personal and political motives.
Despite running for president in 1992 (this election year she runs on an all-female ticket), Barbie stirred up old feelings that she was not the best role model for young girls with the debut of Teen Talk Barbie. The talking doll with pre-programmed phrases (including "Math is hard!") was met with fervent opposition from the American Association for University Women. Mattel apologized, dropped the offending phrase from Barbie's repertoire, and offered to replace the dolls at no charge to offended customers. The Barbie Liberation Organization (BLO), an anonymous group of nonconformist artists, took the protest a step further. The BLO believed that the talking Barbie and G.I. Joe indoctrinated young children into strict gender roles and that the pre-recorded phrases of talking doll variants were sexist. The group's members purchased numerous Teen Talk Barbie dolls and G.I. Joe action figures from toy stores in order to switch their voice boxes via "surgery." The BLO then returned the toys to the shelves of toy stores in time for the 1993 holiday season. On Christmas morning, surprised girls heard Barbie's gravely voice say "vengeance is mine," while boys heard G.I. Joe gush that "the beach is the place for summer!" Product inserts with Mattel's contact information had been edited to include the phone numbers of media outlets in order to spread the BLO's message. The Strong acquired the Barbie Liberation Organization Collection in 1994. The collection includes the top secret "deployment" instructions for BLO operatives and tapes of news segments about the voice box switch operation.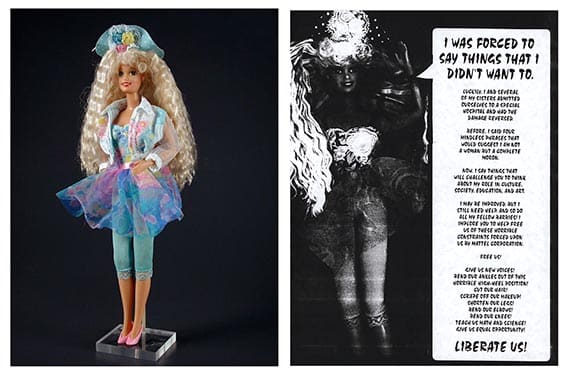 In 2010, Mattel made another misstep that inspired a subversive response with Barbie: I Can Be a Computer Engineer. The story, packaged as a two-in-one book with I Can Be an Actress, had remained largely unnoticed until a 2014 blog post detailing its sexist content went viral. In the story, Barbie fumbles through creating a computer game. She infects Skipper's computer with a virus along the way and needs to be saved by her male friends. Mattel apologized and pulled the book from publication. But, again, the legion of Barbie fans hacked their way to a more satisfying conclusion. Feminist Barbie Hackers sprang to life, asking people to submit improvements to the story. Doctoral student Casey Fiesler took it upon herself to rewrite the entire book. Subtitled "The remix! Now with less sexism!", Fiesler's creation turns the story on its head and into a greater lesson about sexism in the world of science and technology.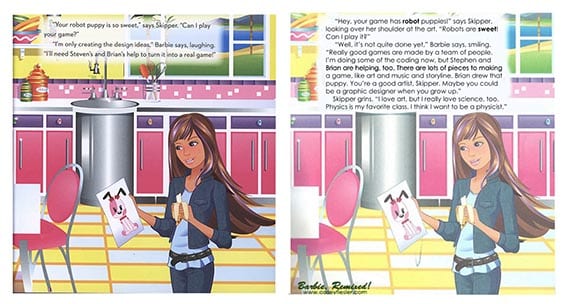 Tools for changing Barbie's physical appearance have expanded from just scissors and markers to online tutorials on how to give your Barbie "makeunder" by removing her makeup, how to give her more natural ethnic hair, and how to properly do a "head swap." The resurgence of crafting and DIY culture has made Barbie more adaptable than ever.
This year Barbie came to the rescue when Hasbro—which either by an assumption that boys and girls would not welcome a female action figure or through over-zealous spoiler protection policies—failed to produce enough Rey merchandise for the resurrected Star Wars movie franchise. Rey, played by Daisy Ridley, is the main character of Star Wars Episode VI: The Force Awakens. She is mechanically inclined, a natural with a light saber, highly relatable, and until late spring of this year, very hard to find in toy form on store shelves. Social media was ablaze with the "#WheresRey" hashtag and the frustration that there would be no Rey under the Christmas tree for many kids. Hackers sprang into action: the STEAMLabs Community Maker Space in Toronto hosted a Rey Doll Hackathon in February 2016. Participants—young and old, male and female—met to transform Barbie "into a kick-butt Force-filled space warrior."
In a similar vein, Teen Services Librarians at the Vancouver Public Library hosted a Barbie Bod Mod program aimed at addressing societal ideals, body image, and gender identity and celebrating diversity. Teens worked to "mod" old Barbies as they read and discussed books on feminine ideals, racism, and LGBTQ topics. The program culminated in a fashion show and celebration of the teens' modified dolls.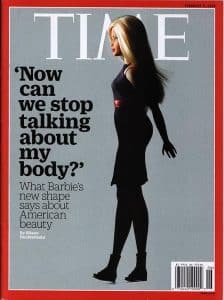 And 2016 has also been a big year for Barbie. In January, Mattel launched a new "realistic" Barbie line featuring three new body types: curvy, tall, and petite. Girls can pick from 24 new hairstyles, 18 eye colors, seven skin tones, and four body types (the original plus the three new body types). In February, Barbie's re-proportioned curves appeared on the cover of Time magazine asking us "Now can we stop talking about my body?" With more than 150 careers to her name, she has been fertile ground for girls' imaginations and for a greater discussion of women in our culture for 57 years. Maybe it's time we focused on her possibilities and not her appearance.