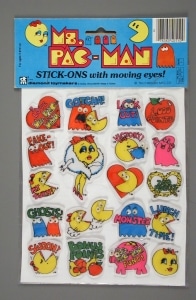 Like many of us, I can fondly recall receiving the occasional sticker on a test or assignment as a young student. The excitement of seeing a shiny gold star or other shape firmly affixed to the top of a sheet of paper never seemed to get old. Occasionally, one of my teachers might have extra fanciful stickers, such as the slightly foamy variety, that depict anthropomorphic figures, some even with googly eyes that would roll— easily my favorite. Not only were the stickers positive reinforcement for a job well done, they were entertaining!
Beyond the periodic teacher-issued sticker, I never got into stickers that much,  at least not like my friends who collected them. I suppose I was unsure what to do with all those stickers once they had been procured from parades or the dentist's office, or even the 25-cent vending machines at our local Grand Union grocery store. Do I actually stick them to something or save them? How and where does one effectively save stickers? If I were to stick them on something, what should I choose? Stickers are, after all, kind of a one-shot deal and what if I picked the wrong thing?! With too many questions and zero answers, I decided stickers simply were not for me. Bookmarks or funny 3-D erasers, they were fun and functional with far less pressure. As an adult, I'd watch my toddler niece enthusiastically gather stickers whenever and wherever she could and then immediately adhere them to her clothes, her face, her sunglasses,  even her shoes, all without a care in the world. I found myself worrying that she might later regret having been so carefree, so full of gusto. She was three. I was 30. That was when I realized that maybe—just maybe!—I should ease up on my sticker concerns.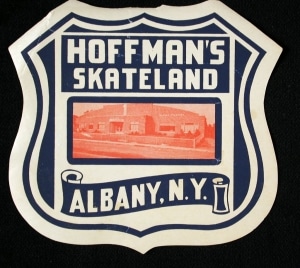 In high school, a friend told me her dad had saved the Dole stickers off his lunch banana every day for 20-plus years and firmly adhered them inside his metal lunch box. The result was a mesmerizing collage of hundreds of tiny, identical stickers that seemed to take on a life of their own. The notion that a seemingly gruff, gray-haired contractor had a soft spot for stickers still delights me.
Produce stickers aside, there seems to be a renewed interest in stickers these days, and more so among adults. We see them adhered to cars, laptops, cell phones, and every other surface imaginable, acting as tiny windows into the lives of others, revealing interests, hobbies, senses of humor, and more. Love podcasts? There's a sticker for that. Completed a marathon or half marathon? There's a sticker for that too. Hate running and never completed a lengthy run? There's even sticker for  that! (It reads "0.0, I don't run.") Travel, movies, animals, colleges, cities, states. The list goes on and on. Election years always seem to generate an abundance of stickers, and this year was no exception.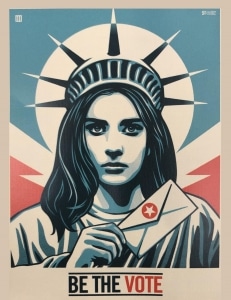 Think you might be in the market for a great sticker or two? Thanks to online sites like Tee Public, Red Bubble, Etsy, and many others you can browse from the comfort of your own home and support the artists around the globe who create them. 
During this most unusual year, my husband and I have unintentionally found ourselves browsing and buying stickers, as a sort of  inexpensive pandemic hobby during all those hours at home. As a result, I can now say not only do I understand the appeal of collecting stickers, but I consider myself a proud enthusiast and avid collector. In just a few months, we've managed to build a great little collection. Now if only we could decide on where to put them.