Shopping. Chances are that word triggers a sensation of either joy or dread in your brain. Love it or loathe it, shopping plays a pretty hefty role in most of our lives, whether it's a quick trip to the market for some essentials or a day-long event to find that one perfect item. Regardless of your shopping style—necessity or hobby—it's hard to ignore that shopping represents a large part of our everyday culture, including how we play.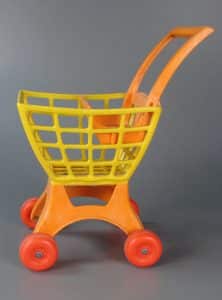 At The Strong, one the most popular exhibits is Wegmans Super Kids Market, where guests of all ages can shop to their heart's content, filling tiny red carts with realistic produce, canned goods, dairy items, and more. I find it fascinating to see what snacks our tiniest guests select for their carts, although I've yet to figure out whether it's based on visual appeal or actual palate-pleasing qualities. The first time my niece visited the museum as a toddler, she spent the better part of an hour in the exhibit, filling and refilling her cart with a single item: cheese. In her case, I know that decision was based solely upon her love of the food and nothing more.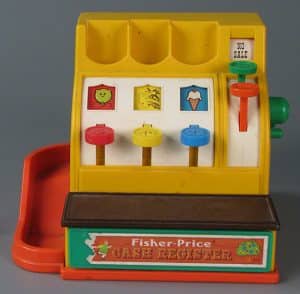 Although most of us don't have such an elaborate market at home, many of us have (or had) a toy shopping cart. Toddlers in particular seem to enjoy filling and refilling these popular toys, tossing in whatever strikes their fancy depending on the day. A cart at home presents the option of whole-house shopping with so much more than food to choose from. How about mom's shoes or your sibling's favorite teddy bear? Whatever the items, children seem to delight in making their own decisions about what goes in the cart. After they make their choices, and it's time to cash out, a toy cash register proves to be equally entertaining. Buttons, levers, and opening drawers make for an exciting finale to the shopping experience. Unfortunately, most toy registers don't offer receipts, so choose wisely because it seems all sales are final in this scenario.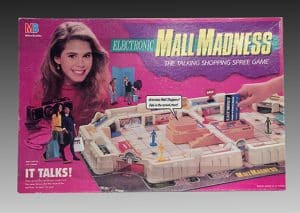 In 1989, Milton Bradley introduced Mall Madness, an electronic shopping game for kids of a slightly older crowd. With the appeal of your own credit card and the goal of making a purchase from each of the stores in its 3-D mall made of plastic and cardboard, the board game was an instant hit, particularly among pre-teen girls of the late 1980s and early 90s. Admittedly, I was one of these girls and even now, whenever I find myself in the presence of that large pink cardboard box in The Strong's Game Time! exhibit, I am filled with shopping nostalgia.
As adults, good shopping skills can prove useful, especially if you are a contestant on a game show. Possess a broad knowledge of price points for everything from soap to cars? You'd likely do well on The Price is Right, an American game show first popularized in 1972 and still broadcast Monday through Friday. If you're an efficient grocery shopper who can maneuver through the aisles with ease and speed and solve a good riddle, you'd have been a shoo-in for Supermarket Sweep, which aired from 1990–2003.
Regardless of how we play shop, the activity is useful in helping us learn how to make decisions (often needs versus wants); how to find or obtain what you need (or want); and how to utilize your available financial resources to acquire it. Of course, shopping tots don't realize they are learning as they play, so if you were to ask a tiny Wegmans Super Kids Market guest what they are doing, you would likely elicit a simple and direct response like "shopping" … or "buying cheese."