In 2006, when we began our efforts at The Strong to preserve the history of video games, we knew we were onto an important subject, but we did not truly foresee the vast array of challenges that we would face in preserving video games. Over the years as we founded the International Center for the History of Electronic Games (ICHEG) and grew our collection to more than 60,000 video games and related objects we've learned quite a bit about how to care for these materials. That is why it is so exciting that, as part of The Strong's upcoming expansion, we will open state-of-the-art laboratories dedicated to the preservation of video games, facilities made possible in part by a recent generous donation of $100,000 from the Killian J. and Caroline F. Schmitt Foundation, Inc.
The basic challenge of video game preservation is inherent to the medium itself, for unlike analog objects, video games operate through digital software that must exist on perishable platforms. Sometimes these platforms are physical. Arcade games, computers, consoles, electronic toys, handheld games, and smartphones all make electronic play possible, but each platform presents unique preservation challenges, with lifespans that can often be measured in decades, not centuries. Furthermore, these physical devices are often married to digital platforms such as cloud-based servers whose long-term survival is even more uncertain, in part because they are controlled by companies who may choose to shut them down in the future. The three interconnected laboratories that we are building as part of the museum's expansion will help us tackle these long-term digital preservation challenges.
The first area in the new space—the Arcade Game Conservation Lab—will be a conservation facility for our coin-op collection. It was with arcade machines that we first confronted the challenges of video game preservation. In 2009 we acquired 114 arcade video games and decided that we wanted to let guests play many of them. So we had to establish processes and procedures for determining which games could withstand the rigors of use and how we would go about preserving them. To that end, we brought on staff an arcade technician who works under our director of conservation to make these games playable while also caring for them in accordance with best museum practices for conservation and in ways that maintain their historical integrity.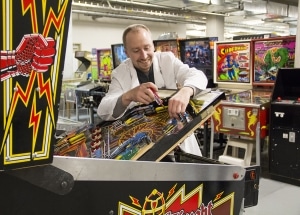 The tasks required to maintain an arcade game are many and various. At the most basic level, we need to ensure they are safe to operate, something that often requires correcting previous owners' unsafe modifications and hacks. The work involved in doing this is highly variable: assessing circuit-boards' functionality, replacing chip-sockets, reflowing solder joints, replacing capacitors, rejuvenating cathode ray tubes on raster monitors, and updating original power supplies with linear power supplies that provide more stable voltages. Much of the work also involves caring for the physical cabinet, from stabilizing and reinforcing original particle board structures to retouching paint, rejuvenating graphics, and replacing or retouching control panel overlays. Our staff often rebuild and replace input devices such as joysticks, foot pedals, steering wheels, buttons, and other mechanisms that allow players to control the action on the screen. Likewise, pinball playfields need constant maintenance to ensure they work well and electromechanical games provide their own special challenges, such as removing congealed grease, fixing antique drums, and cleaning thousands of contacts and switches. It's quite a job (especially with a collection that's now grown to more than 300 coin-op machines), and these upgraded facilities will help our conservation teams do it even better!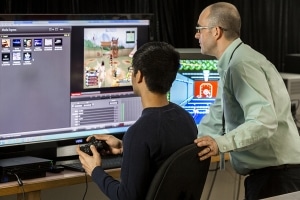 The second new laboratory space—the Digital Preservation Hub—will enhance our ability to preserve digital objects. There is no one-size-fits-all approach to digital preservation, so staff led by our digital games curator will use this space to ensure that the information stored on digital media is saved in ways that assure its accessibility far into the future. For example, a game created originally for an Apple II is likely stored on a 5¼" disk that will, over time, lose its data because of the deterioration known as bit rot. Using disk imaging devices such as the Applesauce and Kryoflux, we're able to preserve the contents of these disks. Another important method for documenting the history of video games is by recording video capture of game play using original devices. Here too the lab will have the necessary equipment to do this sort of work. 
Finally, we're adding a third area—the ICHEG Access and Research Center—that will provide access to the many researchers from around the world who come to The Strong to explore video game history. These scholars are often looking to play games on original equipment, because the experience of playing a game in its original format frequently differs—sometimes in very important ways—from how it is experienced through an emulator (if it's available at all). With the fields of game studies and game history growing rapidly, there is increasing demand for this sort of use of our collections. Currently we do not have a space dedicated to giving researchers this high-level access, so this facility will fill that need, operating like the reading room in a traditional library or archive. But for studying games, rather than paper manuscripts!
In addition to helping with internal preservation projects and giving more access to outside researchers, these improved labs will advance collaborations with other institutions, notably Rochester Institute of Technology. The Strong has long enjoyed a productive partnership with RIT. Professor Stephen Jacobs has been scholar-in-residence at The Strong for a decade, lending his expertise (as well as that of many of his RIT colleagues) to numerous projects. We've collaborated on exhibits and worked together on preservation initiatives such as a video game capture grant sponsored by the Institute of Museum and Library Services in which we hired more than a dozen RIT game design students to record videos of thousands of older video games on original equipment.
With RIT, The Strong has also created an online edX course on the history of game design that used the museum's preservation facilities, and we have hosted multiple international conferences on game design and game history that have made these spaces available for researchers. In 2018, in collaboration with Second Avenue Learning, The Strong and RIT jointly produced The Original Mobile Games, an app that ported vintage ball-rolling dexterity games to the modern smartphone. Going forward we are excited to use these new spaces to enhance classroom collaborations. RIT classes often visit our current workspace, and we're looking to enhance their capacity to serve as codesign spaces for classes involved in game design, especially ones focused on the creation of arcade and pinball machines.
As The Strong continues to build our video game collections, the challenges of video game preservation will only grow. We're excited to be a world leader in this field, and these new facilities will help us enhance that work. And it's important work. As more and more of our broader culture exists in digital form, the expertise that we gain here will have broad application to libraries, archives, museums, universities, and other institutions worldwide seeking to figure out how to preserve our modern digital culture.
By Jon-Paul Dyson, Director, International Center for the History of Electronic Games and Vice President for Exhibits