Wednesday, October 21, 2020
For Immediate Release
Shane Rhinewald, 585-410-6365, srhinewald@museumofplay.org
Noelle McElrath-Hart, 585-410-6325, nmcelrath@museumofplay.org
Take part in a live, educational series from the comfort of your home during the Virtual Animal Encounters Series from The Strong museum on Mondays, November 2, 9, and 16 at 11 a.m. Join museum biologist Anna Simpson for family-friendly talks showcasing the animals that live in the museum's Dancing Wings Butterfly Garden. Take part in a live question-and-answer portion after the presentation. Each week, watch as she shares engaging facts and in-depth knowledge in themed presentations: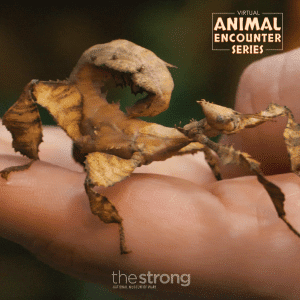 November 2: Animal Defenses. Learn how animals defend themselves using their tough outsides, hiding skills, and more. Featured animals include a snake, stick bugs, a tortoise, roaches, a skink, and a tarantula.
November 9: The Rainforest Ecosystem. Discover how animals, plants, and the environment work together in a rainforest ecosystem. Featured animals include a millipede, a tortoise, a gecko, frogs, and a ball python. This session will also feature a pitcher plant.
November 16: Animal Babies. Find out how animals use asexual reproduction, how baby animals are born, and how babies survive and grow. Featured animals include stick bugs, millipedes, frogs, beetles, and sand boas.
Tickets are $30 for all three programs for non-members and are available here. Museum members receive a $5 discount. Tickets are not refundable. Featured animals subject to change. Admission to this event is not covered by museum membership and does not include general museum or butterfly garden admission. A link to stream the event will be shared in the confirmation email prior to the start of the program.
================================================================================
Museum Hours: The museum's fall hours are 10 a.m. to 3 p.m. daily. All guests, including members, must have a ticket to enter the museum. Learn more at museumofplay.org/play-safe.
General Admission Fees: Age 2 and older $16, under age 2 free, members free. Fees subject to change.
Dancing Wings Butterfly Garden Hours: The garden's fall hours are 11 a.m. to 2:30 p.m. daily. Last entry is at 2:15 p.m.
Admission to Dancing Wings Butterfly Garden: General Admission fee plus $4 for members, $5 for non-members, under age 2 free. Fees subject to change.
Parking: Parking is available on a first-come, first-served basis in the museum's parking garage for free now through the end of July. Parking is $5 for non-members. Members can use one of their six annual parking validations during their visit. Once all validations are used, members may park in the garage for $5. More details at museumofplay.org/visit/directions-and-parking.