Tuesday, January 19, 2021
For Immediate Release
Shane Rhinewald, 585-410-6365, srhinewald@museumofplay.org
Escape the winter cold and enjoy a tropical-themed setting, including music and decorations, in The Strong's Dancing Wings Butterfly Garden beginning Monday, January 25. (The garden will be free with general admission on Monday, January 25.)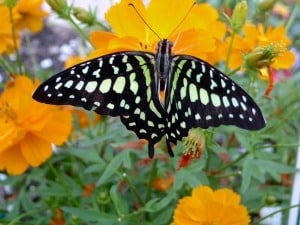 The garden, home to hundreds of free flying butterflies and tropical plants, will feature a mini beach with decoration, nautical items, and tiki-inspired decorations. Guests will be able to go on a "treasure hunt" with a themed scavenger hunt and enjoy steel drum music while they explore the environment.
Garden fees apply, except on January 25. 
================================================================================
Museum Hours: The museum's December hours are 10 a.m. to 3 p.m. Monday through Thursday, 10 a.m. to 5 p.m. on Friday and Saturday, and 10 a.m. to 4 p.m. on Sunday. All guests, including members, must have a ticket to enter the museum. Learn more at museumofplay.org/play-safe.
General Admission Fees: Age 2 and older $18, under age 2 free, members free. Fees subject to change.
Dancing Wings Butterfly Garden Hours: The garden's December hours are 11 a.m. to 2:30 p.m. daily. Last entry is at 2:15 p.m.
Admission to Dancing Wings Butterfly Garden: General Admission fee plus $4 for members, $5 for non-members, under age 2 free. Fees subject to change.
Parking: Parking is available on a first-come, first-served basis in the museum's parking garage for free now through the end of July. Parking is $5 for non-members. Members can use one of their six annual parking validations during their visit. Once all validations are used, members may park in the garage for $5. More details at museumofplay.org/visit/directions-and-parking.