Inducted Year: 2016
Sonic the Hedgehog took the 16-bit gaming era by storm in 1991 with its lightning-fast game play and cool, hip title character, temporarily vaulting Sega ahead of Nintendo in the 1990s console wars.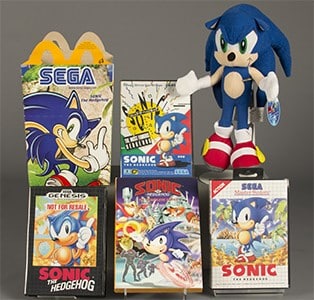 To develop a rival to Nintendo's Mario, Sega hosted an in-house design contest that produced a new hedgehog mascot codenamed "Mr. Needlemouse." Artists colored him cobalt blue and outfitted him in large red shoes that evoked allusions to boots warn by Michael Jackson and Santa Claus. Styled as an underdog with attitude, Sonic appealed to Generation X gamers.
Named for his ability to travel at supersonic speeds, Sonic the Hedgehog blasted through levels faster than many gamers had ever experienced. Artfully placed slopes, springs, and loop-the-loops allowed players to reach their goal without slowing down, and the character died if they took longer than 10 minutes to complete a level.
Gamers loved the spunky blue whirlwind. One parent claimed his son spent entire evenings curled into a ball, attempting to roll himself through the house. Another fan overheard an argument in a comic book store over whether Sonic or The Flash would win a race. In 1993, Sonic became the first video game character depicted as a balloon in Macy's Thanksgiving Day Parade.
With more than 15 million copies sold, Sonic the Hedgehog remains the best-selling Sega Genesis game of all time, and the entire Sonic franchise has 350 million sales or downloads across the globe.
Did You Know?
The Sonic character was originally conceived as the leader of a rock band who sported sharp fangs and dated a busty blond human woman named Madonna.
Related Content
The 2016 Class for the World Video Game Hall of Fame