Inducted Year: 2022
Steeped in the tradition of early strategy board games from companies such as Avalon Hill, including one called Civilization from 1980, Sid Meier sought to develop a computer game that allowed players to "build an empire to stand the test of time." The game had a scope far vaster than that of other simulation games of the era, such as SimCity or MicroProse's own Railroad Tycoon.Spanning centuries from 4000 BC to AD 2100, Civilization offers a unique opportunity to form nations, build monuments, and unite the globe under a vast empire.
Civilization exemplifies the "4X" sub-genre of turn-based strategy games. Though the term "4X" wasn't coined until a 1993 review of Master of Orion, Sid Meier's game serves as the archetype for games focused on eXploring, eXpanding, eXploiting, and eXterminating. The game begins with players in control of a single settler unit, and from there they may colonize surrounding areas, building cities, roads, mines, and farms. Players control every aspect of the city and its people, including what types of knowledge to explore, allowing them the unique opportunity to literally reinvent the wheel. New technology often leads to new units or building improvements, such as chariots following the wheel, thus giving the first player to achieve these upgrades a large tactical advantage. This "technology tree" offers huge variances in play style, as only one type of improvement can be researched at a time, forcing players to weigh the risks and benefits of choosing one technology over another. Throughout the game, players also have the opportunity to interact with real world leaders, including Ramses the Great, Tokugawa Ieyasu, and Mohandas Gandhi. The game is won either when one player conquers the entire world, or when a player successfully develops space travel and reaches the Alpha Centuri star system.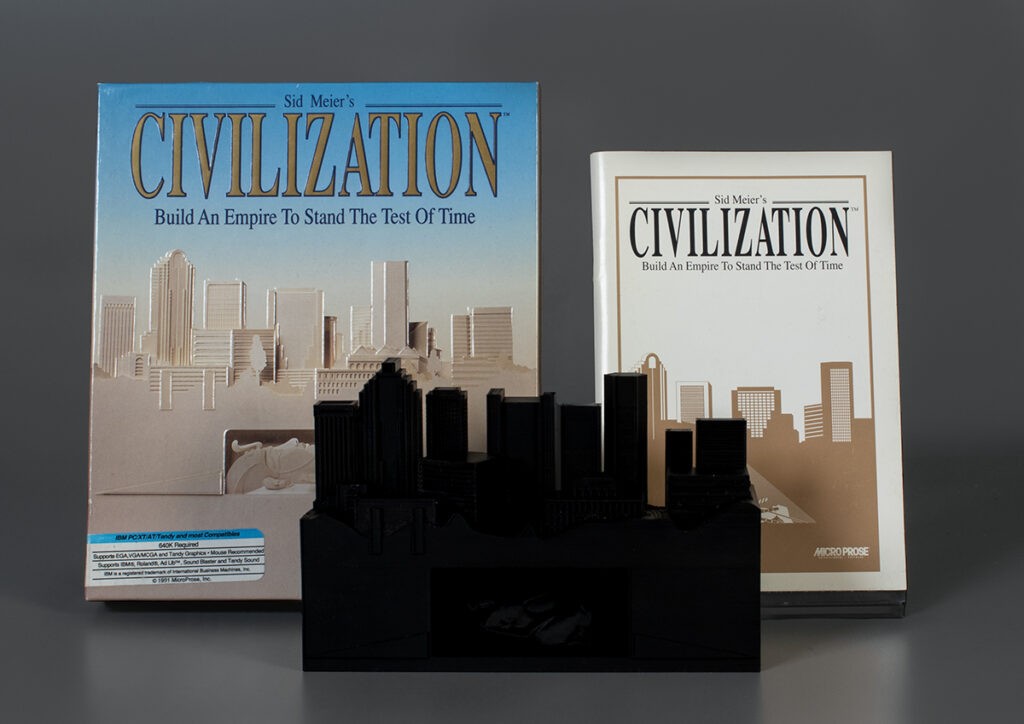 Though Civilization attempts to mimic real-life empire-building as closely as possible, Meier admitted that some aspects simply didn't work well for a computer to emulate. He opted to disallow multiplayer alliances, for example, because it over-powered the computer's AI and made it all but unbeatable. He also chose not to allow a civilization to collapse in on itself, as so often occurred in history, because he didn't believe players would take well to seeing their creations regularly destroyed. Nevertheless, Civilization provided a level of realism unmatched by its contemporaries, and players often became so swept up in their world-building that games might last months or even years. (As of 2022, the record went to a player of Civilization II, who had kept up a single game for 11 years!)
The addictive nature of the game, which Meier himself called the "one more turn" quality, and its nearly unlimited choices that prevented repetitive gameplay, earned it recognition from Computer Gaming World as the best video game of all time in 1996. It is often hailed as the most influential strategy game ever created, and in 2007, it appeared on a list of the top ten video games published in The New York Times. The original sold more than 1.5 million copies and the Civilization series as a whole has surpassed 50 million units sold, with more than 66 versions of the game across multiple platforms. Altogether—and given the extraordinarily long periods of play the game afforded—players have engaged with the Civilization series for more than a billion hours.
Did You Know?
Creator Sid Meier found inspiration in earlier simulation games such as Empire, SimCity, and his favorite childhood board game Risk.
Related Content
Hex Marks the Spot
A Case for Slow Play in Video Games
Creating an Ideal Community