Inducted Year: 2022
Music has been an integral part of human life since prehistoric times, so it comes as no surprise that musical games enjoy a unique popularity that spans ages, genders, and regions. Children play "Musical Chairs" and "Hot Potato" at birthday parties, while adults compete in karaoke competitions and "Name That Tune" trivia contests.
Rhythm games invaded the electronic market in the 1970s, with many early games following the "call-and-response" method popularized by Ralph Baer's Simon (1978). In 1987, Human Entertainment developed Dance Aerobics for the Nintendo Entertainment System, which utilized the Nintendo Power Pad as a dance floor. The game prompted players to mimic the dance steps performed by their virtual instructor, occasionally also requiring the use of hands in more difficult modes. It was Sony's PaRappa the Rapper (1996), however, that brought electronic rhythm games the popularity they enjoy today. It laid the foundation for future rhythm games with such innovations as pressing certain buttons precisely in time with the music and achieving rankings based on accuracy.
Konami entered the rhythm scene in 1997 with Beatmania, putting the player in the role of a club DJ who spins tracks in time to instructions on screen. Though popular enough to inspire a multitude of sequels and spinoffs, it was Konami's second music franchise, Dance Dance Revolution, that achieved worldwide popularity and ultimately became one of the most recognizable rhythm games in history.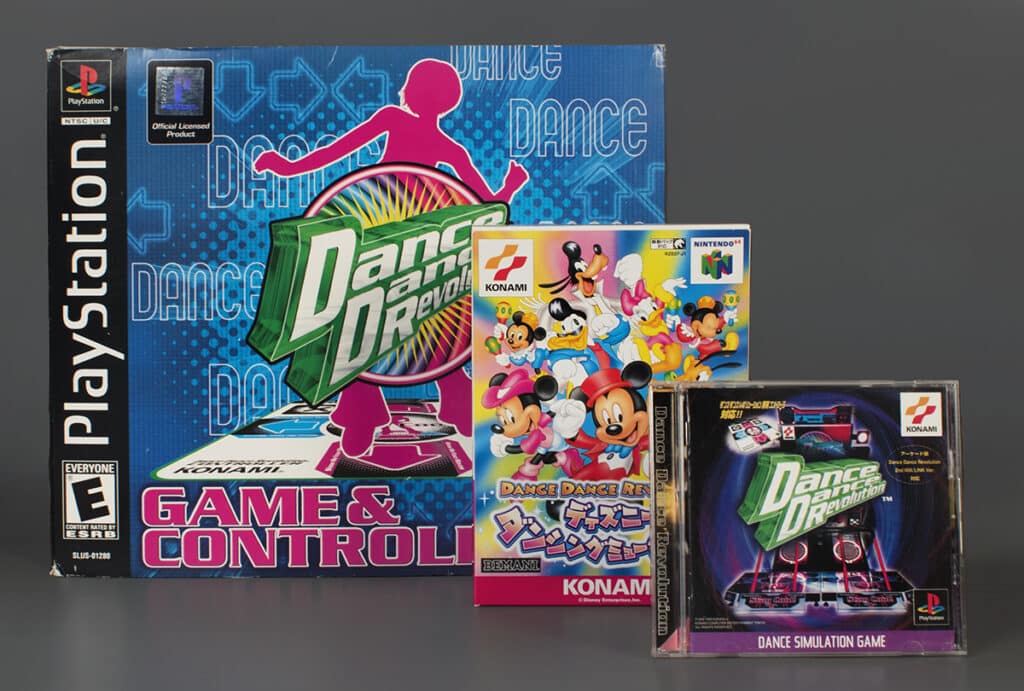 Dance Dance Revolution (DDR), also known as Dancing Stage in Europe, hit Japanese arcades in September 1998. Players combined balance, dexterity, strength, and rhythm to achieve high scores by following on-screen arrows corresponding to the game's footpads, which prompts players to move to the beat of the song. Each individual step is rated on timing and accuracy as "Perfect, Great, Good, Boo or Miss," and final scores range from SS, meaning all steps were scored as perfect, to an E, or failure. If a player accumulates too many low step scores, the game's Dance Gauge empties and the song abruptly ends. Players can adjust each song to their desired skill level, ranging from Easy to Maniac.
While the vast majority of players enjoy DDR as a social experience, certain "technical" and "freestyle" formats became common amongst the most avid players. Technical or "Perfect Attack" players aim for 100% perfect steps while playing the game on the highest level of difficulty. They use the minimum amount of movement possible, and often lean back onto the railing provided on the back of the arcade game to focus only on their steps. Freestyle players generally set the game on the lowest difficulty and perform complex, full-body dance routines, sometimes accentuated with twirls and leaps.
The game's easy-to-understand rules and addictively catchy music made DDR an instant arcade success, and it was ported it to the Sony PlayStation the following year. Konami then published subsequent "Mixes," each with unique songs, inspiring players to collect all of them to find their favorite songs. A large segment of the international fan base resorted to pirating Japanese versions in order to own the J-pop style music as well.
Today, Dance Dance Revolution is more than just a video game. Many players use DDR as an aerobic exercise, and in 2007 the New York Times reported that more than 1,500 U.S. high schools had plans to incorporate it into their physical fitness programs. In 2004, DDR became an official sport in Norway, with officially sanctioned tournaments. Konami also has promoted the game as an e-Sport with annual competitions in Tokyo, Japan. As of 2018, Konami has published more than 100 Dance Dance Revolution games, including spin-offs that focus on franchises such as Disney, Hello Kitty, Mario Bros., and Winnie the Pooh. A television show of the same name aired from 2006–2007 and promoted dancing and fitness to children. It continues to be one of Konami's best-selling video game franchises, as well as a mainstay in arcades around the world. DDR's success also paved the way for the explosion of music games that followed in the mid-2000s, such as Guitar Hero and Rock Band. As its name implies, it truly provided a revolution for the gaming music scene.
Did You Know?
In 2011, Alexander Skularek played the game for 16 hours, 18 minutes, and 9 seconds, breaking the previous Guinness World Record for longest Dance Dance Revolution marathon.
Related Content
It's How You Play The Video Games
Learning Through Video Games