Inducted Year: 2020
Co-designed by Ed Logg and Dona Bailey in 1981, Atari's Centipede is a fixed shooter arcade game that ultimately became one of the most commercially successful titles of the video arcade's golden age.
In Centipede, players use a trackball to control a cannon at the bottom of a screen and attempt to shoot a centipede zig-zagging through a field of mushrooms. Spiders, scorpions, and fleas serve as additional threats and targets. Once an entire centipede is destroyed, the screen changes color and a new centipede spawns again at the top, alternately moving quickly or slowly, depending on the game level.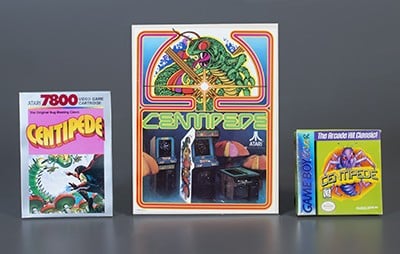 Centipede became an immediate a success for Atari, especially as part of its efforts to attract more female players. "Centipede was definitely aimed at the women's market," programmer Ed Logg told Video Games in 1983. "I'm not sure that without Dona's viewpoint it would ever have made it there." And Dona Bailey told Smithsonian Magazine in 1981, "I'm convinced my game is a woman's game." She wanted Centipede to be compelling and look appealing in a dark arcade, and chose bright, pastel colors for the graphics, with pinks, greens, and violets splashing each level. The visuals, soundtrack, and trackball controller appealed to both male and female players, young and old.
Centipede has been re-released multiple times for home video game systems, portable game systems, and mobile phone apps, giving a new generation the ability to play this addictive and iconic game without a pocketful of quarters.
Did You Know?
According to the instruction manual for the Atari 2600 port of Centipede, the player is supposed to be a garden gnome protecting its mushroom forest from an insect invasion by blasting them with a magic wand.
Related Content
From Pixel to Paper: The Centipede Board Game