Inducted Year: 2020
In 2001, PopCap Games published Bejeweled, a web-based Flash game that popularized the "match three" puzzle game sub-genre and became one of the most iconic mobile games in history.
Bejeweled challenged players to swap colorful jewels to form vertical or horizontal chains of three or more gems of the same color. Matched gems then disappeared, with new ones filling in from the top. The game ended when there were no more swaps available in the playfield. This seemingly simplistic format became wildly popular with gamers, and inspired many successful titles using the same game mechanic, including the smash hit Candy Crush Saga.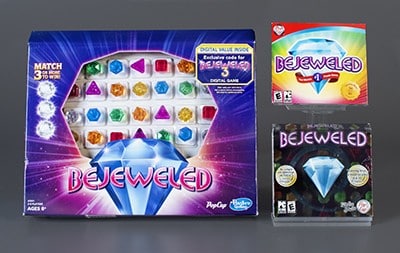 PopCap initially published Bejeweled on ad-supported gaming sites, including Microsoft Zone and Facebook, and offered a full download version of the game on CD-ROM, titled Bejeweled Deluxe. But the game truly took off with the advent of smartphones. In 2004, Bejeweled became a built-in game for the Motorola Razr cellphone, the highest-selling portable phone of the era. It was also one of the launch games available on the Apple App Store for the first iPhone in 2007.
In 2008, Entertainment Weekly called Bejeweled "the Gone with the Wind of the casual-game world—the most commercially successful and influential puzzle program in the genre's short history." Bejeweled and its sequels have appeared on every major gaming platform since its inception. Developers estimated in 2013 that Bejeweled had been downloaded more than 500 million times, with players from around the world devoting more than 10 billion hours to the game.
Did You Know?
Designers originally titled the game Diamond Mine but altered it to Bejeweled when they noticed a 1980s PC game called Diamond Mines already existed and might cause branding issues. In homage to this original title, they placed a bonus level called "Diamond Mine" in Bejeweled 3.
Related Content
Why are Casual Games so Compelling?