Inducted Year: 2021
"So, you mind if I sit here? I promise I won't fall asleep, tumble onto you, and start drooling on your shirt!"
While this dialogue may resemble a terrible previous experience on public transportation, anyone who played the original title in the Animal Crossing series will recognize this as the first interaction with Rover, a cat who helps set up the time, player appearance, and town which will be the setting for this charming, light-hearted video game. The Japanese Nintendo 64 game Dōbutsu no Mori ("Animal Forest") was enhanced and re-released for the Nintendo GameCube in December 2001. The international version for GameCube, popularized as Animal Crossing, was distributed globally over the next few years to great acclaim.
In Animal Crossing, a player assumes the role of a human who moves to a new, randomly generated town inhabited by sentient, anthropomorphic animals. After meeting Tom Nook, the town's shop owner and real estate broker, the player selects one of several unfurnished houses to establish their new residence. In order to repay Tom Nook (a tanuki in the Japanese version, a raccoon elsewhere), the player will work at his shop and complete tasks for other villagers to earn Bells, the town's currency.
Players collect objects to obtain more Bells, which can be used to buy furniture and clothing, purchase home expansions, and play games. A number of specialized tools are available for other activities, such as fishing or collecting insects. Special items (like fossils and paintings) may be donated to the town museum. A player can choose to socialize with the other animal residents by talking, bartering, writing letters, or sending gifts. Residents may also move in or out of the village depending on the player's actions.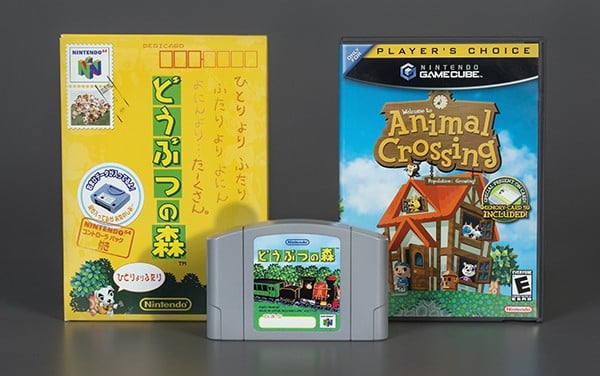 Played in real time, the game observes days, weeks, months, and holidays using the console's internal clock. As an open-ended life simulation game, Animal Crossing does not have explicit objectives—players are truly free to do as they like. Like The Sims (2000), this freedom of play gave the game wider gender and age appeal than many other video game titles of the time. Do you prefer to collect fossils for the town museum instead of harvesting fruit to sell? No problem. Would you rather spend several days redecorating your home than operating the town Lighthouse when the mayor goes on vacation? It's up to you! The low stakes of Animal Crossing allow people to play at their own leisure without penalty. Due to the random generation of the town and the options for players to do activities as they please, no two gaming experiences are ever exactly the same. The game also allowed multiple players to play in the same town and send messages to each other, thus promoting an asynchronous communal game play experience.
In the gaming world, success breeds sequels, and when the original game sold 2.7 million copies it was inevitable there would be follow-ups. Later titles in the Animal Crossing series grew along with Nintendo's latest hardware offerings. Animal Crossing: Wild World (2005, Nintendo DS), Animal Crossing: City Folk (2008, Nintendo Wii), and Animal Crossing: New Leaf (2012, Nintendo 3DS) each built upon the previous versions' lore and console capabilities. Beloved characters, such as the Shih Tzu secretary Isabelle, emerged; the games allowed players to visit other players' towns through wireless or DS-to-DS connections; fun customization options expanded with every title. (Additional related spin-off games and mobile apps have also been published.) The latest installment to the series, 2020's Animal Crossing: New Horizons (Nintendo Switch) broke the console game record for most digital units sold in a single month, selling more than 31 million copies worldwide as its virtual version of neighborly sociability engaged players isolated in the midst of a global pandemic.
Did You Know?
The infamous Tom Nook character in Animal Crossing is based on the real-life tanuki (たぬき), a "raccoon dog" that in Japanese folklore is a shapeshifting trickster representing good luck and fortune.
Related Content
2020 Video Game History Timeline