WARNING!!!!
Do not read this book straight through from beginning to end! These pages contain many different adventures you can go on….
The adventures you take are a result of your choice. You are responsible because you choose!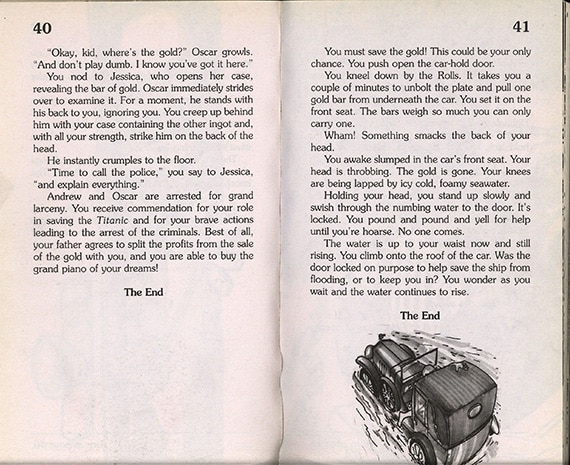 For 36 years these opening lines have beckoned booklovers and reluctant readers alike to become part of the story in the Choose Your Own Adventure (CYOA) series. Written in the second person point-of-view, the novels make the reader the protagonist with the freedom to make story-changing decisions. In less than an hour, you can save the Titanic from its fateful brush with the iceberg (and thwart would-be gold-thieves), shoot off distress flares in vain from the deck of the sinking ship, and escape in a life boat, only to be haunted by memories of the tragedy for the rest of your life. The reader plays the story like a game, honing his strategy each time through.
In 1975, publisher, educator, and role-playing game (RPG) developer R. A. Montgomery was approached by a first-time author with an unconventional manuscript.
Edward Packer had been turned down by major publishers for the past six years. Intrigued by the second-person, interactive concept, Montgomery took copies of The Adventures of You on Sugarcane Island to a reading teacher at a local public school. The students devoured the story and demanded more. The freedom to direct the story was especially appealing to the reluctant readers who grew bored passively watching the plot of Where the Red Fern Grows unfold. This kid-tested, teacher-approved manuscript would lead to the first "official" Choose Your Own Adventure book, published in 1979. For the next 20 years, the series sold 250 million copies and was translated in to 38 languages. After a brief hiatus, CYOA re-emerged in 2005 to sell an additional 10 million copies to date.
In 2014, Justin Barber donated his collection of more than 60 CYOA titles to the Brian Sutton-Smith Library and Archives of Play. Born in 1975, Barber was part of the first generation to be swept up in the series: "The Choose Your Own Adventure books had a rather large impact on my formative years, not only as a reader but as a student of the world at large…. The ability to take charge of your own fate in these books was not only personally challenging but a rite of passage in many ways for an eight-year-old [at] a time when we really didn't have much say in how our own lives played out."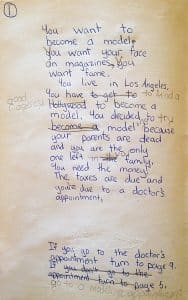 My fellow Gen Xers echoed Barber's words when I mentioned CYOA in my Facebook status. Numerous "I loved them!" comments appeared within seconds. Friends wrote of the willpower they exerted to not peek at the outcome of their decisions. Non-reading (but appropriately apologetic) friends claimed they were the only books they ever read. One friend insisted he would read them only once, confident in the choices he had made ("You have to live with no regrets!"). Another was inspired as a fourth grader to write CYOA fan fiction.
"Inspiration" is a recurring theme in CYOA history. The series is lauded for its influence on the computer gaming industry, for its role in the resurgence in the popularity of role-playing games such as Dungeons & Dragons, and for its success in the classroom in reaching reluctant readers. Writer Matt Bell credits the series as one of the influences in his career, stating that it "made me realize that stories were not set down in the stone of ink on paper: they were malleable, retellable, able to be shaped by both the teller and the reader or participant, and I would not be a writer without those experiences." The series—down to its iconic cover and font—served as the inspiration for Neil Patrick Harris's 2014 autobiography, Neil Patrick Harris: Choose Your Own Autobiography. Film-maker Nathan Penlington created Choose Your Own Documentary, an interactive live theatre experience, after finding pages of a child's journal tucked inside a copy of The Cave of Time. The list of influences and inspirations seems endless. In the words of Justin Barber, "There is no doubt in my mind that the impact of these books on the last American analog generation—myself included—is a significant one."
Since its reboot, Choose Your Own Adventure has expanded its offerings to children from Kindergarten through the seventh grade. Edward Packard, the original CYOA author, continues to write books in all genres, and has adapted and expanded three of his original CYOA titles into the U-Ventures apps for Apple devices. Fox Films is rumored to be developing a film version of the bestselling Mystery of the Maya. The future for CYOA appears bright… if you are willing to choose your own adventure. The choice is yours. "You and YOU ALONE are in charge of what happens in this story."