In 1960, to celebrate the firm's 100th anniversary, Milton Bradley Company hired designer Reuben Klamer to create a new game. Looking for inspiration, Klamer turned to the company archives where he encountered one of Milton Bradley's first games, The Checkered Game of Life. It had been the company's first best-selling success back in 1860 when its namesake, Milton Bradley, owned the firm. A printer and something of an entrepreneur, Bradley produced a "pocket" version of The Checkered Game of Life during the Civil War and the game continued to sell briskly for many years. By 1920, the firm bragged on a new box design that it was "The First Game Invented and Manufactured by Mr. Milton Bradley, Played for Over Fifty Years." Playing this Checkered Game was like playing at living a life from birth to old age. Klamer set out to design a game where players did something similar, but in 1960 terms.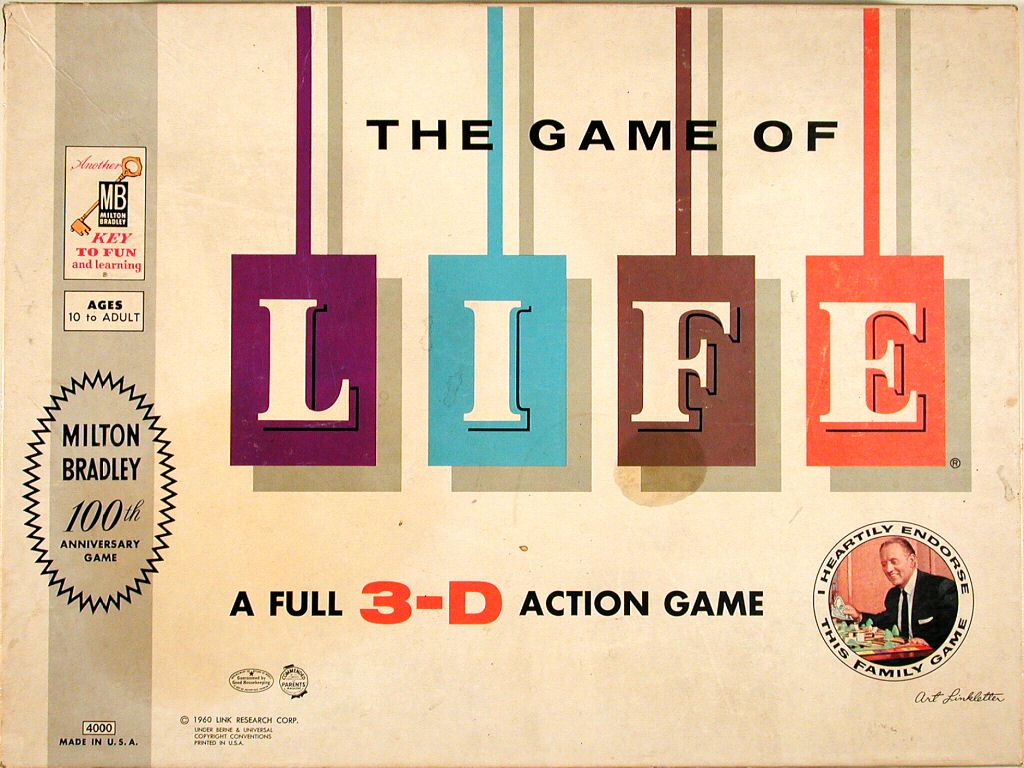 Klamer's version differed substantially from the original game. Instead of a checkered game pattern, The Game of Life followed a pathway. And instead of winning by landing on good behavior and morality squares, as in the original, this Life's winner was the richest player at the end. So rather than landing on squares like "temperance" to advance, players won by passing "payday" and scoring "revenge" against their competition. Times had changed in 100 years and so, apparently, had Life.
The Game of Life received a marketing boost when Milton Bradley Company enlisted celebrity Art Linkletter to "heartily endorse" the game. A trusted radio and television personality, Linkletter had become something of an expert on children based on his many interviews with them for his series, Kids Say the Darndest Things. Linkletter got his photograph and endorsement on the game box cover, and his photo also appeared in the center of the $10,000 bills used in the game.
Finally, the game company produced a really catchy television commercial, the first of many, which continued to parallel several updated versions of the game over the years. These advertisements were screened during children's television time slots, such as Saturday morning, as well as during family prime time programming.
The Game of Life was very nearly an instant success. It lent itself well to family game nights and, because of all the different choices and rolls of the dice, it was a game that groups played many times over. Although criticized because the winner is the player with the most money at the end, and for being based more on luck than skill, Life has stood the test of time and shows no sign of slowing down. So play The Game of Life!