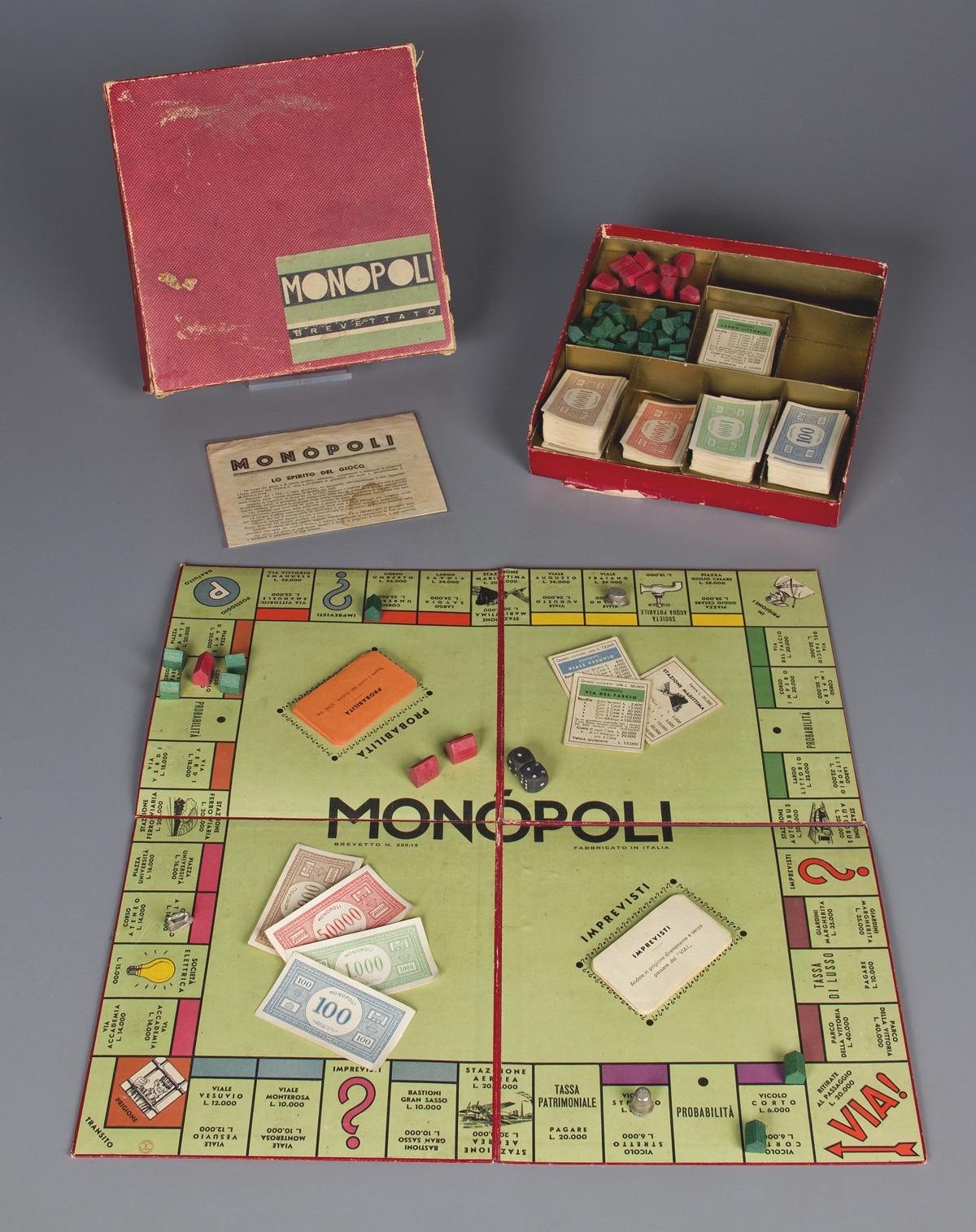 Some games resonate with political history, and so do some movies. I watched Tea with Mussolini, director Franco Zefferelli's 1999 semi-biographical film, and it reminded me of a game The Strong acquired in 2012. Monopoli (yes, that's the correct spelling) is a 1937 Italian version from Monopoly's heyday. What?! Monopoly is all about American-style capitalism and crushing opponents' bank accounts! How did this happen under the Fascist regime of prime minister Benito Mussolini? The answer demonstrates Monopoly's popularity in the late 1930s, as well as the hypocrisies of Mussolini's dictatorship.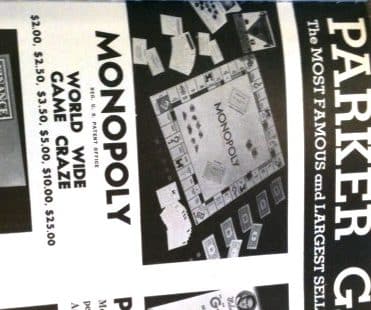 America began its love affair with Monopoly in 1935, and by 1936 Parker Brothers had granted the English game firm Waddingtons license to produce and sell the game throughout Great Britain. Success there prompted Parker Brothers to continue to "conquer" most of the rest of free Europe with Monopoly, followed by Australia, New Zealand, and South Africa. Game firms throughout Europe produced their own licensed versions of the American game sensation, utilizing national and local town and street names. Monopoly proved so popular that even Fascist Italy coveted a version. After all, Mussolini believed his country, soon to ally with Nazi Germany, would rise to world power. Both the American Monopoly game and its runaway global success symbolized economic achievement. But Mussolini's cabinet would not permit foreign trademarks, such as the name Monopoly, nor did it approve of foreign ownership of Italian trademarks. Nor, of course, did it endorse the game's blatant capitalism.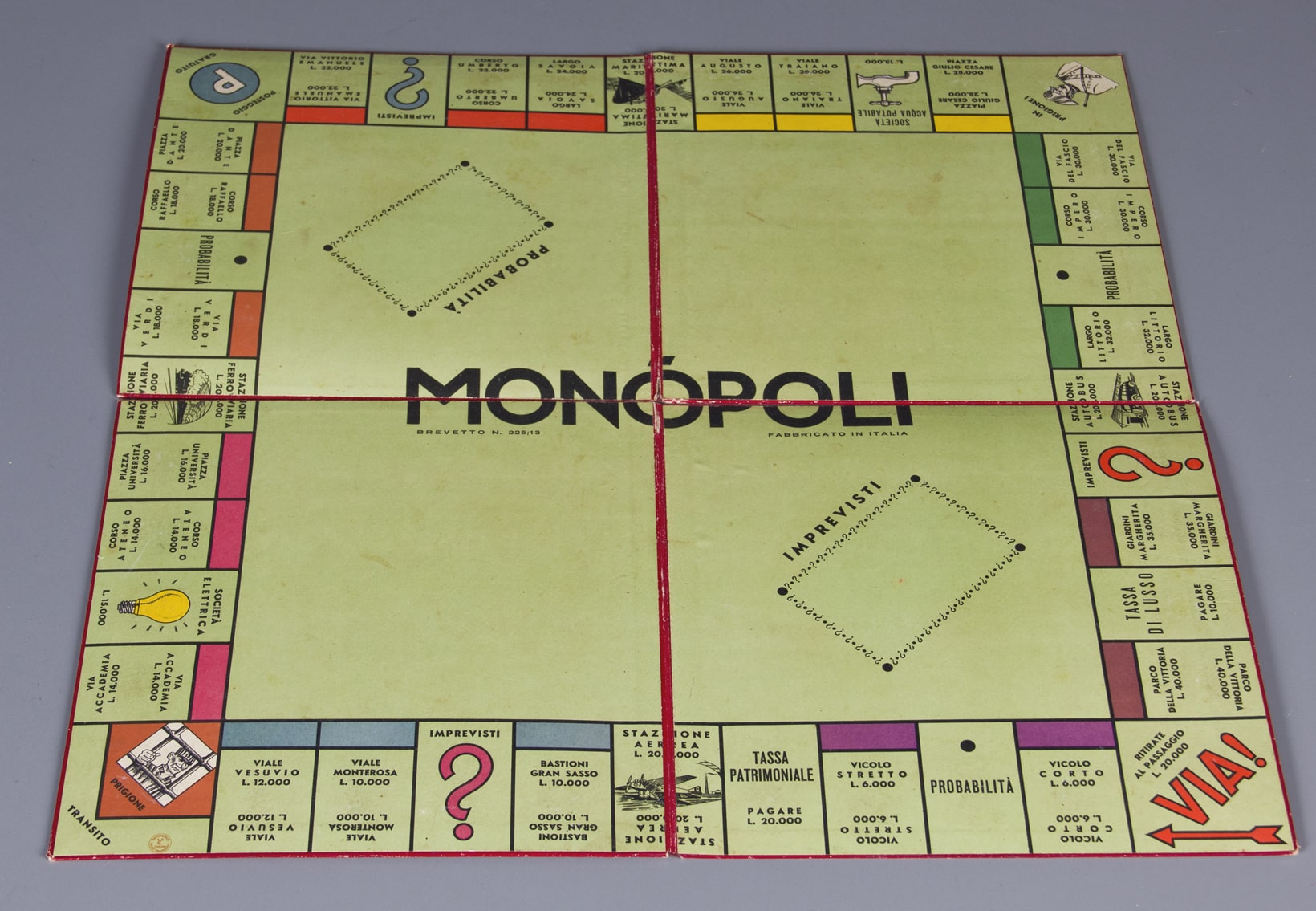 In defiance of Parker Brothers and its patents, Italian publisher Emilio Cerreti of Milan cleverly designed an Italian version of the game. The firm registered the name Monopoli in Italy and Mussolini's office approved it for sale. Most of the place names used on the board existed in Milan or Bologna, but Cerreti created three imaginary green properties, including Via Fascia (Fascist Way) and Corso Imperio (Empire Course) to appease the regime. So even though Italy suffered under the militaristic rule of Il Duce (as Mussolini called himself), its people could still play a version of the popular American real estate game and celebrate American-style winning.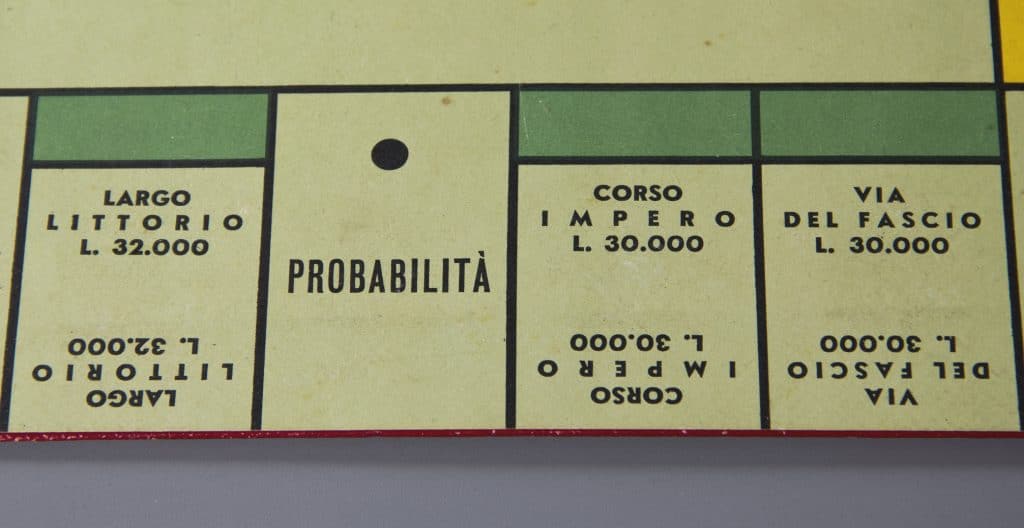 In Tea with Mussolini, Maggie Smith's character, the widow of a former British ambassador, arranges to meet Il Duce to ensure the continued safety of her group of Anglo-American expatriates in Florence—played by such stellar actresses as Judi Dench, Joan Plowright, Lily Tomlin, and the inimitable Cher. Mussolini gives her his promise, but then reneges and imprisons the group when war breaks out. Under the Fascist regime, Italy in the 1930s was a place of incongruous words and deeds and wide disparities between rich, poor, military, and foreigner. And, as the film evokes, the Fascist-approved Monopoli game is extraordinary physical evidence of this conflicted and unstable (but remarkable) history.