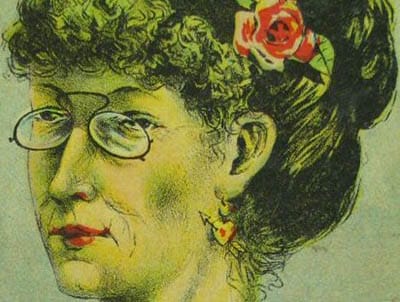 Did you play card games as a child? If so, you probably played a version of Old Maid. The term "old maid" is English and means an unmarried childless woman or spinster. Used as early as 1761 for the title of a play by Irishman Arthur Murphy, it also means an unpopped kernel in a pot of popcorn. And most dictionaries carry one more meaning for it: "A child's card game."
If we ignore, for a moment, the stereotypical and sexist connotations of the name, we discover that Old Maid has a fascinating history. (Please forgive the now-offensive images in the this blog; they reflect the historical times in which they originated.) The game came to the Western world from Asia, where playing cards originated, and nearly every European country has a version with a different title. Take any card deck, remove a queen, a jack, or any card, and you can play the game. Old Maid enjoyed a surge of popularity during the late-19th century, when American card and game manufacturers created the first wave of popular home games.
Those madcap Victorians with their layers of etiquette, rules of deportment, extremes in dress, and more chose to reinforce the negative example of a spinster or unmarried woman, with a popular card game!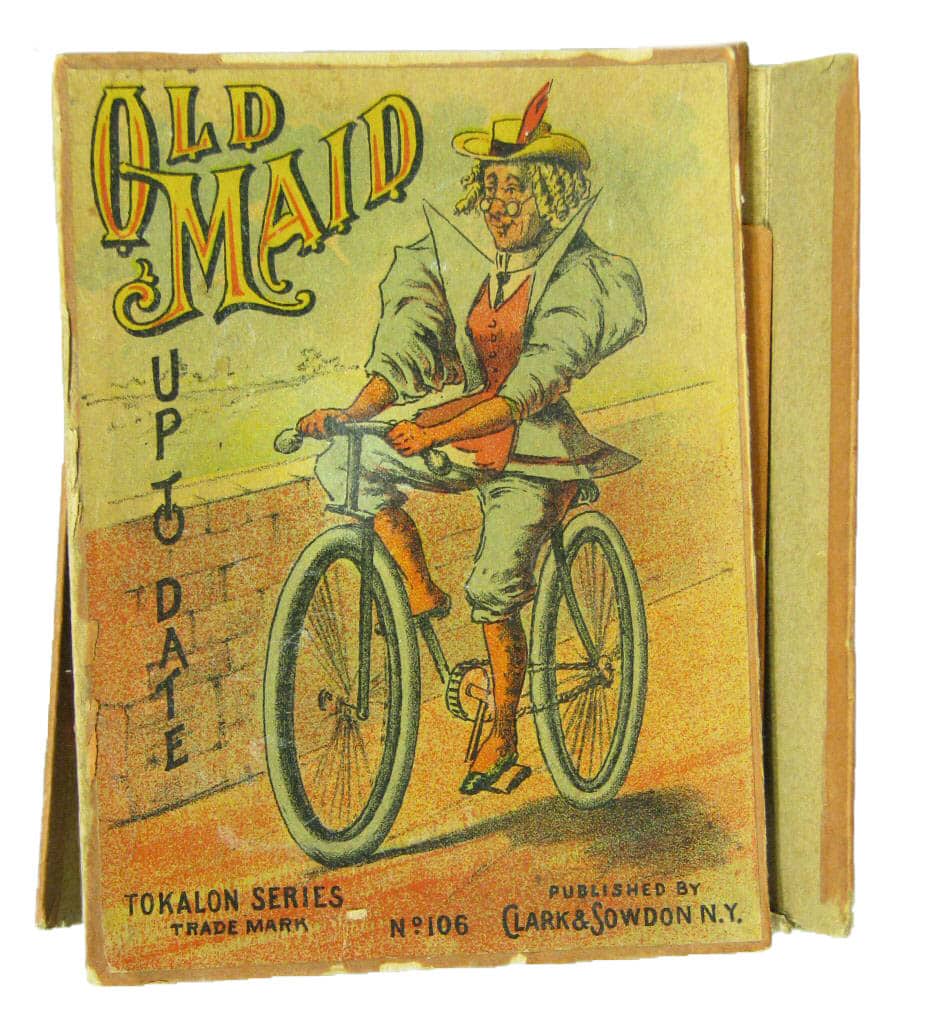 To be fair, some makers marketed the game as Old Maid and Old Bachelor, with two extra cards instead of one; both versions played exactly the same way. Soon the manufacturers made board games with the same title. A particularly remarkable 1890 card version, also called "Up to Date," features a bicycle-riding, bloomer-wearing old maid. She certainly looked "up to date," but did her appearance perhaps convey a sarcastic warning to young maids? Potential customers probably found this image either extremely humorous or rather scandalous. Certainly as late as 1890, many men and women objected to women riding bicycles, not to mention wearing bloomers. While bicycle riding presented one of the few instances when bloomers could be considered proper apparel, the exaggeration of this rider's outfit—with a short sailor coat, high pointed lapels, and puffy leg-o-mutton sleeves—points to sarcasm.
An Old Maid game from the 1930s designed by children's illustrator Vernon Grant shows his characteristic humor with a particularly alien-looking old maid. And that classic doll Raggedy Ann received her own version of an Old Maid game in 1975. More recently, Old Maid helps children learn with computer games. Do you remember playing Old Maid? Which game did you play?
By Nicolas Ricketts, Curator