At the entrance to The Strong's Field of Play exhibit, a giant Snoopy statue with sunglasses playfully greets guests and beckons them inside. Mary Valentine—a museum trustee, long-time philanthropic supporter, and great friend to many at The Strong—donated the beloved canine five years ago to bring joy to guests. Sadly, Mary passed away recently at the age of 74.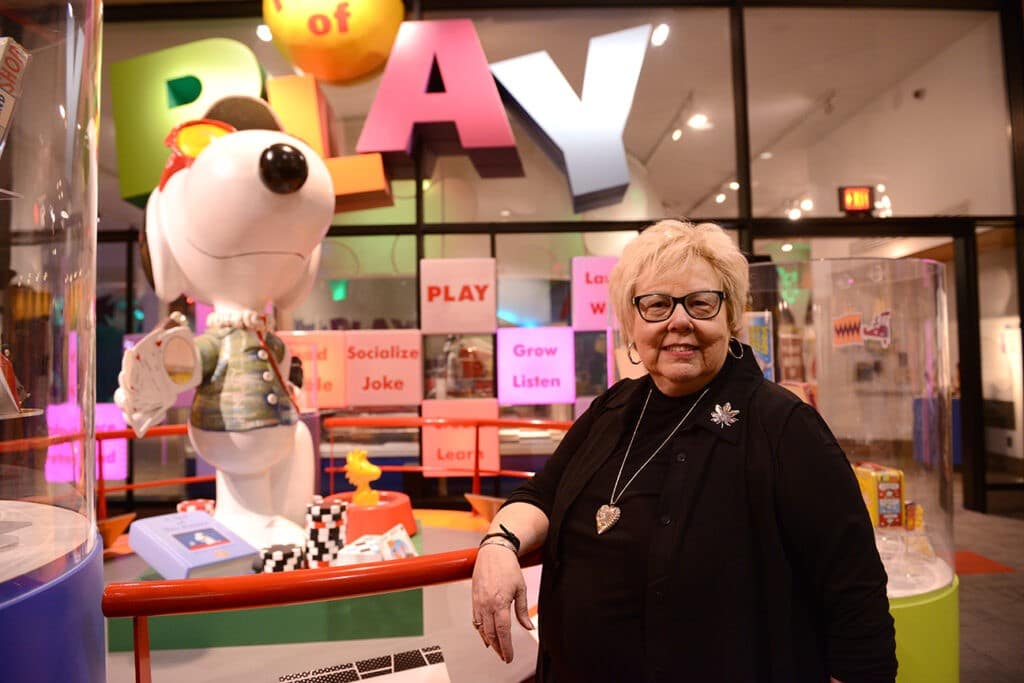 Snoopy wears a shirt emblazoned with powerful words, and one stands out that defined Mary's character—COMPASSION. While many museum guests never had the chance to experience her bright smile, Mary has touched everyone who has visited The Strong in one way or another through her generosity and kindness.
In an interview years ago, Mary said, "I believe that doing good is like throwing a pebble in the water, and it spreads outwards." Lisa Feinstein, vice president for institutional advancement and one of her closest friends, likened Mary's impact more to that of a boulder.
"Mary's generous contributions to The Strong, as well as her thoughtful insights, have enormously impacted the museum and been felt in all aspects of the operation," Feinstein said. "Mary always thought of others first and tried to make the world a better place, too, sometimes by the simplest gestures. She even mailed cookies and other treats to the museum's staff several times a month just to share a bit of joy and show her appreciation for their hard work."
Mary first encountered The Strong more than 10 years ago while searching for a home for a vast collection of board games that she and her late husband, Andrew Cosman, had acquired. Their love of play brought them to The Strong. In addition to donating thousands of games, the pair also established the Mary Valentine and Andrew Cosman Research Fellowships to provide access to the collection to researchers from around the globe. The game collection has now grown to more than 2,300 games.
Over the past decade, Mary has also supported Woodbury School programs and scholarships, been an honorary chair and lead sponsor for the museum's Play Ball gala, supported the adults-only Happiest Hour events, and funded the collections team travels for professional development. In April, the museum will celebrate Mary and Andrew in a new café—Puppy's Game Café—that they helped establish through a leading gift. Mary also served on the museum's Board of Trustees faithfully for four years.
Christopher Bensch, vice president for collections and another close friend of Mary's, said, "For anyone who was lucky enough to meet Mary, her generous spirit shone through in everything that she did. She will be greatly missed but always a part of The Strong's family."
Mary shared her philosophy on life and giving with The Strong many years ago. "Philanthropy can be defined in many ways. Most of us think of it as donation of money to a good cause. But philanthropy—I actually looked it up. The word comes from the Greek. It means love of humanity. And for me, that's it."
Every student supported by a Woodbury scholarship or guest who has fun at the museum now feels that love. Just take a quick look at Snoopy on your next visit—and smile.