By Adam Nedeff, Researcher for the National Archives of Game Show History
You bring the stuffing, the cranberry sauce, and the pumpkin pie. For Thanksgiving, we'll bring you the biggest turkey in the history of game shows: You're in the Picture
By 1961, Jackie Gleason was already a bona fide show business legend. His Cavalcade of Stars had made him one of the first superstars in the young medium of television. The classic 39-episode season of The Honeymooners had been icing on the cake. Wherever Gleason went next, audiences were sure to follow. On January 20, 1961, CBS hoped that viewers would follow him to You're in the Picture.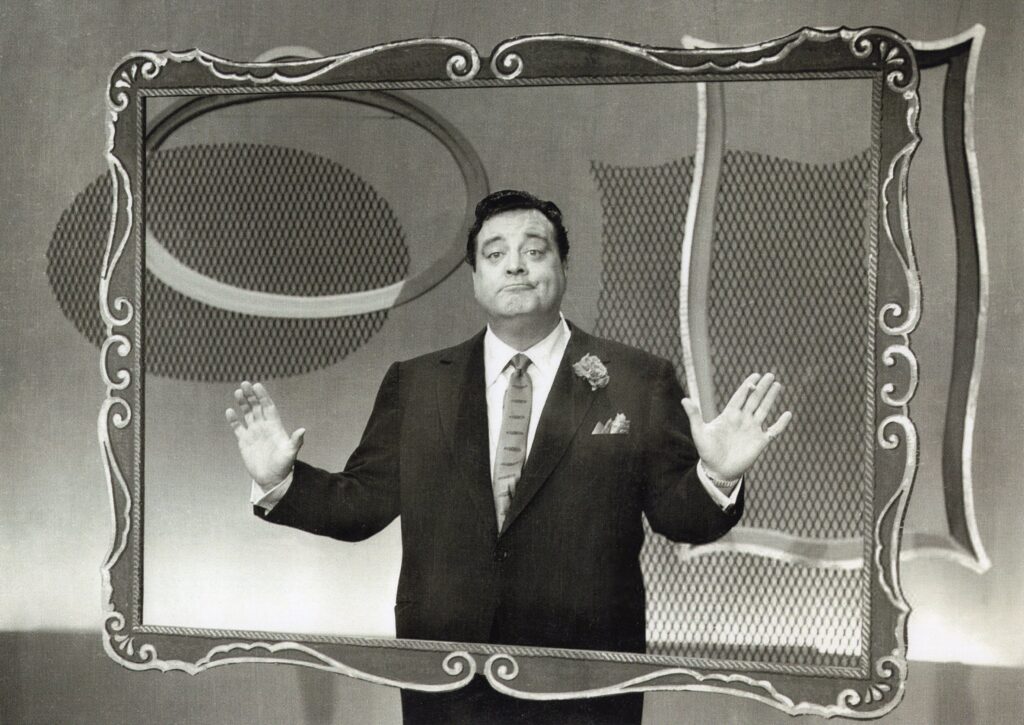 We can only speculate the thinking behind the show. Panel shows like I've Got a Secret were still popular. And another show business legend, Groucho Marx, had only enhanced his profile by hosting a game show that had been tailored to his strengths—the venerable You Bet Your Life. So, a panel show hosted by a show business legend, particularly Jackie Gleason, probably sounded like a can't-miss prospect.
Have you ever been to a carnival or an amusement park and seen those paintings with holes in the faces? You stuck your head in the hole and got a photo of yourself in a funny pose. Well, You're in the Picture was an attempt to turn those into a game show. Celebrity panelists Jan Sterling, Arthur Treacher, Pat Carroll, and Pat Harrington stuck their heads into billboard-sized comic paintings, and with their peripheral vision obstructed, they asked Gleason yes-or-no questions to figure out the subject of the picture—for example, POCAHONTAS RESCUES JOHN SMITH (Jan Sterling was wielding the ax, while Arthur Treacher's head rested on the chopping block) or THE ITSY-BITSY TEENY-WEENY POLKA DOT BIKINI (Arthur Treacher wore the bikini while the rest of the panel ogled him).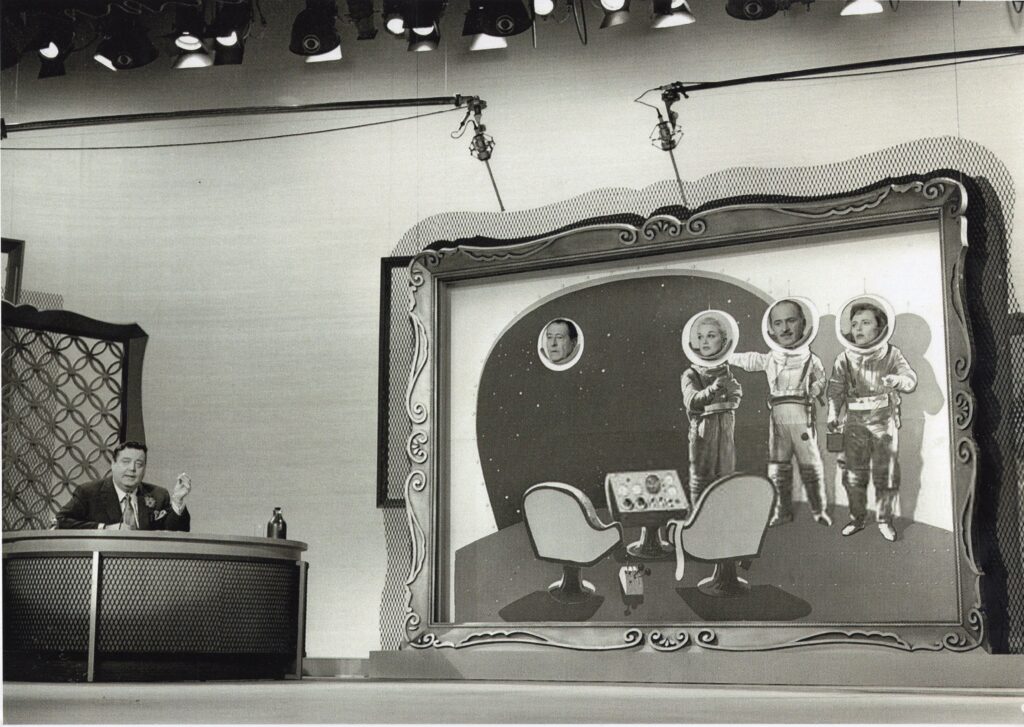 The game itself was inane—the picture was funny for 10 seconds, but then you were stuck looking at it for three minutes while the panel struggled—and as gifted a comedian as Jackie Gleason was, it was difficult for anybody to be funny when he's just there to answer "yes" or "no" to the panel's questions. Jackie's signoff at the end of the show—"You have braved a blizzard"—was just a taste of what came the following week.
The January 27, 1961, episode of You're in the Picture remains one of the singularly most unusual programs in television history. With no panel present, Jackie Gleason sat down on a completely bare stage and opened by saying, "Last week, we did a program called You're in the Picture that laid, without a doubt, the biggest bomb there has ever been."
From there, Gleason spoke about the show's development—how the idea had been presented to him, how it truly seemed much funnier in the office run-throughs and rehearsals than the actual show had proven to be, his own reasons for agreeing to do the show, and why, ultimately, the show just didn't work. No complaining about time slots, or interference from those darn network executives. Gleason spent 30 minutes just pontificating about why You're in the Picture simply did not work, and fundamentally apologized to viewers for doing such a bad show.
Gleason received near-universal praise from viewers and critics for the second broadcast. Nobody could believe a star—particularly one of Gleason's stature—could be so honest and so self-deprecating in the wake of a failed project. At worst, You're in the Picture would just be a footnote, an oddity in Gleason's storied career. But that second episode enhanced his legacy in a way that a hit show wouldn't have. Jackie Gleason spun a disaster into pure gold.
DO YOU REMEMBER…THESE OTHER GAME SHOW TURKEYS?
100 GRAND (ABC, 1963) – Hosted by Jack Clark five years after the quiz show scandal broke, this show attempted to bring back big-money Q&A to prime time. Contestants who professed to have knowledge in a certain subject would compete against "professional experts" in that same field for a chance to win up to $100,000. TV viewers weren't quite ready to try big money quizzes again, and the show disappeared after three episodes.
THINK TWICE (PBS, 1994-95) – Co-created by NAGSH co-founder Bob Boden, Think Twice, hosted by Monteria Ivey, was a rare game show for adults on public television, in which contestants tested "The three I's—Information, Imagination, and Intuition" for a chance to win a $5,000 mutual fund. Fewer than 10 episodes were produced, and the makers of the show were later fond of quipping "Think Twice aired thrice."
THE RICH LIST (FOX, 2006) – Eamonn Holmes asked contestants questions with many answers, like "Name books written by Stephen King" or "Name the 50 longest-running Broadway shows" and contestants bid on how many correct answers they could supply, with winning bidders earning the money by fulfilling their own bid. Six episodes were taped—Fox aired one of them.