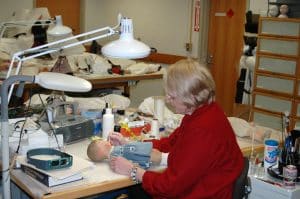 Here at The Strong, we take dolls seriously. Archeological evidence places dolls among the very oldest playthings and proves that children have enjoyed them since ancient times. More recently, dolls played an important part in the life of the museum's founder, Margaret Woodbury Strong. Margaret started collecting dolls as a girl and amassed more than 27,000 during her lifetime. Today, The Strong's National Museum of Play builds on Margaret Strong's collection, continuing to collect dolls and provide for their care. That care includes the museum's Doll Conservation Lab which is well stocked with supplies like fabric samples, needles, thread, special adhesives, and cleaning solutions, and is ably staffed by dedicated Doll Conservator Darlene Gengelbach.
What happens when a doll comes to the lab for Darlene's attention? Let's take the example of a German character doll by Kathe Kruse. The initial condition assessment indicates that the doll's face and body are in very good to excellent condition. Facial paint is abraded at the top of the left ear, on the nose, and below the left eye. Hands and knees are soiled, and the doll is missing its original leather shoes and blue-banded white socks (the socks in the photograph are replacements).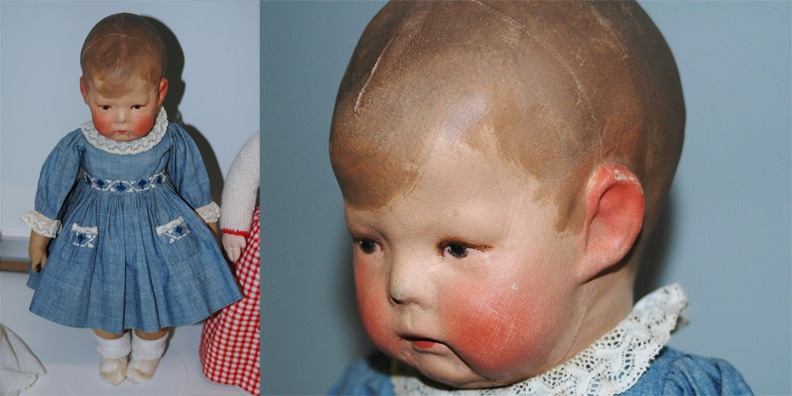 Darlene's decades of experience allow her to expertly examine the doll and size up the care required. Prior to beginning her work on the doll, Darlene updates the initial assessment with her observations and takes digital photographs to document the "before treatment" condition of the doll. She then sets to the task of giving the doll the conservation equivalent of a spa treatment. Darlene starts by dusting off the original costume and progresses to carefully hand-laundering the clothing if it's sufficiently dirty and safe to wet-clean. Darlene follows by cleaning the doll itself, removing loose and disfiguring dust or grime, but maintaining any desirable evidence of use. Next comes retouching abraded paint areas just enough so they no longer detract from a cohesive and attractive visage. As she re-dresses the doll, Darlene draws on the lab's inventory of spare doll clothing to find a pair of socks that more closely match the originals, and a fitting pair of brown shoes. Finally, she will take "after treatment" photographs to document her work.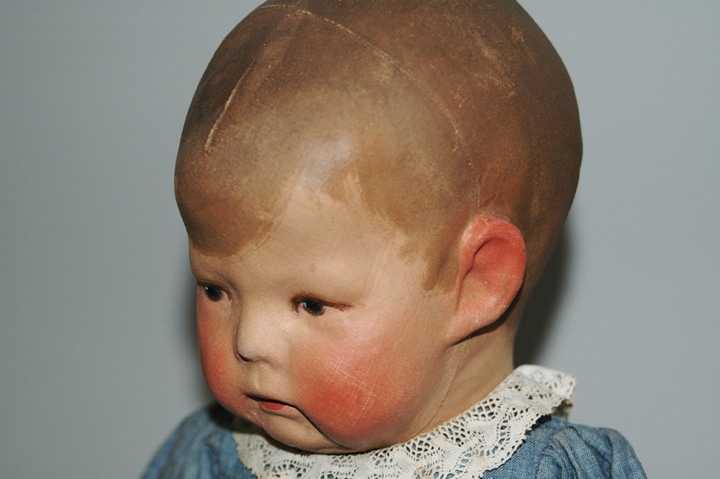 If you're used to the extreme makeovers from current reality television, the results of Darlene's careful work probably look much less dramatic. But, in this case, subtle results are precisely the point. The best conservation work, as with so many forms of skill and artistry, looks effortless and nearly invisible to a casual observer. And the museum's dolls, whether they're centuries old or the latest new thing, deserve nothing but the best.