By Adam Nedeff, Researcher for the National Archives of Game Show History
It was a bona fide institution for over a decade on NBC, a phoenix of a game that rose from the ashes twice, becoming a favorite for game show fans across three generations. It was Concentration, and it came to life on America's TV screens on August 25, 1958.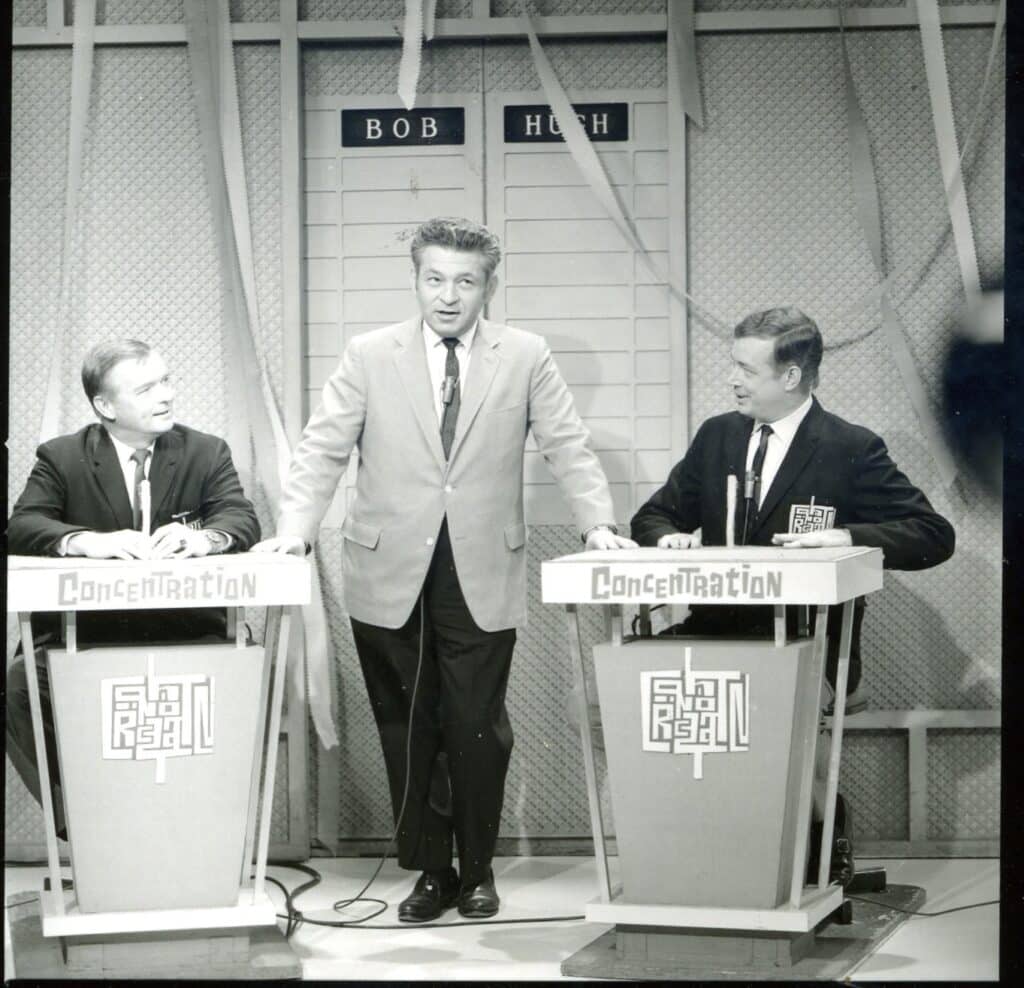 Jack Barry was toying with an idea based on a childhood card game; you'd spread the deck out and turn over two cards at a time, trying to match the two red kings, the two black queens, the two red eights, etc. He had the idea of replacing the cards with prizes that needed to be matched, but Jack's business partner, Dan Enright, felt that the game needed a goal—perhaps solving something hidden behind the prizes—words in a well-known phrase, or a famous person's photo. A local TV personality at WNBC in New York, Buddy Piper, suggested a rebus puzzle—a jumble of numbers, letters, symbols, and pictures, that could be combined to form, as host Hugh Downs would say countless times, "a well-known phrase, title, or something you know."
The artist for those rebus puzzles was Norm Blumenthal, a talented staffer originally hired as a cartoonist for the firm's kiddie show, Winky Dink and You. But after a rocky behind-the-scenes start due of the quiz show scandals, NBC took control of the show and appointed Blumenthal producer, a job he did ably even while remaining committed to his original role and drawing the rebus puzzles.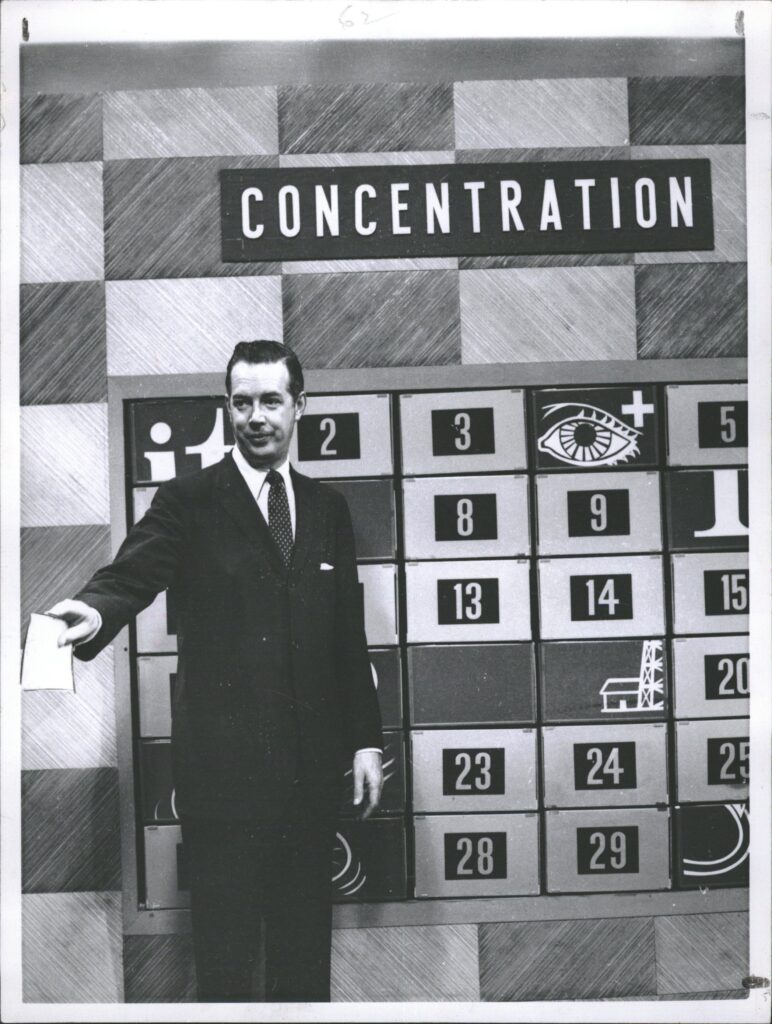 Concentration remained strong even through on-air shake-ups like changes in time slots and changes in performers. Announcer Art James departed to host his own game show, Say When!! Hugh Downs left after a decade, replaced briefly by Ed McMahon, and then by Concentration announcer Bob Clayton, who stayed at the helm until the show's end.
In November 1966, Concentration was the last remaining show on NBC to switch from black & white to color, a switch Blumenthal only agreed to after NBC agreed that the rebus puzzles themselves wouldn't have to be in color (Blumenthal felt that would make them too easy). It was also one of the last game shows with a live soundtrack. Organist Milton Kaye and percussionists Moe Goldenberg & Tony Columbia performed the music in the studio during each episode.
Concentration was an innovator, too. It pioneered that game show staple, the tournament of champions. Starting in 1963, the annual Challenge of Champions brought back the previous year's top winners, with the grand champion receiving the Connie Award, a trophy resembling Rodin's Thinker.
Concentration would imprint itself on many young viewers' memories with its cartoony puzzles, its lively puzzle board (which emitted a distinctive ka-CHUNK every time a number flipped to reveal a prize, and every time a prize flipped to reveal a puzzle piece), and the peppy music. That popularity with kids may explain why the Concentration home game turned out to be a blockbuster for Milton Bradley; it became the fastest-selling game in the company's history, selling a million copies in only eight months. And buyer demand was so strong that Milton Bradley kept releasing new Concentration games through 1982.
Concentration remains, to this day, the longest-running game show in NBC history, enjoying an uninterrupted 14 ½ years on the network until March 23, 1973. In an unusual move, Mark Goodson-Bill Todman Productions subsequently leased the format from NBC and sold new episodes with host Jack Narz. Mark Goodson was also behind the 1987-1993 NBC reboot, Classic Concentration, starring Alex Trebek, which used a vividly-colored computer-generated game board. Reruns of Concentration and Classic Concentration can now be seen on Buzzr. You can't keep a good game show down.
DO YOU REMEMBER…THESE OTHER MEMORY GAMES?
EYE GUESS (NBC, 1966-69) – Bill Cullen hosted this funny game from creator Bob Stewart. Contestants saw a game board hiding the correct answers to all the upcoming questions. Bill asked a question, and the contestants had to identify, by number, the box containing the correct answer.
JOE GARAGIOLA'S MEMORY GAME (NBC, 1971) – As the title suggests, the legendary ballplayer and sportscaster was the host of this game. Contestants were given booklets containing all the questions and answers for the upcoming round. If a player couldn't remember the answer they had already seen when Joe posed a question, they could challenge an opponent to try.
HIT MAN (NBC, 1983) – Peter Tomarken, better known later for Press Your Luck, made his hosting debut with this game. Contestants watched a three-minute documentary film about a subject, like Custer's Last Stand or the making of Gone with the Wind. Peter would then ask rapid-fire trivia questions, and all of the correct answers were information from the film.