By Adam Nedeff, Researcher for the National Archives of Game Show History
In 1972, longtime NBC executive Bud Grant jumped to CBS for a position as vice president of daytime programming. In his new role, Grant inherited a stagnant morning schedule of reruns from prime time. He thought game shows could spruce up a wilting lineup and bring an element of fun. Grant tried one game show in the summer of 1972 as a signal flare of sorts—an odd game called The Amateur's Guide to Love starring Gene Rayburn. It was gone in 13 weeks. Undeterred by the failure, Grant proceeded with a revamp of the CBS morning schedule. Effective September 4, 1972, the network's A.M. sitcom reruns were replaced by three new game shows.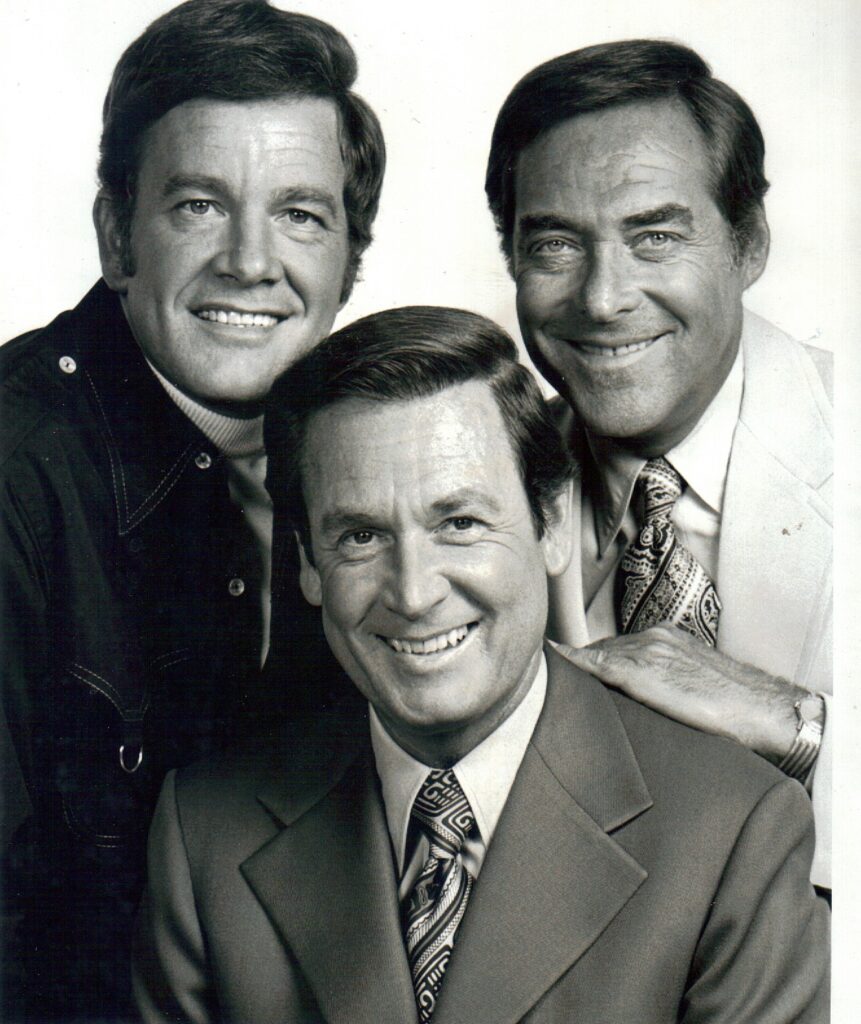 Premiering at 10 a.m., The Joker's Wild. Jack Barry, the host/producer who had become a face for the quiz show scandal because of his implicated series, Twenty One, had spent the 1960s attempting to rebuild his career, bouncing from Los Angeles to Florida to Toronto for work. While in Florida, he struck up a friendship with an imaginative budding TV producer, Justin "Lefty" Edgerton. Edgerton showed up at Jack's house one day with a slot machine and asked, "Do you think we could make a game show out of this?"
They tinkered with several ideas until they hit upon putting trivia categories on the wheels, plus a wild card—the Joker. CBS financed pilots in 1968, hosted by Allen Ludden, but ultimately passed. In 1972, Barry tinkered a bit with the format (the original idea involved a celebrity panel along with the slot machine, and Barry jettisoned the celebrities). One particular CBS executive, Fred Silverman, advocated on Jack Barry's behalf. With Silverman in his corner, Barry sold The Joker's Wild, with himself as host. Edgerton served as producer and graphics artist, responsible for drawing the iconic Joker and the distinctive cartoon images that identified each category.
Two contestants took turns pulling the lever for the category wheels (a set of three slide projectors that were mounted on top of slot machine gears). The number of times a category appeared determined the value of the question. Jokers were wild—they could boost the value of one category, or used to play a category that wasn't on the wheels. $500 won the game, but a contestant could win the game instantly by spinning three jokers, a moment always punctuated by Barry's "Joker!…Joker!…JOKER!!!," and answering a single question.
Barry's former business partner, Dan Enright, who had similarly been exiled because of the scandal, returned as executive producer later. Joker would enjoy nearly three years on CBS. When the network cancelled the show, Barry & Enright sold new episodes to local stations through syndication. The revived Joker's Wild performed so well that it outlived Barry. He died in 1984, and Joker lasted until 1986 (Bill Cullen took over for the final two years). But Barry ended his life redeemed and vindicated, a successful businessman who had relaunched his career and made the best out of a second chance.
At 10:30 a.m.—well, we'll get back to that…
At 11 a.m. was Gambit, from Merrill Heatter-Bob Quigley Productions, the firm responsible for Hollywood Squares. A CBS stagehand had told Heatter-Quigley staffer Art Alisi about an idea that he called Celebrity Blackjack. Heatter and Quigley liked it but revamped the format—like The Joker's Wild, it was supposed to have celebrities, and like The Joker's Wild, that idea got dumped—and turned it into Gambit. Two married couples answered questions posed by Wink Martindale for control of the top card on the deck—a correct answer meant you could keep a card for yourself or pass it to your opponent.
The couple closer to 21 without going over, or busting, won the game. Dealing the cards was actress Elaine Stewart, a/k/a Mrs. Merrill Heatter.
Gambit lasted for over four years on CBS. In 1980 it re-emerged on NBC for a single year of Las Vegas Gambit, taped at the Tropicana Hotel & Casino. Wink Martindale shared his memories of this and the many other shows he hosted during his illustrious career in an interview with NAGSH, available soon for viewing on our website.
As for that show at 10:30 a.m., you've probably heard of this one…The Price is Right. Well, it was The New Price is Right on September 4, 1972. The original Price is Right, starring Bill Cullen, had enjoyed nine years in daytime and seven years in prime time during the '50s and '60s. By 1972, the time was right for The New Price is Right.
The Goodson-Todman staff re-invented the original auction-bidding show into a games-within-a-game format, with winning bidders playing a pricing game for additional prizes; three pricing games on each half-hour show. On September 4, 1972, the series began with five pricing games in rotation. As the show grew more popular—and as the show just plain GREW, expanding to one hour in November 1975—more pricing games were added. Over 100 games have rotated in and out since then.
The search for the host ended up being surprisingly tricky. Bill Cullen was offered the job—he had already done it for nine years after all—but The New Price is Right was going to tape in Hollywood. Cullen, who was hosting Three on a Match, sitting on the panel of To Tell the Truth, appearing in commercials for a regional department store chain, and spinning records as a disc jockey, all in New York, and being paid quite handsomely for each of those gigs, declined.
Bill Todman had seen Dennis James, a veteran television emcee (he had been hosting shows since the earliest experimental broadcasts of the 1930s) guest-hosting Let's Make a Deal and signed him to host the once-a-week nighttime version of Price that Goodson-Todman would be selling to local stations in syndication. That would seem to have ensured the job of hosting the CBS run for James. But a large number of NBC stations had signed up for the nighttime version, enough that CBS felt as if it would look like an NBC star was on CBS. So James was out.
CBS turned to a third choice, Bob Barker. Barker had logged nearly 16 years by this point as host of Truth or Consequences, a show with many different games, and a show which picked contestants on the spot from the studio audience, as Price would. He was the right man from the job. He proved it with 35 years at the helm of Price. The show is still going strong today with Drew Carey, who has now logged 15 years, nearly half of Barker's tenure.
WHAT ELSE IS ON? DO YOU REMEMBER…THE OTHER GAME SHOWS ON SEPTEMBER 4, 1972?
SALE OF THE CENTURY (NBC) – Joe Garagiola hosted this game. Contestants answered trivia questions worth $5, $10, or $15. Throughout the game, they could be tempted by instant bargains (an $800 television set for only nine dollars), and a returning champion could save their money over several days for bigger purchases, like a Caribbean cruise for $120.
THE WHO, WHAT, OR WHERE GAME (NBC) – Art James hosted this tough quiz. Contestants saw a category with odds posted on a who question, a what question, and a where question. The higher the odds, the tougher the question. The contestants placed bets on the questions they wanted to answer, with correct answers paying off according to the odds. The show was created by Ron Greenberg, who spoke to NAGSH about his long career in a forthcoming video.
PASSWORD (ABC) – Allen Ludden's venerable word association game was still going strong in the 1970s, a decade that made Password legendary because of the stunning roster of stars who played (Henry Fonda, Burt Reynolds, Lucille Ball, Mary Tyler Moore, among many others) and Ludden's eccentric wardrobe of safari jackets, ascots, and butterfly collars.