Frequently Asked Questions
---
Have membership questions? Check out the information below.
General Membership Questions
Do I need to make a reservation online before visiting?

No, members do not need to reserve tickets online. Members may come to the museum at any time with just their membership card and photo ID. Your membership card is the key to entering the museum and accessing your parking validations. Bring it every time you visit.
If I order a membership online, can I use it right away?

Yes, the membership becomes active as soon as your payment is processed. You will receive an email with a barcode that you can use to scan in. You can pick up your membership cards at the admissions desk or reply to the confirmation email and request we mail them to you.
Can I purchase ropes course and butterfly garden tickets with the member discount online?
If I renew before the month my membership expires, will I lose any time on the renewed membership?

If you renew early, we will add one year to your existing membership. You will not lose any time. You will receive the full 12 months of membership you purchased. Your parking validations will be reset when you renew and any unused validations will be lost. If you do not want to lose your validations, please renew after you have used all of your validations.
I've lost my membership card, what should I do?

Please send an email to info@museumofplay.org or stop by the museum admissions desk to request a new card. Your first card reprint will be complimentary; future reprints will incur a $5 processing fee.
Does the museum have a digital membership card?

Not yet, but you can still use your phone with your membership card.

Take a picture of your membership card with your phone and then present the picture when you check-in. We can scan the picture directly from your phone.
Use an app like Key Ring, Stocard, or Pass2u to create a digital membership card on your phone. We can scan the barcode from the app on your phone.
Are there any discounts on membership?

Yes! There is a $5 discount for:

Active-duty US military and US military veterans (Air Force, Army, Coast Guard, Marines, Navy, and National Guard) who present valid identification.
Employees of businesses that are part of the museum's corporate partner program. Please contact mgillow@museumofplay.org to see if you qualify.
Is membership to The Strong museum tax deductible?

The Strong is a 501(c)(3) not-for-profit educational organization supported in part by membership contributions. Memberships at the Sustaining- level ($500) and higher are tax deductible to the extent that the law allows. Please consult your tax advisor.
Terms and Conditions of Membership

Membership is non-refundable, non-transferable, and cannot be placed on hold. Fees and benefits are subject to change without notice. Membership may not be shared by multiple households. Photo ID and membership cards are required at each museum visit. Name changes will incur a $5 processing fee.

This membership is a revocable license for the member and permitted guests. Members and permitted guests are subject to the rules and regulations of The Strong. Members and guests assume all risks and dangers of personal injury, property damage, and other hazards incidental or in any way related to the visit, whether occurring prior to, during, or subsequent to the visit and releases The Strong, its trustees, officers, employees, agents, and affiliates from any and all liability for same arising from the visit. The Strong reserves the right to expel from the premises any person and/or revoke the membership, without refund, of any member where the presence or conduct of the member or guest is deemed objectionable by The Strong in its sole discretion, or who fails to comply with any and all security measures and applicable laws. The Strong reserves the right to limit articles brought onto the premises, and to limit large bags and similar items. Flash photography is prohibited; and still and video images may not be reproduced for commercial use without written consent from The Strong.

The Strong manages Members' personal information in accordance with applicable law. The Strong may use Members' personal information to provide goods and services, research, and send certain marketing and other materials of The Strong to Members.
Parking Questions
Do members have to pay for parking?

Basic-level memberships include six (6) free parking validations. After all validations are used, members pay $5 to park. The Benefactor-level ($300) and above receive 12 parking validations. The parking validations are electronically attached to your membership account. You will not receive physical parking passes.
How do I use the parking kiosks?

Insert your parking ticket at the exit gate or walk-up kiosk, then scan your membership card where indicated. One of your member validations will be used to open the gate or validate your parking ticket. If you are out of validations, you will be charged $5. If you forget your membership card, you will be charged $25. Watch this short how-to video to learn more.
I've used all the parking validations included with my membership, can I purchase more?

Yes, members can purchase a 5-pack of parking validations for $20. Please visit the museum admissions desk or call the museum at 585-263-2700.
+1 Guest Feature Questions
What is the +1 Guest feature?

This upgrade feature allows a member to bring a different guest each time they visit the museum. Limit one guest per membership and one use per day.
Do the adult(s) named on the membership need to be present to use the +1 Guest?

No, we consider your children members, a guest (i.e., a babysitter, grandmother, etc.) can accompany them to the museum using the +1 Guest feature without the named adults present. The guest accompanying your children must present your membership card at the time of admission.
ACM Reciprocal Network Questions
What is the ACM Reciprocal Network benefit?

With this benefit, Strong museum members will receive a 50% general admission discount for up to six people at participating ACM Reciprocal Network museums. The card holder must be present with their Strong Museum membership card showing the red R ACM Reciprocal Network logo. For more information and a list of participating museums, please visit www.findachildrensmuseum.org.
I hold a membership to another museum with the ACM Reciprocal Network benefit, what is The Strong's reciprocal admission policy?

The Strong provides a 50% general admission discount for up to six people who show a valid membership card with the red R ACM Reciprocal Network logo and a photo ID. This discount only applies to museum admission tickets. The museum will not refund admission for guests that do not have a valid membership card with ACM Reciprocal Network logo at the time of admission. This discount is not available online.
---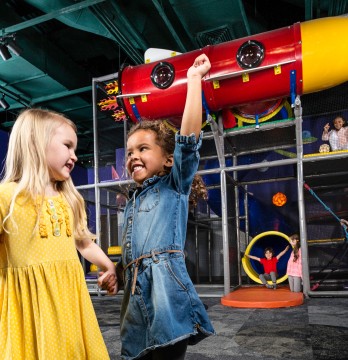 ---
Make a Donation Today
Become a champion for play and help make a difference in the lives of the children and families who play, learn, and grow with The Strong.