Let's help everyone have fun! The Strong encourages learning, creativity, and discovery through play in a safe and inclusive environment. The museum serves a diverse audience of adults, families, children, students, teachers, scholars, collectors, and others from around the globe. The museum commits to making its facility, exhibits, and programs accessible to all guests, regardless of age, class, creed, ethnicity, gender identity, national origins, race, range of abilities, religion, sex, or sexual orientation. In short, no matter who you are we welcome you here to play, learn, and discover!
The Strong takes seriously the safety, security, and well-being of its guests. The museum reserves the right to refuse service or revoke access to anyone jeopardizing this safe environment. Behaviors that may constitute action or removal include abusive language, harassment of other guests or employees, physical actions or threats against others or the institution, theft or vandalism, carrying firearms or displaying weapons, or being under the influence of illegal drugs or excessive alcohol. The Strong prides itself on providing an inclusive and playful facility—pursuant to its museum mission—and retains the right to take all actions necessary to maintain this environment.
---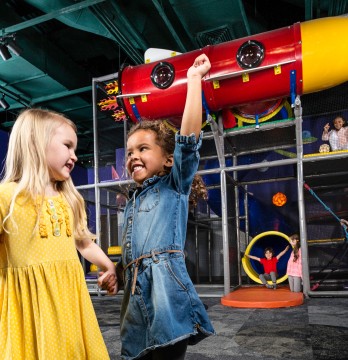 ---
Make a Donation Today
Become a champion for play and help make a difference in the lives of the children and families who play, learn, and grow with The Strong.