Inducted Year: 2017
As David Nelson Mullany, a retired semipro baseball pitcher, watched his 12-year-old son and a friend play a pick-up game with a perforated plastic golf ball and a broomstick, he decided that postwar America suburbia did not have "enough room for two teams, enough space for a field," and neighborhood baseball games led to "too many broken windows." But the ball son David A. Mullany used made throwing curve balls and sliders difficult. Father David began to cut holes in ball-shaped plastic containers he commandeered from a nearby Coty cosmetics manufacturer and young David tested the designs.
Through trial and error, the Mullanys determined that a ball with eight oblong slots cut into one hemisphere worked best at grabbing the air and diverting the ball's trajectory. The pitcher could easily throw a curve, a slider, or a knuckle ball. Wiffle Ball players used a thin purpose-built Wiffle Ball bat, which further advantaged the pitcher by handicapping the batter. The game, thus, produced a good number of strike-outs, called "Whiffs" in the Mullany's neighborhood. When Mullany began to supply local stores with the ball in 1953, he removed the "h" and trademarked the name "Wiffle."
Neighborhood games of pickup baseball required kids first to negotiate the roster, available space, and how to allow for safety considerations. Wiffle Ball slowed the game, shrunk its field, and so helped in all three areas. But something else important is at work with Wiffle Ball's success. Before young pitcher's arms lengthen and strengthen and before their wily skills sharpen, batters have the natural advantage. Minimizing the effects of size and skill, the goofy orb helped even the contest.
Headquartered in Shelton, Connecticut, Wiffle Ball, Inc. has produced millions of balls and established game rules and dimensions for field of play. In the 60 years since its introduction, whole generations have begun their baseball careers swinging at a Wiffle Ball.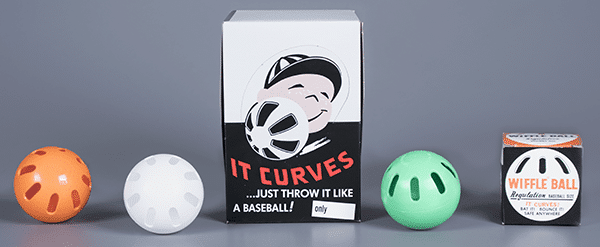 Factoyd: During the 1990–1991 Persian Gulf War, Wiffle Balls were at the top of soldiers' wish lists. The company responded by shipping Wiffle Balls and bats to the soldiers overseas.