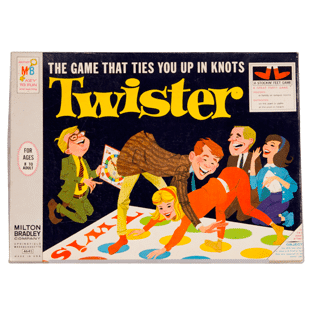 Inducted Year: 2015
In 1964 toy inventor Reyn Guyer conceived a shoe polish promotion as a game with a mat on the floor and with people serving as the playing pieces. Guyer hired an artist and a toy designer, Charles Foley and Neil Rabens, to help him with the development of the basic idea, and the three devised a game they called Pretzel. Foley and Rabens took the idea to the Milton Bradley Company, which saw promise, and the men received a patent for the design. After some deliberation, Milton Bradley utilized a printer at General Tire, which manufactured shower curtains, to print the large color spots on plastic mats. When the firm determined the name Pretzel wasn't available, it chose Twister instead. It was ready for market in 1966.
Before witnessing host Johnny Carson play Twister with actress Eva Gabor on The Tonight Show, people didn't comprehend how to play—or how humorous it was to play—the game. A public relations firm had placed Twister in Carson's lineup but then Milton Bradley discovered that Sears Roebuck refused to carry the seemingly racy game in its catalog and decided to cancel manufacture, but The Tonight Show never got word and the demonstration went ahead as planned. Eva Gabor's beauty and suggestive Hungarian accent, coupled with Carson's impeccably-timed facial expressions evoked show-stopping laughs. The very next day the single New York store that stocked the game sold out to a line of customers. Milton Bradley reconsidered production immediately and Twister sold more than three million copies in 1967.
Some saw Twister as a passing fad, but large-scale Twister matches, popular on college campuses in the 1980s, boosted sales. And increasingly, Twister found favor among very young children. Candy Land-like simplicity of play—just know your colors—and an inexpensive price keeps Twister on many toddlers' toy shelves. It's now adaptable for color blind and legally blind players. Experts praise Twister's popularity and playability among both children and adults. Most recently, social scientists used Twister as an example of how globalization influences culture. Twister is inexpensive and therefore available to any socio-economic group, and has little "cultural resistance" because anyone can easily understand it.

Factoyd: The official Guinness Book of World Records temporarily banned the Twister category "most contestants" after the University of Massachusetts in Amherst's massive Twister game involving 4,160 players in 1987. Guinness cited "evidence of officiating inconsistencies."