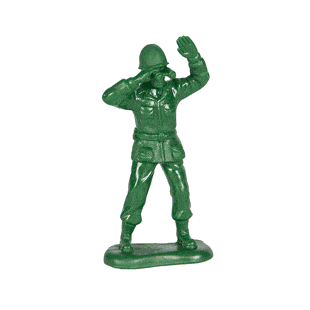 Inducted Year: 2014
Little green army men evolved from the metal and lead toy soldiers of previous generations and have been manufactured of molded plastic since the 1930s. Standing two to four inches tall, these figures represent mostly infantry soldiers of the mid-20th century United States Army. They carry the weapons of battle, as well as other equipment such as radios and binoculars, and are often packaged in large quantities in big bags or buckets with the jeeps, artillery, helicopters, and fortifications of modern warfare. Because little green army men cost a pittance to make, they encouraged a kind of play that differed from the play of metal toy soldiers. Kids lose their green figures in do-or-die battles with toy dinosaurs, space men, and model railroads. Or they stage battles with lifelike explosives using the caps from their cap pistols or purloined firecrackers from holiday celebrations.
Little green army men are about pretend play and about kids using their imaginations to create narratives, to work out tactics, and to plot strategies. These little figures might conquer the sandbox one day and save a whole make-believe nation the next.

Factoyd: Plastic little green army men became especially popular in the 1950s when parents began to worry about their children playing with toy soldiers made of lead.