Inducted Year: 2022
In 1966, a New York City window display featuring hundreds of colored lights inspired toy creators Marvin Glass, Henry Stan, and Burt Meyer. Convinced they could design and build a plaything employing this concept, they simplified and streamlined the idea, and reduced the light source to a 25-watt light bulb. Their design placed a perforated plastic panel in front of the bulb and covered the panel with a simple sheet of black construction paper. When colored translucent plastic pegs were inserted through the paper, they made an illuminated picture. Truly unique upon its introduction, the toy recalled 19th-century mosaic toys which provided colored marbles for children to arrange in pleasing patterns and shapes.
Lite-Brite evokes even more ancient artistic techniques. Roman mosaics, still uncovered today, decorated floors and walls of homes and community gathering places. Islamic tilework, which reached its peak in the 16th century, ornamented both the interiors and exteriors of mosques and palaces. The Basilica of St. Mark's in Venice features walls, ceilings, and domes decorated with tiny mosaic pieces, many composed of pure gold under a layer of glass, to illustrate religious themes but also to catch the light. An interest in mosaic work and the effects of light upon it existed as early as the 9th century.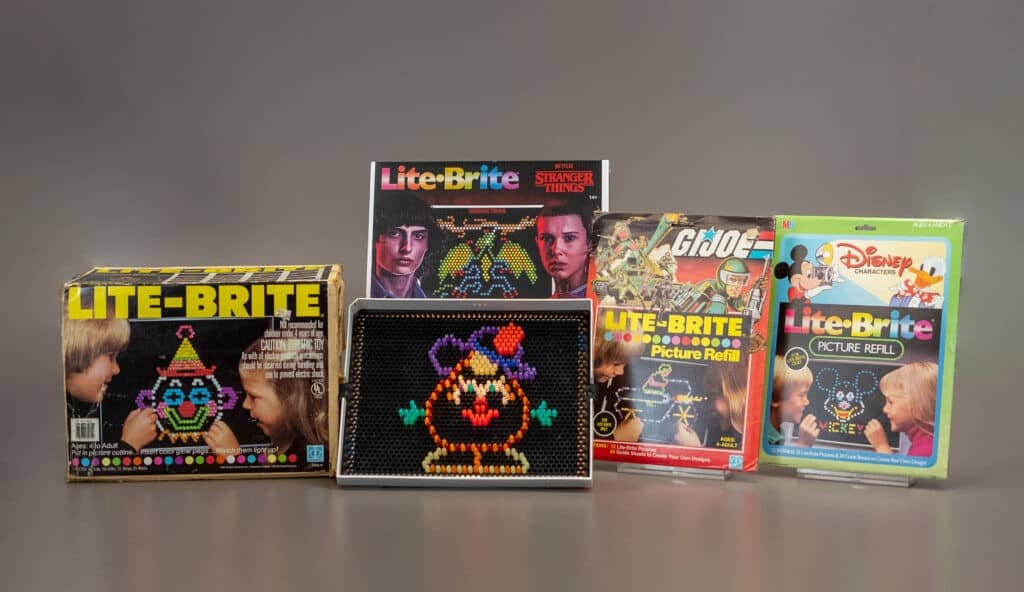 With Lite-Brite, children can follow the designs provided with the set and its expansion packs to create images of their favorite toys, cartoon characters, and other playful images. And the toy encourages creativity as kids alter the designs or make their own. Lite-Brite also functions as a teaching toy for children with autism, helping demonstrate concepts of color name, color matching, hand-eye coordination, and grip. Like other classic toys, Lite-Brite has changed over the years. Today, the toy resembles a flat screen device like a laptop or a television, lit by six LED lights inside the case and powered by three AA batteries. Variants include a 3-D cube, an FX version that spins and plays music, and both giant and small editions. Several websites host virtual Lite-Brite games and adults can express their creativity with a Lite-Brite mobile app. Whatever their shape or size, Lite-Brite play sets have encouraged people to color and draw with light, applying 20th-century technology to ancient mosaic techniques. It's a blank, black "canvas" that inspires illuminated designs for both young and old.