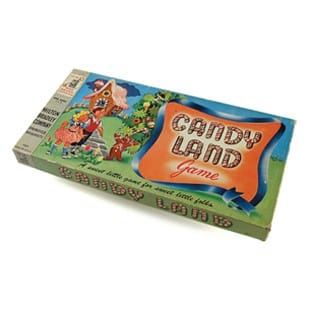 Inducted Year: 2005
In the early 1940s, when the dreaded disease polio struck thousands of Americans, Eleanor Abbott, a victim of the disease, sought to invent pastimes for children who were recuperating. Her most successful idea became Candy Land, a game many people remember fondly as the first board game they ever played.
On the advice of her friends, Abbott sent her creation to Milton Bradley, and the company introduced Candy Land in 1949. Eager players travel along the rainbow-colored trail, past the Peppermint Stick Forest and the Gumdrop Mountain, navigating impediments like the Molasses Swamp and the Ice Cream Floats. Delightful sweet treats decorate the playing board. Wooden playing pieces were used in the past, but today gingerbread men are the game's markers. Drawing simple color cards, players advance to squares of the same color, and the winner is the one who reaches the Candy Castle first. Designed for preschoolers ages three to six, Candy Land encourages socialization in playing with others, patience in waiting for one's turn, and practice in recognizing colors, learning rules, and following directions.
Milton Bradley, now Hasbro, has produced Candy Land for more than 50 years. Today, along with the standard edition, the game is available in CD-ROM, as a hand-held electronic game, and in special character editions. It is also produced in a Step-a-Tune edition featuring an oversize board and audio contributions from Grandma Nut, Mr. Mint, and Princess Lolly.
Factoyd: Teacher Eleanor Abbott created Candy Land to help entertain children who were recuperating from polio