For more information contact: Shane Rhinewald, The Strong, srhinewald@museumofplay.org;
MORE PHOTOS AVAILABLE UPON REQUEST
ROCHESTER, NY— Invent. Construct. Create. The Strong today unveiled a new, 800-square-foot maker space, the Play Lab, on the museum's first floor (near the Field of Play exhibit). The space invites guests to unlock the educational power of play and enter a playful hub with daily programming based around monthly themes. The Play Lab, included with general admission fees, will be open Saturday through Thursday 11 a.m. to 4:30 p.m. and on Fridays from 11 a.m. to 7:30 p.m.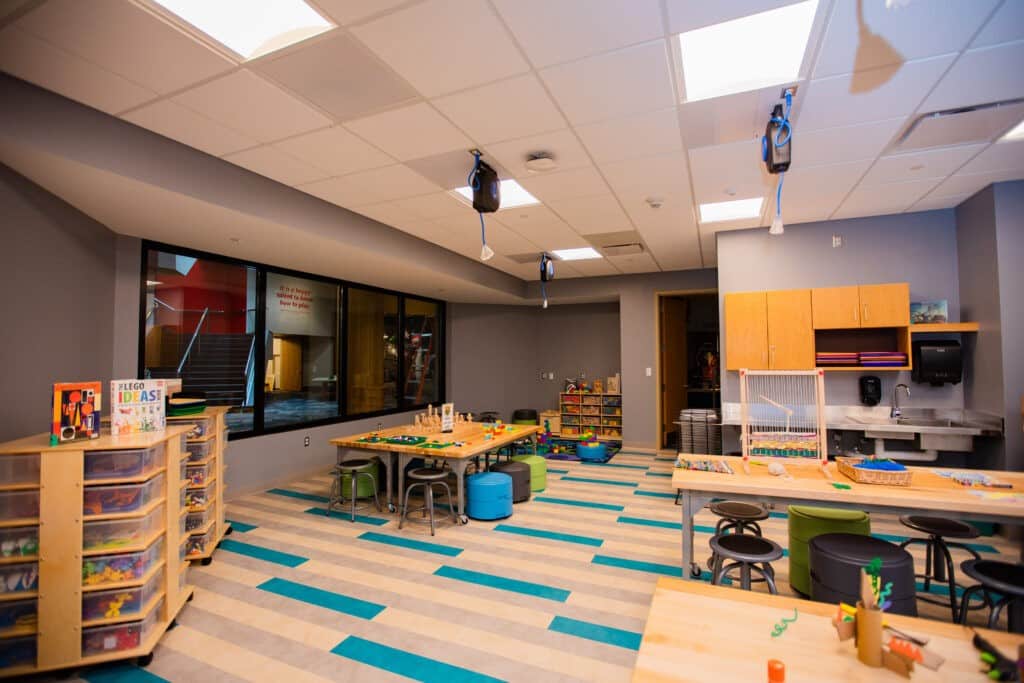 "The Play Lab allows children and their families to explore self-expression through activities that cannot be performed in the larger museum due to the level of equipment, guidance, and supervision necessary to undertake such activities in a safe, controlled, and educationally meaningful way," says Cathy DeBellis, The Strong's director of public programs. "It will be the perfect hub for learning, creative expression, and innovation."

The tools and equipment in the Play Lab were selected to align with The Strong's mission to explore play and the ways in which it encourages learning, creativity, and discovery. Every month, guests will be introduced to a new topic of inquiry such as printmaking, sound, and circuitry, and they can gain assistance from museum staff and guest creators. Participants can work with tools and equipment related to the themes, such as linoleum stamp carvers, decibel meters, and snap circuits.
Throughout the month of April, budding artists are invited to learn about printmaking—from nature printing to chalk printing—and go hands on with a range of artistic tools. Additional upcoming monthly themes include:
• May: Messy play
• June: Sounds
• July: LEGO bricks
• August: Watercolors
• September: Simple tools
• October: Circuitry
• November: Weaving
• December: Cardboard
The Play Lab was made possible through renovations occurring as part of the museum's larger, $60-million expansion project. Daily activities are included in general museum admission fees. Special, ticketed workshops will be announced in the future.
About The Strong
The Strong is the only collections-based museum in the world devoted solely to the history and exploration of play. It is home to the International Center for the History of Electronic Games, the National Toy Hall of Fame, the World Video Game Hall of Fame, the Brian Sutton-Smith Library and Archives of Play, the Woodbury School, and the American Journal of Play and houses the world's largest and most comprehensive collection of historical materials related to play.