March 28, 2023
For Immediate Release
Contact: Shane Rhinewald, srhinewald@museumofplay.org,585-410-6365
ROCHESTER, NY—The Strong National Museum of Play and Take-Two Interactive have teamed up to present Get in the Game!—a multi-faceted initiative designed to inspire traditionally underserved kids to think about careers in the video game industry. From 9:30 a.m. to 1 p.m. on March 29, the pilot session of Get in the Game! will introduce kids from the Rochester City School District to relatable role models from the video game industry with the goal of empowering these students to envision a future in the video game industry. More than 200 Rochester City School District students in grades 7 through 10 will take part in a day of interactive experiences including a Video Game Makers Fair and real-time conversations with top creators, executives, and innovators from the video game industry. The program is free for all participants and will feature successful game professionals from across the nation whose backgrounds are similar to those of RCSD students, highlighting people of color, women, members of the LGBTQIA+ community, and other under-represented groups.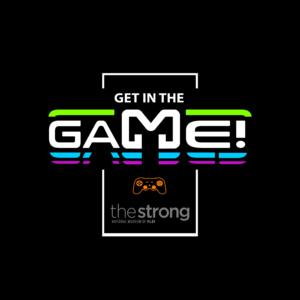 "The goal of Get in the Game! is to inspire kids to take their love for video games to the next level and to envision futures for themselves working in the field," says Cathy DeBellis, senior director of public programs at The Strong and co-chair of its Women in Games Initiative. "We're grateful to Take-Two Interactive for helping us launch Get in the Game! and all of our partners who are making it possible to share this unique program with hundreds of students right here in Rochester."
Beginning at 9:30 a.m. in the museum's Paychex Theater, students will enjoy live and virtual conversations with top creators from industry leaders Zynga, YouTube, Sugar Gamers, Workinman Interactive, and PeopleFun. After, students will participate in rotating break-out sessions, which will include:
A Video Game Makers Fair where students can talk one-on-one with representatives from the video game industry to learn more about various jobs and how they can leverage their talents and passions to fit into the industry.

Guided "My Game" brainstorming sessions where kids work collaboratively with industry leaders from Zynga, Velan Studios, PeopleFun, YouTube, Sugar Gamers, Disney, Rochester Institute of Technology, Second Avenue Learning, University of Rochester, and others to develop a concept for a new game and talk about the various roles from coders and writers to marketers, artists, musicians, and more.

Free play in The Strong's interactive exhibits, including eGameRevolution, and Pinball Playfields along with opportunities to try out virtual reality games and compete against a popular speed runner from Nickelodeon!
"Our mission is to connect the world through games, and we're proud to partner with The Strong to increase awareness in gaming careers and to broaden access for young minds from different backgrounds," said Nubia Mora, Vice President of Art at Zynga, a wholly-owned subsidiary of Take-Two Interactive Software, Inc. "Through today's event and our immersive Access All Areas virtual educational platform, we're united in a common belief that making a difference starts early."
Access All Areas, which takes students on a self-discovery tour of a virtual Zynga game studio, is on display for students to explore at the event.
To facilitate long-term engagement and support for kids who are inspired by Get in the Game! The Strong's education team has developed free online teacher resources, lesson plans, and extension materials for participating educators. Additionally, The Strong is working with partners to offer next-step opportunities for students such as hosting a summer camp in August 2023 in collaboration with Girls Make Games.
About The Strong
The Strong is the only collections-based museum in the world devoted solely to the history and exploration of play. It is home to the International Center for the History of Electronic Games, the National Toy Hall of Fame, the World Video Game Hall of Fame, the Brian Sutton-Smith Library and Archives of Play, the Woodbury School, and the American Journal of Play and houses the world's largest and most comprehensive collection of historical materials related to play.
About Take-Two Interactive Software
Headquartered in New York City, Take-Two Interactive Software, Inc. is a leading developer, publisher, and marketer of interactive entertainment for consumers around the globe. The Company develops and publishes products principally through Rockstar Games, 2K, Private Division, and Zynga. Our products are currently designed for console gaming systems, PC, and Mobile including smartphones and tablets, and are delivered through physical retail, digital download, online platforms, and cloud streaming services. The Company's common stock is publicly traded on NASDAQ under the symbol TTWO.
All trademarks and copyrights contained herein are the property of their respective holders.