Monday, April 5, 2021
For Immediate Release
Shane Rhinewald, 585-410-6365, srhinewald@museumofplay.org
To celebrate the upcoming
World">https://www.worldvideogamehalloffame.org">World
Video Game Hall of Fame induction ceremony for the Class of 2021 on May 6, join
The">https://www.museumofplay.org">The
Strong for
virtual trivia night at 7 p.m. on Thursday, April 22
. Trivia queens Julia Novakovic and Lauren Tagliaferro are back to host Video Game Trivia (*for Non-Gamers), during which participants will be asked questions related to games previously inducted into the World Video Game Hall of Fame.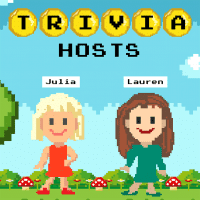 Don't consider yourself a "gamer"? No problem! During the trivia event, each question will have two paths to help you arrive at the correct answer. Whether you're a retro gaming fanatic or you haven't picked up a controller since playing your cousin's Home Pong in 1978, all attendees are guaranteed a fun-filled evening of trivia based on the video and electronic games collection at The Strong. You'll also get a sneak peek behind the scenes and have the chance to win prizes.
Regisration">https://store.museumofplay.org/webstore/shop/viewItems.aspx?cg=Strong1&a…
is $10. Tickets are not refundable. Admission to this event is not covered by museum membership and does not include general museum or butterfly garden admission. A link to stream the event will be shared via email prior to the start of the program.
Meet Your Hosts!
Julia Novakovic is the archivist at The Strong, where she preserves and makes accessible primary source documentation such as papers of game designers, toy inventors, and video game creators. She is also an adjunct lecturer in the History & Political Science department at Nazareth College. Julia has appeared on the television quiz programs Jeopardy! and Who Wants to Be A Millionaire. She is a co-host of Miss Information: A Trivia Podcast.
Lauren Tagliaferro is the curatorial assistant at the Memorial Art Gallery in Rochester, where she has curated or co-curated four art exhibitions since 2018 and assisted with various grant projects centering on collections care. Lauren is an adjunct professor in the Museum Studies program at RIT, gives frequent art history lectures for the MAG, and co-authored the forthcoming textile and decorative arts book 500 Patterns with Jeffrey Mayer and Todd Conover of Syracuse University. She has also been a contestant on Who Wants to Be A Millionaire and co-hosts Miss Information: A Trivia Podcast.