ROCHESTER, NY—In 1923, Madame Beatrice Alexander founded the Madame Alexander Doll Company and grew it into a leading doll manufacturer. The Strong National Museum of Play will honor that legacy, and the influence of Madame Alexander dolls on the way people play and collect, in a new display, "100 Years of Madame Alexander." The display, that is now open, is in conjunction with Madame Alexander Doll Company's year-long Centennial Celebration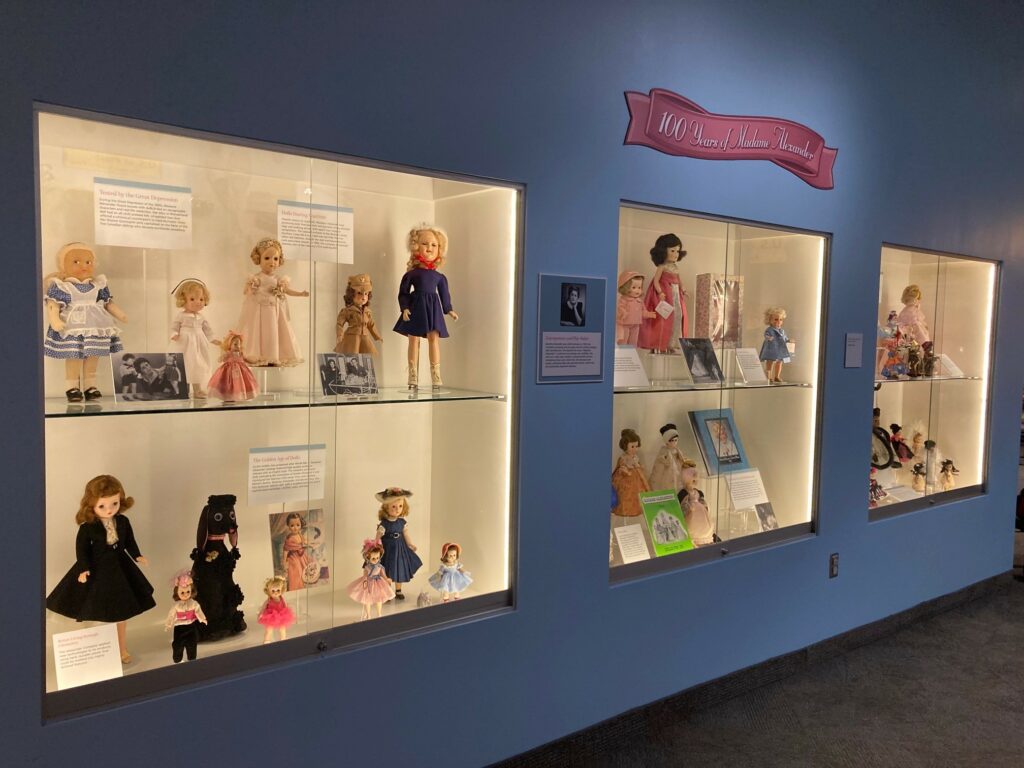 "Beatrice Alexander was a true trailblazer in the early 1900s and grew her company into more than a leading doll manufacturer. She created a lasting brand and iconic dolls that have continued to evolve for a century," said Michelle Parnett-Dwyer, curator of dolls and toys at The Strong. "Through this display, we will showcase dozens of Madame Alexander dolls through the years, following the company's history through the Great Depression and World War II, up through the present."
The display features more than 30 dolls and is structured by decade, highlighting dolls from each period, including a cloth Alice in Wonderland doll, a Jacqueline Kennedy doll, pioneering fashion doll Cissy, classic Wendy collectibles, and many others.
"Back in 1923, Madame Alexander understood that doll play created kinder kids," said David Morgenstern, Madame Alexander Vice President. "Her mission was to create dolls that could be played with and loved, and because of Madame Alexander, for the first time, dolls were made both lifelike and unbreakable. From introducing cloth baby dolls to her innovative use of plastics in dolls, Madame Alexander revolutionized the doll industry. With our Centennial Celebration—kicking off with this wonderful display at The Strong—we celebrate the impact Madame Alexander dolls have made on American childhood over the last century."
The display will remain on view through 2023.
About The Strong National Museum of Play
The Strong is the only collections-based museum in the world devoted solely to the history and exploration of play. It is home to the International Center for the History of Electronic Games, the National Toy Hall of Fame, the World Video Game Hall of Fame, the Brian Sutton-Smith Library and Archives of Play, the Woodbury School, and the American Journal of Play and houses the world's largest and most comprehensive collection of historical materials related to play.
About Madame Alexander Doll Company
For 100 years, Madame Alexander Doll Company has helped create "Kind Kids for Generations" through creativity and love through doll play. Madame Alexander herself envisioned dolls as valuable learning tools to teach children empathy, compassion and responsibility. Drawing upon decades of dollmaking heritage and expertise, Madame Alexander dolls are made with unmatched quality, so they can be cherished for years to come. All Madame Alexander dolls are beautifully designed with the credo "love is in the details" ® in mind to encourage a lifetime of play and collecting. Dolls and related accessories are available in all tiers of retail distribution in the U.S., select markets internationally, and online at madamealexander.com, Amazon.com, Walmart.com and Target.com.