Friday, July 16, 2021
For Immediate Release
Shane Rhinewald, 585-410-6365, srhinewald@museumofplay.org
Join The Strong on weekdays throughout July and August for a Summer of Play, presented by Evans Bank, that includes thematic activities such as story readings, games, physical challenges, live animals, arts and crafts, and character meet-and-greets. Each Monday, enjoy special craft activities as part of the 4-H Make-it-Mondays, head in for special story time on Tuesdays, and get "wild" on Wednesdays with animal encounters. Beginning July 19, take home an Evans Bank piggy bank—while supplies last! The summer schedule follows: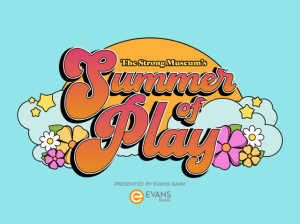 July 19 to 23: Let's Go Camping. Sit around the campfire for stories and songs and try your luck at the fishing hole. Meet Smokey Bear on Tuesday and learn about invasive species Monday through Wednesday with Finger Lakes PRISM.
 
July 26 to 30: Olympic Games. Take part in the daily lighting ceremony, create your own Olympic medal, test your skills at Olympic-inspired challenges, and learn fencing techniques with the Rochester Fencing Club.  
August 2 to 6: Down on the Farm. Meet live farm animals with 4-H, craft a backyard headband, ride a tractor, and try samples of cheese from Cabot Creamery. On Monday, meet the Dairy Queen and a calf. On Wednesday, meet 490 Farmers to learn about urban gardening, and on Friday, learn about composting with local organization Impact Earth.
 
August 9 to 13. Wild West. Transform into a sheriff, take a picture for a vintage "WANTED" poster, and help round up the cattle in a Wild West round-up game. On Monday, mine for gold nuggets with 4-H, and then meet the museum's ball python, Wiffle, on Wednesday. On Friday, learn square dancing moves with the Western NY Federation of Square and Round Dancers.|
 
August 16 to 20: Fairy Tale Friends. Listen to stories with your favorite fairy tale friends, make a bear puppet with Goldilocks, bring your favorite story to life in the puppet theater, put your skills to the test with the Beanstalk Challenge, and meet Little Miss Muffet (and her spider friend, too!)
 
August 23 to 27: Safari Adventures. Create binoculars for your adventure. Jump, crawl, and balance your way through the Get Wild Jungle Trek. Discover new friends from the museum's live collections and visit with birds of prey from Wild Wings on Monday only. On Friday, Learn about butterfly pinning from the museum's Dancing Wings Butterfly Garden staff.
All Summer of Play activities are included with general museum admission fees and presented by Evans Bank.
===============================================================
General Admission Fees: Age 2 and older $18, under age 2 free, members free. Fees subject to change.
Admission to Dancing Wings Butterfly Garden: General Admission fee plus $4 for members, $5 for non-members, under age 2 free. Fees subject to change.
Parking: Parking is available on a first-come, first-served basis in the museum's parking garage for free now through the end of July. Parking is $5 for non-members. Members can use one of their six annual parking validations during their visit. Once all validations are used, members may park in the garage for $5. More details at museumofplay.org/visit/directions-and-parking.