Friday, May 28, 2021
For Immediate Release
Shane Rhinewald, 585-410-6365, srhinewald@museumofplay.org
ROCHESTER, NY—The Strong is pleased to announce the launch of Play Rochester, a campaign and media collaboration to drive tourism to the Rochester region. The museum created the campaign in partnership with many of the Rochester region's premier cultural attractions, including the George Eastman Museum, Genesee Country Village & Museum, Rochester Museum & Science Center, and Seneca Park Zoo.
"With COVID-19 numbers improving dramatically and more families looking to venture out again this summer, now is the perfect time to highlight Rochester as a premier destination for family travel," says Sara Poe, The Strong's vice president for marketing and communications. "This campaign showcases the best that Rochester has to offer and brings many of Rochester's cornerstone institutions together with one goal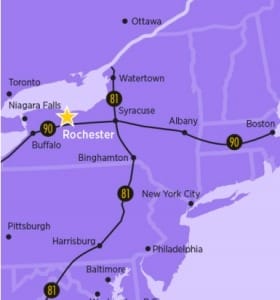 —to elevate Rochester's place as a top travel destination."
The campaign includes extensive paid marketing and digital and social media campaigns in nine markets within a five-hour drive of Rochester—Buffalo, Syracuse, Albany, Binghamton, Watertown, Utica, Elmira, Wilkes Barre/Scranton, and Erie. Creative and messaging in these markets features all the partners and educates consumers on Rochester's cultural scene. A corresponding website, PlayRochester.com, allows potential visitors to explore lodging options, learn more about each institution, and to purchase tickets.
"The Rochester Museum & Science Center is proud to be part of the Play Rochester campaign with our cultural peers because Rochester is stronger when we work together," says Hillary Olson, president and CEO of the Rochester Museum & Science Center. "Rochester has a diverse and robust cultural scene, and our collaborative nature will be extremely important as Rochester and the surrounding region recovers from the COVID-19 pandemic."
The campaign runs through the end of September. Support for Play Rochester is provided by Market New York through I LOVE NY/ New York State's Division of Tourism as a part of the Regional Economic Development Council initiative.
About The Strong
The Strong is the only collections-based museum in the world devoted solely to the history and exploration of play. It is home to the International Center for the History of Electronic Games, the National Toy Hall of Fame, the World Video Game Hall of Fame, the Brian Sutton-Smith Library and [1]Archives of Play, the Woodbury School, and the American Journal of Play and houses the world's largest and most comprehensive collection of historical materials related to play.