Monday, February 8, 2021
For Immediate Release
Shane Rhinewald, 585-410-6365, srhinewald@museumofplay.org
Learn about Shindana Toys—the Black-owned company behind the groundbreaking doll Baby Nancy—at a special, virtual discussion with The Strong at 1 p.m. on February 26. In 2020, The Strong inducted Baby Nancy into its National Toy Hall of Fame. Crafted with Black children in mind, Baby Nancy is the first Black doll that found mass popularity at home and abroad. Hosted by The Strong's Christopher Bensch, the 40-minute discussion will include a panel of experts on the history and significance of Shindana and delve into the story of its creation and evolution, their role in the community, their products, and examples of Black entrepreneurship. It will be followed by a question-and-answer session.
Participants are welcome to access this program by paying what they can here.
Shindana Toys operated from 1968 to 1983 in the Los Angeles neighborhood of Watts. Launching their line with the Baby Nancy doll, they would offer the most comprehensive line of playthings created for Black children at the time. The company was a division of Operation Bootstrap, a non-profit organization formed in 1965 by civil rights activists Louis ("Lou") Smith and Robert Hall to address systemic poverty and racism. Dedicated to Black empowerment and community uplift, Shindana Toys, named for the Swahili word for "compete," became a champion for greater Black representation in the toys and in the toy industry in the United States.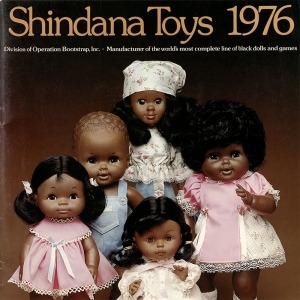 About the Presenters
Marva Smith Maxey helped found and run Operation Bootstrap, Inc., Shindana's parent organization, in 1965 along with Lou Smith and Robert Hall. A longtime community organizer in Los Angeles ever since, she was featured in the 2019 documentary on Shindana Toys produced by KCET television in California.
David Crittendon, M.A., is an educator, musician, activist, and historian. He is the author of the soon to be released novel, Then See if I Care/ A Story About Bessie Smith. He participated with Lou Smith during 1964's Mississippi Freedom Summer and the Northern Campaign in N.Y.C., 1965. He is a member of the Mayme A Clayton Library & Museum, 2013; Claiming Freedom Symposium Commemorating the 50th Anniversary of Freedom Summer, Cal State LA, 2015 and was featured in KCET's "Lost LA," 2019 documentary about Baby Nancy and the enduring legacy of Shindana Toys as a locus of community pride, economic development, and social equity.
Yolanda Hester is an historian, archivist, educator, and author who holds an M.A. in African American Studies from UCLA. She was featured in the 2019 documentary on Shindana Toys produced by KCET television in California, and has published on Black doll history, as well as the history of Black businesses in America.
Rob Goldberg is an historian and faculty member at Saint Ann's School in Brooklyn. He has written about Shindana for the Los Angeles Times, and is currently writing a book on the politics of toys in the 1960s and 1970s. He holds a Ph.D. in American History from the University of Pennsylvania.