Dedicate an OLED Butterfly
---
As The Strong National Museum of Play looks forward to the grand opening of our transformational expansion in summer 2023, we invite you to make a long-lasting mark on the museum by dedicating one of our amazing new OLED butterflies that will light-up the new welcome atrium. With only 140 butterflies available, this is a unique and playful way to support the museum while memorializing, honoring, or just celebrating a loved one of any age!
When you sponsor a butterfly, you support and help to expand The Strong's educational mission while also receiving unique recognition—an augmented reality (AR) butterfly experience that will virtually interact with the physical butterfly lights! This first-of-its-kind interactive, playful way to recognize donors could only happen at the museum of play—and we invite you to be a part of it!
When you sponsor and dedicate a butterfly for $1,500 (which you can pay over 1, 2, or 3 years)—you can choose to:
Give a unique and long-lasting gift to a child, beloved family member, or dear friend
Cherish the memory and legacy of a loved one
Raise your company's community profile
… or simply show your support for The Strong!
Each sponsored butterfly will be virtually identified with the name of the person you wish to honor or recognize for a minimum of five (5) years. You will also receive a certificate of recognition, acknowledgment of your support on the expansion's all-new digital donor installation and on The Strong's official website, and your donation is tax deductible as allowed by law.
Please call 585-410-6302 or email advancement@museumofplay.org for more information about this exciting opportunity—or simply return this commitment form via email or mail.
This project is made possible in collaboration with OLEDWorks, the world leader in OLED lighting technology.
---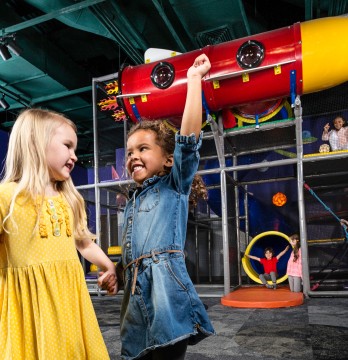 ---
Make a Donation Today
Become a champion for play and help make a difference in the lives of the children and families who play, learn, and grow with The Strong.