Discover the untold stories of women in the video game industry in the Women in Games exhibit at The Strong museum. Learn about trailblazing women and explore their accomplishments in diverse areas of the video game industry.
Game Designers and Programmers
View design documents from video game pioneers, including Carol Shaw's Polo and River Raid and Roberta Williams' King's Quest and Phantasmagoria.
Play a round of Centipede, co-designed by Dona Bailey.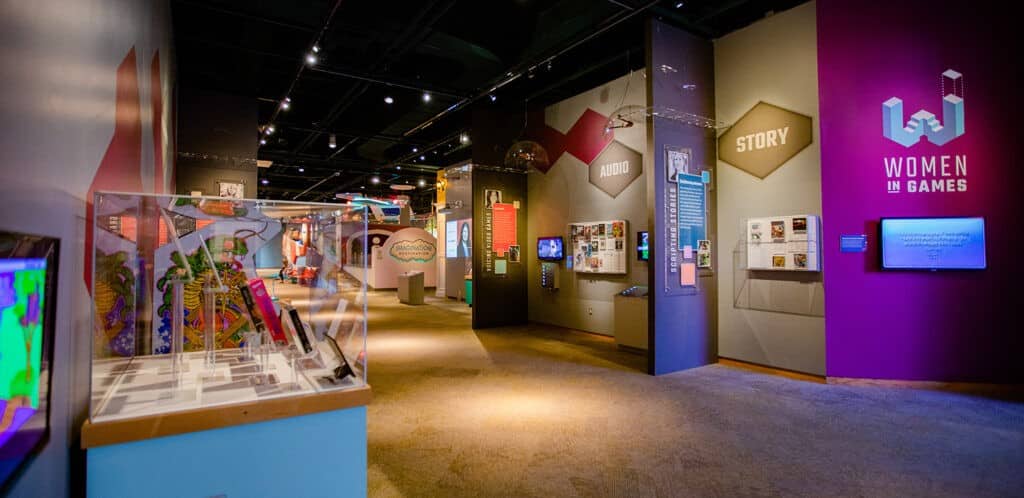 Characters
Take a look at iconic female game characters and explore common themes between characters.
See how women are portrayed in video games and decide if a popular character is shown as a heroine or damsel in distress.
View a timeline of female protagonists in games.
Examine life-sized Lara Croft statues and discuss her evolution through the years in an interactive talk-back.
Try your hand at the classic Ms. Pac-Man game.
Company Executives
Explore examples of video games marketed to girls and created by female-led companies.
Learn about the Nancy Drew series created by Her Interactive and spearheaded by the company's former CEO Megan Gaiser.
View the Rockett video game series created by Purple Moon, founded by Brenda Laurel.
Learn about the women behind the Halo franchise at 343 Industries, including Bonnie Ross and Kiki Wolfkill.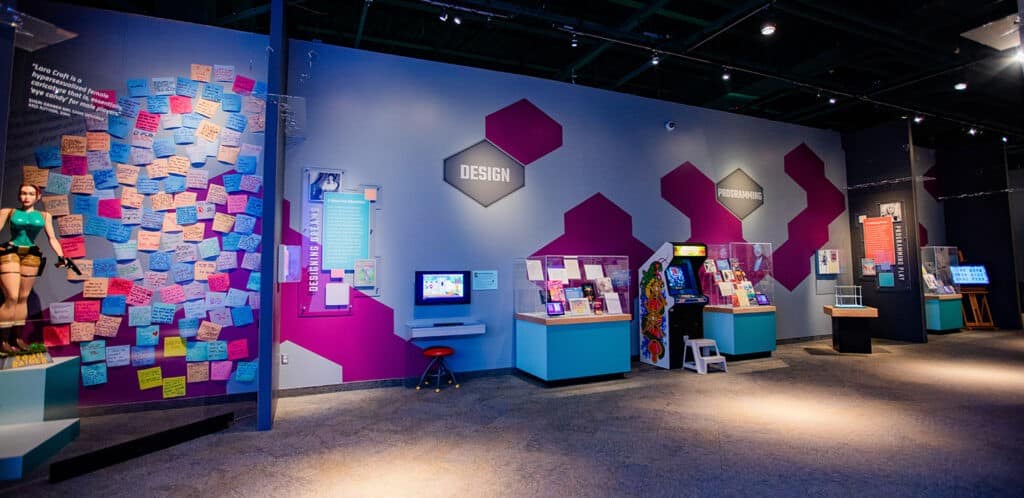 Writing and Art
View games with scripts written by women, including Amy Hennig for Soul Reaver and Uncharted, and Rhianna Pratchett for Mirror's Edge and Tomb Raider (2013).
Create your own game plot on an old-fashioned typewriter.
See graphics created by women for popular video games.
View artwork by Mari Shimazaki for Bayonetta, and Castlevania: Symphony of the Night by Ayami Kojima.
Examine game cover art by Rieko Kodama for Sonic the Hedgehog and Phantasy Star.
Watch as artwork comes to life on a digital easel.
Audio
Discover the women who create the unique sounds of a video game.
Remix music from songs created by composer Yoko Shimomura for Kingdom Hearts and Street Fighter II.
View artifacts such as sheet music created by Shiho Fuji for Splatoon.
Listen to clips of voice actresses featured in popular video games, including Jennifer Hale in Mass Effect, Jennifer Taylor in Halo, and Ellen McLain in Portal.
Non-electronic Games:
Explore board games designed by women.
See a first-edition version of Elizabeth Magie's The Landlord Game, a predecessor to Monopoly, Eleanor Abbott's Candy Land, and Leslie Scott's Jenga.

Women in Games is produced by The Strong's International Center for the History of Electronic Games.