Play house, heal a teddy bear, and save the world. Play Pals traces the evolution of dolls, action figures, toy soldiers, and plush animals through three centuries of American history. Encounter rare treasures from The Strong's collections and role-play, test your reflexes, and create imaginary worlds among hands-on, interactive stations:
Step into a life-size dollhouse complete with kitchen, nursery, garden, and family car (with working ignition, pedals, GPS, and headlights).
Measure, weigh, and test the vital signs of your favorite stuffed animals in the GUND Teddy Bear Check-Up area.
Steady your hand and test your reflexes with a teddy bear operation game.
Create stories at the action adventure table with toy soldiers, superhero action figures, and ferocious dinosaurs.
Try on gowns and accessories in the fashion dress-up area.
Marvel at cases filled with a variety of dolls, action figures, and stuffed animals from every decade. Reconnect with favorite playthings, including Teddy Ruxpin, Baby Alive, Tickle Me Elmo, and My Buddy. Also marvel at rare artifacts including a Bild Lilli Doll (which inspired Barbie), Thomas Edison's talking doll, a Steiff bear, a 1930s Mickey Mouse, and Mabel—the beloved doll of museum founder Margaret Woodbury Strong.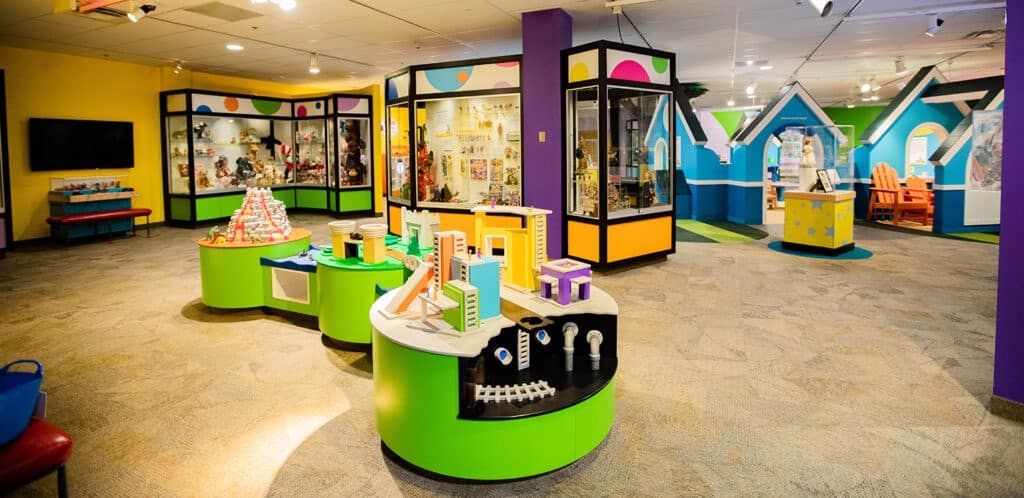 The GUND Teddy Bear Check-Up area is generously sponsored by GUND.

Newborn Nursery baby dolls and clothing courtesy of the Madame Alexander Doll Company.