Let your imagination soar! Be an astronaut, rescue pilot, construction worker, actor, and more in The Strong's original, permanent Imagination Destination exhibit. Role-play in inspiring spaces bursting with physical challenges, such as a rescue helicopter, construction site, rocket ship, and theater.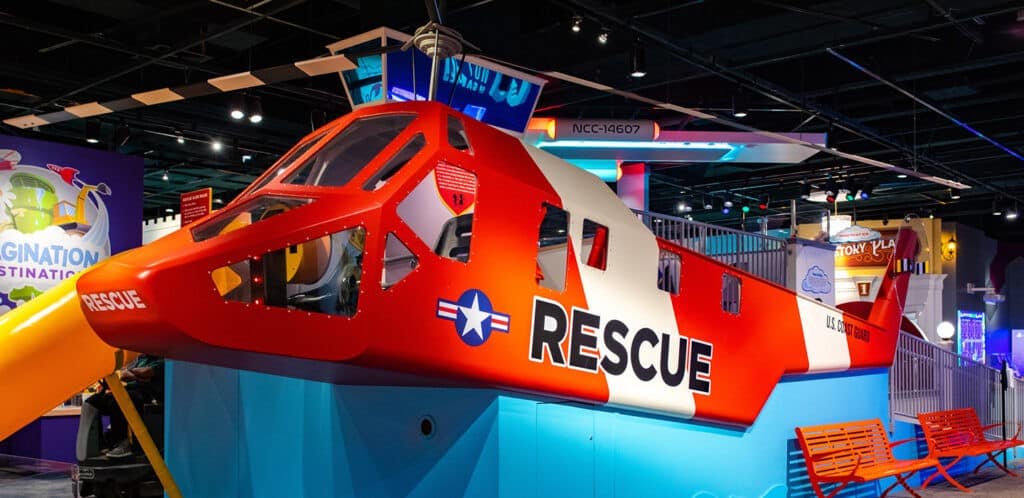 Jump into the captain's chair and take command of the bridge on the U.S.S. Strong—a futuristic spaceship replete with lights and sounds reminiscent of favorite science-fiction movies.
Climb into the cockpit of an emergency helicopter with working controls and set off on a search-and-rescue mission.
Crawl through the city sewers to fix pipes and to see live critters and crawlers, including real cockroaches.
Gather your tools and help build a house by attaching siding and shingles.
Put on a costume in front of a giant mirror. Then deliver an on-stage performance worthy of a Tony Award in the newly renovated theater.
Bust a move in the dance studio and practice your footwork while listening to classic, country, and contemporary music.
Step through a giant magnifying glass and shrink down to the size of a bug in an area specially designed for toddlers, which includes an oversized honeycomb maze.
Climb up and around a rocket ship set among the stars. Work your way through spaces packed with physical play opportunities—including a ropes maze, tube slide, climbing deck, and moon walk area.