Before heading outside to the Hasbro Game Park, learn more about the history and cultural influence of board games in Hasbro Board Game Place.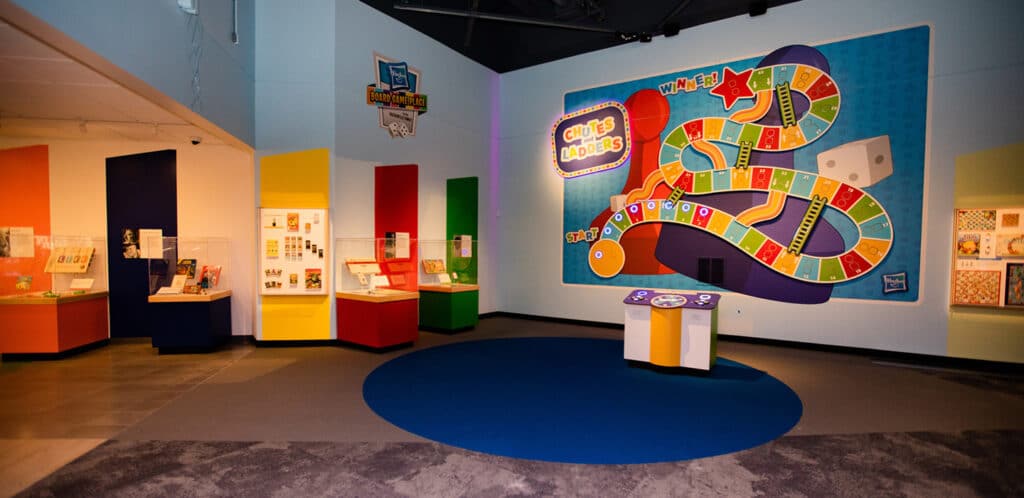 Challenge friends and family to a 15-foot-high version of Chutes and Ladders and discover the game's roots in ancient India. Then view unique artifacts and learn about the creators of other iconic games:
Explore the story of Monopoly, popularized by Charles Darrow during the Great Depression.
Learn how schoolteacher Eleanor Abbott created Candy Land in a polio ward.
Trace the origins of the Game of Life back to the 1800s and learn about co-creator of the modern version, Reuben Klamer.
Delve into the background of Simon—created by Ralph Baer, inventor of the first home video game console.
Journey through the history of Magic: The Gathering, created by Richard Garfield, which revolutionized the card game industry.
See how game maker Leslie Scott's childhood in Africa influenced her creation of Jenga.
Hasbro Board Game Place is made possible by Alan and Vivien Hassenfeld and the Hassenfeld Family Foundation.