Step into the world's most famous neighborhood at The Strong museum. Travel through five delightful decades of the iconic Sesame Street children's television series. Dozens of interactive components invite families to explore concepts about letters, words, numbers, inclusion, and diversity.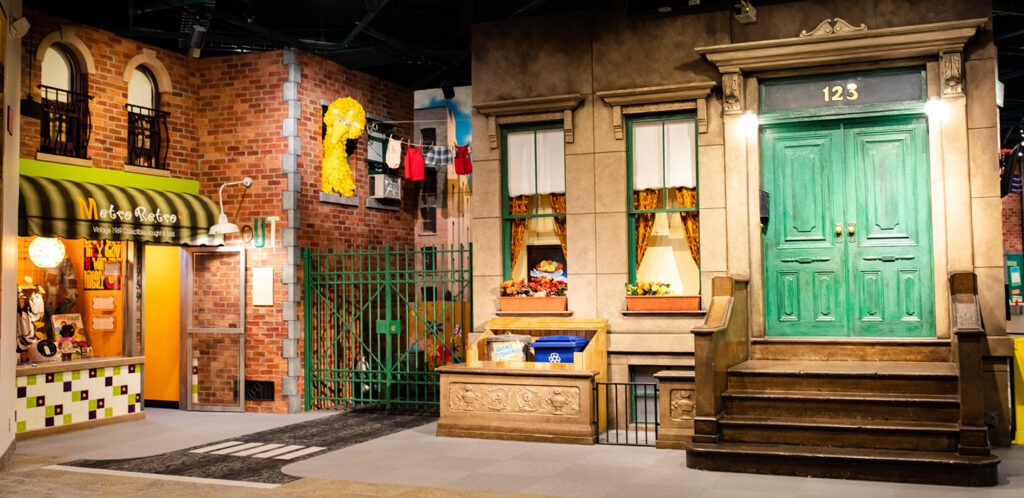 Say hello to Big Bird and sit on the famous 123 Sesame Street stoop.
Visit with Elmo, Dorothy, and Mr. Noodle in the crayon-colored Elmo's World and make your television debut with Abby Cadabby.
Cook a meal in the Cookie Monster Foodie Truck.
Use the payphone to call your favorite character.
Read a book in Gina's Daycare and pull up a chair with Yogibo sensory-friendly seating.
Pretend to drive a big yellow taxi cab with Elmo and Cookie Monster in the Sesame Street playground.
Play hopscotch, chess, and checkers.
Enjoy favorite Sesame Street episodes with Burt and Ernie in Circle in the Square Cinema.
Make a stop at Bird Travel and go on an adventure with Planet Sesame, where you can watch episodes of Sesame Street from all over the world.
Discover the history of Tickles the Monkey, a toy prototype that served as the inspiration for the Tickle Me Elmo toys.
Climb into Big Bird's nest for a rest.
Can You Tell Me How to Get to Sesame Street? is produced by The Strong in collaboration with Sesame Workshop, producers of the television series.