By Adam Nedeff, Researcher for The Strong's National Archives of Game Show History
On June 19, 1952, game show moguls Mark Goodson & Bill Todman introduced a new panel game, I've Got a Secret, intended to be a summer replacement for a mystery drama, Casey, Crime Photographer. The utterly basic premise: A contestant whispered a secret about themselves to the host. The panel had to ask yes/no questions to figure out the secret. And with such a simple formula, I've Got a Secret stuck around on CBS for the next 15 years.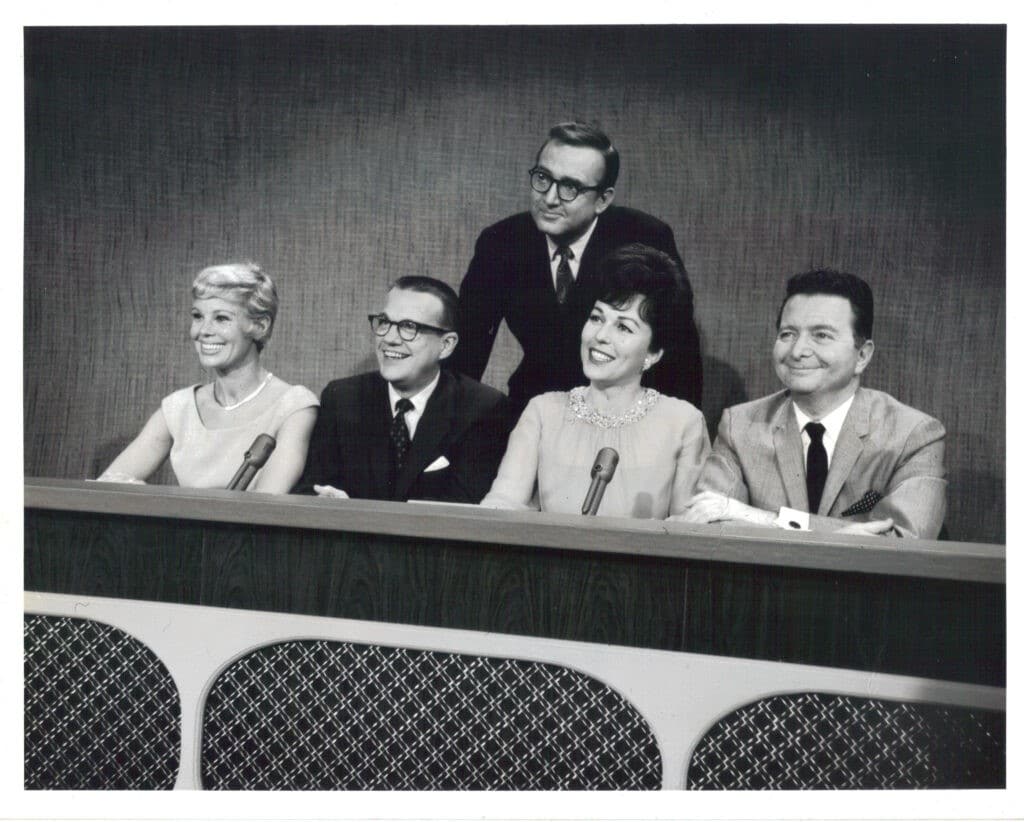 The game was created by a pair of comedy writers, Allan Sherman and Howard Merrill. Sherman, who produced the show for its first six years, went onto an unexpectedly successful career as a singer with quirky hits like "Hello Muddah, Hello Faddah" and "Pop Hates the Beatles." Merrill became a prolific sitcom writer, with credits including The Dick Van Dyke Show, Gilligan's Island, and Get Smart. Another of the other remarkable names toiling behind the scenes of Secret was stage manager Joe Papp, who created Shakespeare in the Park and helped give birth to two of Broadway's greatest hits, Hair and A Chorus Line. Production assistant Pat McCormick went on to memorable career as a writer and performer for Johnny Carson's Tonight Show, and as a frequent judge on The Gong Show.
In front of the camera, the show's stars were host Garry Moore (who was also hosting a popular daytime variety show, and then a prime time variety show, concurrent with Secret), and the panelists who did the asking and guessing: cheerful Bill Cullen, saucy Jayne Meadows, grumpy Henry Morgan, risable Faye Emerson, naïve Betsy Palmer (best-known to horror fans as Jason's mom), and glamourous Bess Myerson. Steve Allen replaced Garry Moore as host in 1964.
Although a game show on the surface, Secret was more accurately a variety show. Most of the secrets were a jumping-off point to some added fun. One contestant smoked six cigars while whistling "Smoke Gets in Your Eyes." A 67-year-old former circus strongman held a piano on his knees while a pianist perched on his shoulders to play it. An MIT professor fired a rifle at a balloon, and managed to photograph it so quickly that the photo showed the bullet exiting the balloon, which hadn't popped yet. In one extraordinary segment, a 96-year-old contestant remembered being in Ford's Theater and witnessing the assassination of Abraham Lincoln.
Every week featured a celebrity guest who added to the fun. Dashing leading man David Niven squirmed and writhed as the panelists tried to guess that he was sitting on a block of ice. Ronald Reagan walked off stage, then re-emerged through the curtain and sat back down repeatedly until the panel realized he was walking off every time one of them said "uh." Paul Newman emerged in an Ebbets Field vendor uniform and revealed that he had sold a hot dog to Henry Morgan during the baseball game that afternoon, and Morgan hadn't recognized him. And Tony Curtis revealed that his wife, Janet Leigh, was expecting a baby: Jamie Lee Curtis.
Secret returned for a single season in syndication, 1972-73, with Steve Allen once again hosting. Fittingly, the show's writer was Allan Sherman's son, Robert, who sat down with the National Archives of Game Show History for an interview about his own remarkable career with Goodson-Todman Productions. The interview will be available for viewing in the near future.
Secret would re-emerge thrice more, in 1976 with Bill Cullen as host on CBS, in 2000 with Stephanie Miller hosting for the Oxygen cable channel, and in 2006 with Bill Dwyer on Game Show Network.
DO YOU REMEMBER…THESE OTHER PANEL GAMES?
WHO PAYS? (1959) – Panelists faced people who had famous employers and asked questions to figure out who the boss was. The game was hosted by Mike Wallace, who hosted a number of game shows before switching to an extraordinary career in journalism.
LIARS CLUB (1969, 1976-1980, 1988-89) – Contestants examined unusual objects while the "charter members" on the panel gave different explanations of what the objects were and what they did. Contestants earned money for guessing which Liar was telling the truth. Rod Serling was the original host, but its most successful incarnation was hosted by Allen Ludden, with young shaggy-haired David Letterman appearing as a frequent panelist.
FIGURE IT OUT (1997-99, 2012-2013) – A Nickelodeon game, hosted by Summer Sanders and later by Jeff Sutphen, in which a contestant had a secret and the celebrities had to ask yes/no questions to figure out what the secret was. Sounds familiar.