By Adam Nedeff, researcher for the National Archives of Game Show History
As you're strolling through The Strong's new Hasbro Game Park, you'll see a 14-foot-long replica of the Scottie dog token from the classic Monopoly board game. A short walk away, there's a 9 ½-foot long replica of the race car token. There's also a 7-foot-tall hotel and a 6 ½-foot house. There's even a Get Out of Jail Free area, bars included.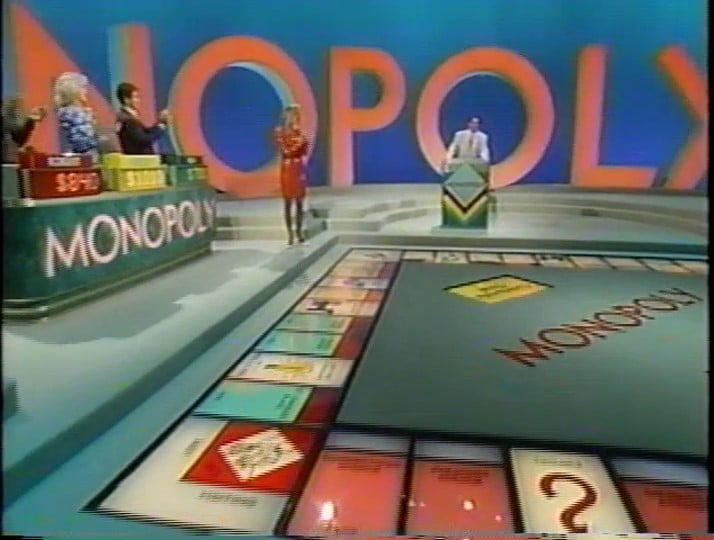 If you've ever played Monopoly, it's only natural to look at these pieces and think of how much fun it would be to actually play a game with pieces that big. And you're not alone. Merv Griffin thought it would be fun, too.
By 1990, the idea of a "Monopoly" game show had been taking shape in Griffin's company for at least three years. Marc Summers hosted a pilot in 1987 for a format that he later remembered as convoluted and confusing. The rules of the traditional Monopoly board game just didn't translate well to a 22-minute TV show.
In 1988, Griffin streamlined the format to one in which contestants spent the first half of the game solving crossword-style clues to acquire properties, and the second half of the game rolling the dice and circling the board to collect rent and bonuses. Peter Tomarken (formerly of "Press Your Luck") hosted a pilot that worked somewhat better, but he clashed with the staff, upset about the way he was asked to treat his on-camera assistant, a little person dressed as Rich Uncle Pennybags.
Why was Griffin so interested in a Monopoly game show? The answer may have revealed itself during a rehearsal game played before the pilot was shot. A contestant landed on Boardwalk, and Griffin, a real estate mogul outside of his TV efforts, proudly told the room, "I own that for REAL."
By 1990, "Monopoly" finally went on the air, in prime time. The television landscape had been unfavorable to prime-time game shows for the previous 20 years. They were rare and, they didn't perform well in the ratings, compared to daytime and syndicated games. Griffin sold the show to ABC as part of a Saturday night hour-long game block, to air for 13 weeks along with "Super Jeopardy!," a tournament of the all-time "Jeopardy!" champions from past seasons.
Beyond the stage-sized board and the glowing houses and hotels lining it, the most unusual thing about the "Monopoly" game show was its host, a 26-year-old named Mike Reilly who had been working as a waiter four weeks prior to the show's premiere. Reilly, who had been a contestant on "Jeopardy!" the previous November and acted as a contestant in Peter Tomarken's unaired pilot, was asked to come in as a contestant for a rehearsal to be hosted by Griffin while he was still looking for a host. At one point, Reilly jokingly asked if he could be host for a round and Griffin playfully obliged him…only to be surprised and impressed by how Reilly performed in the role. Griffin found his host.
The game lasted for only the initial 13 weeks that ABC ordered, but the idea of a Monopoly game show has endured. Two game shows, "Monopoly Millionaire's Club," and "Family Game Night," have featured mini-games inspired by "Monopoly." None of the games were particularly difficult, but what we have at The Strong National Museum of Play now? That's a real walk in the park.
DO YOU REMEMBER…THESE OTHER GAME SHOWS BASED ON BOARD GAMES?
SCATTERGORIES (1993, NBC) – Dick Clark hosted this show, which could have been called "The Don't-Match Game." Contestants were given a category and a letter, and had to name something starting with that letter that fit the category. The object of the game was to give an answer that WASN'T given by one of the five celebrity guest stars.
SCRABBLE SHOWDOWN (2011-2012, THE HUB) – Justin Willman hosted this series, in which contestants played a series of mini-games all inspired by the classic board game. National Archives of Game Show History co-founder Bob Boden was co-executive producer.
25 WORDS OR LESS (2018-PRESENT, SYNDICATION) – Meredith Vieira hosts this twist on Password in which contestants must convey five words at a time, and bid on how few clues they think they'll need to make their opponents say all five words.