By Adam Nedeff, Researcher for the National Archives of Game Show History
Stay up to date with the world of game shows and The Strong's National Archives of Game Show History with this recurring blog. This month, learn about the return of ABC's The Chase and the history of "beat the expert" games. (Bob Boden, one of the Archive's cofounders, produced the original U.S. version of The Chase in 2014.)
The Chase is returning to ABC for a third season. Twenty episodes will be recorded by April and scheduled to air beginning May 3. Based upon a U.K. format, members of a team battle against a "Chaser"—a noteworthy champion from other another game show—to build up the money in their bank, while trying to avoid being knocked out of the game by the Chaser. In the final round, players must work as a team to answer more questions together than the Chaser can answer on his or her own. If the team succeeds, they win the money; if they fail, they don't. That may sound as if the team has a huge advantage, but past Chasers, including U.K. game show champ Mark "The Beast" Labbett and Jeopardy! mega-champ Ken Jennings (lifetime winnings $4,372,700), have sent more than a few teams away with empty pockets.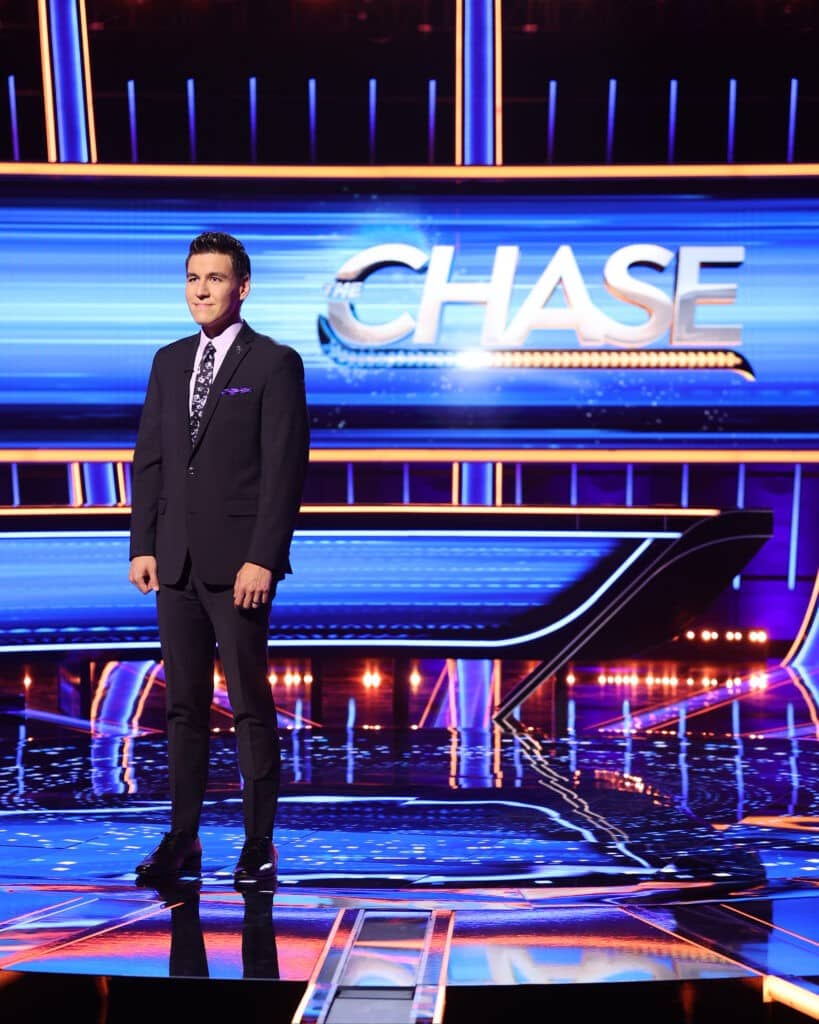 Labbett and Jennings are not returning for season three. This year's Chasers are:
Veteran Chaser Brad Rutter (nearly $5 million won on Jeopardy!)
Veteran Chaser James Holzhauer (who won $58,333 on the original U.S. version of The Chase in 2014, before his 32-day championship run on Jeopardy! That version of The Chase was produced by NAGSH co-founder Bob Boden)
New Chaser Brandon Blackwell ($392,516 won on three U.S. game shows)
New Chaser Victoria Groce, an experienced giant killer who ended Jeopardy! champion David Madden's 19-game streak in 2005
New Chaser Buzzy Cohen, who won the 2017 Jeopardy! Tournament of Champions and guest-hosted the 2021 Tournament.
DO YOU REMEMBER …THESE OTHER GAMES WHERE YOU HAD "BEAT THE EXPERT"?
THE $64,000 CHALLENGE (CBS, 1956-58) – The first major spin-off series in U.S. game show history. Capitalizing on the success of "parent" show The $64,000 Question, this show likewise had contestants answering questions to elevate stakes that could reach $64,000. The catch was their opponent would be a former $64,000 Question contestant who had already won at least $8,000 on that show. The show's original host was Sonny Fox, better known as the host of the children's show Wonderama.
WIN BEN STEIN'S MONEY (Comedy Central, 1997-2003) – Ben Stein had a peculiar background. He was a Nixon speechwriter, an economist, a lawyer, and a character actor (remember him as Ferris Bueller's history teacher?— Anyone? Anyone?) On Win Ben Stein's Money, three contestants competed in a tough trivia competition with Stein's actual hosting salary at stake. Halfway through the game, Stein positioned himself as a "common contestant" and competed directly against the players to preserve his money. The show launched the career of announcer Jimmy Kimmel and his replacement, future Shameless executive producer Nancy Pimental. NAGSH recently conducted an interview with the show's executive producer, Terry McDonnell. His interview will be available for viewing later this year.
BEAT THE GEEKS (Comedy Central, 2001-2002) – Originally hosted by J. Keith van Straaten, then Blaine Capatch, contestants competed in a series of head-to-head battles with The Geeks, a group of experts who specialized in trivia about music, movies, and TV. Each day also featured a special guest Geek, including experts in Star Trek, pro wrestling, comic books, and hip hop testing the contestants.