By Adam Nedeff, researcher for the National Archives of Game Show History
We are deeply grateful to the estate of Betty White and Allen Ludden for their donations to the National Archives of Game Show History. "Hollywood's Happiest Couple" left behind a personal treasure trove of relics from their long and memorable association with TV game shows. Among them—a history-making Emmy Award given to Betty White for her work on Just Men!—now loaned from the estate for display at The Strong National Museum of Play.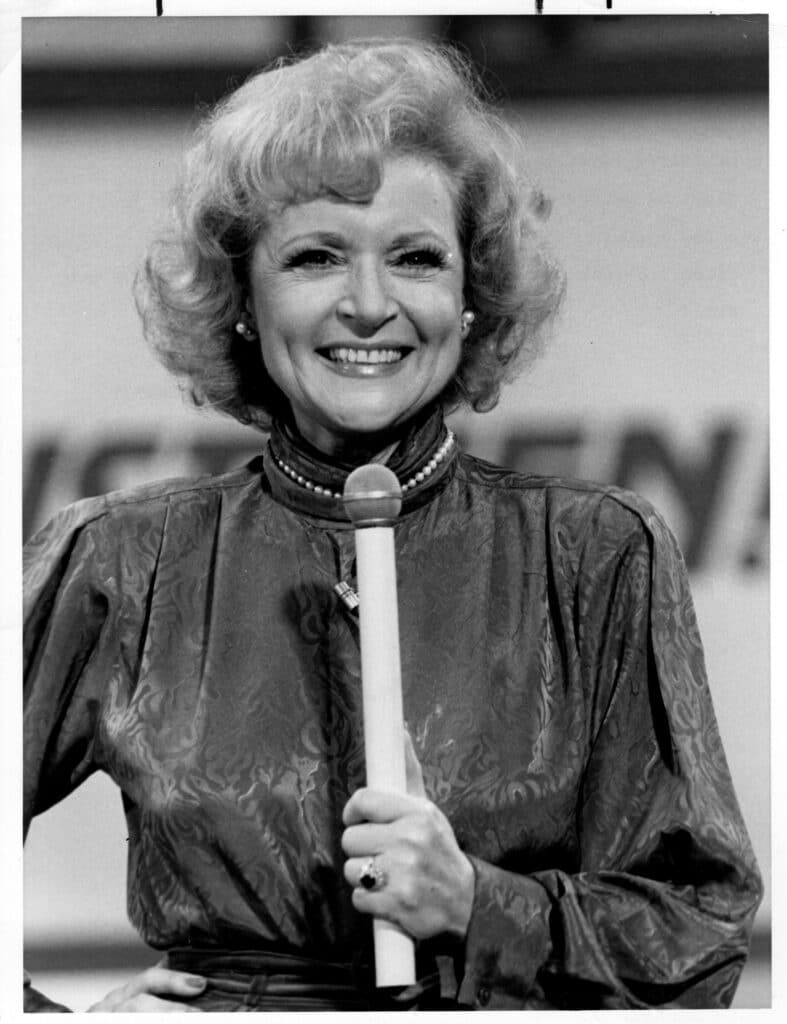 Forty years ago this month, in January 1983, NBC introduced a quirky new daytime game show, Just Men! A panel of seven male celebrities were asked sometimes suggestive questions like "If you had an affair, would you confess?" or "Would you hire a man to be your secretary?" The two contestants, always women, cross-examined the panelists to get a feel for what they were thinking, and then tried to guess which men had answered the questions a certain way. A correct guess earned the key that the man was holding, and the player with the most keys at the end of the game was the winner with a chance to win a car.
The host of Just Men! was Betty White, playing a role that she never expected to get. In the early 1960s, Mark Goodson-Bill Todman Productions, the firm behind husband Allen Ludden's Password, came up with a variation on the game called Get the Message and pitched it to ABC with White at the helm. The network felt that the public in the 60s wouldn't accept a woman as a game show host, and the job went to comedy writer Frank Buxton instead. A decade later, Betty had the chance to host a CBS game, Hollywood's Talking, for Jack Barry Productions. But told again that a woman as host wouldn't work, White was rejected, and Los Angeles disc jockey Geoff Edwards became the host.
White laughed at producer Rick Rosner when he contacted her years later about a new game show that he wanted her to host, but she went ahead and signed on because she had fun hosting the demo games that were staged in the office. To her surprise, NBC Entertainment president Brandon Tartikoff remarked that having a woman host a game like this had been a stroke of genius. White wouldn't be the first woman to host a game show (Arlene Francis, host of radio's Blind Date, had that distinction), but she'd be the first woman that many viewers had seen as host in their lifetimes.
An eclectic list of men sat on the panel of Just Men! in the next 13 weeks—among others, David Hasselhoff, George Brett, Jerry Seinfeld, F. Lee Bailey, Mr. T, Herve Villechaize, Garry Marshall, and from the world of game shows, Pat Sajak, Gene Rayburn, and Peter Tomarken.
The game was abruptly cancelled, though, when a friend of White's, NBC Chairman Grant Tinker, stayed home sick one day and watched his network's morning line-up. For the first time, he fully watched Just Men! and absolutely hated it. The plug was pulled on April 1, 1983, and unfortunately for White, it was no April Fool's joke. But White received a wonderful consolation two months later—better than any case of Turtle Wax or Rice-a-Roni. Against formidable competition from Richard Dawson and Dick Clark, White won the Daytime Emmy for Outstanding Game Show Host, making her the first woman to receive that award. Ludden (for Password) and White are still the only husband and wife to both win awards in that category.
DO YOU REMEMBER…THE OTHER GAMES THAT PREMIERED ON JANUARY 3, 1983?
SALE OF THE CENTURY (NBC)—Jim Perry hosted this game of low payoffs and high stakes. Contestants answered trivia questions worth five dollars apiece and could spend them on Instant Bargains (a trip to Las Vegas for $6) or put their money in a savings account or even bigger prizes (a Cadillac for $530, or a briefcase stuffed with $50,000 in cash, on sale for $650).
HIT MAN (NBC)—Peter Tomarken, better known later for Press Your Luck, made his hosting debut with this game. Contestants watched a three-minute movie about a subject like Custer's Last Stand or the making of Star Wars. All the questions Peter asked in the next round could be answered with information that had been in that movie.
PLINKO (The Price is Right on CBS)—The show's signature pricing game debuted the same day as NBC's slate of daytime game shows. At the time, the top prize was $25,000, and the first contestant won $6,500.