Monday, March 9, 2020
For Immediate Release
Shane Rhinewald, 585-410-6365, srhinewald@museumofplay.org
Noelle McElrath-Hart, 585-410-6325, nmcelrath@museumofplay.org
Learn how to become a powerful sorcerer during Wizard Training Break Week at The Strong museum from Saturday, April 4 through Sunday, April 12. Design a one-of-a-kind wand and explore magical spells. Test your wizardry knowledge with a scavenger hunt, dress the part by creating wizard accessories, and more.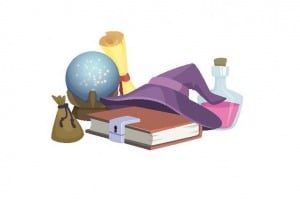 Then use your newfound knowledge in The Lost World of Dragons exhibit. Take pictures with moving dragons and discover the mythology that surrounds them. Enter "Smaug's Lair" and view his piles of gold and treasures. Explore the forge and alchemy laboratory, draw your own dragon, and complete a series of mix-and-match magnetic puzzles.
All Wizard Training Break Week activities are included with general museum admission fees. Programs underwritten by Delta Air Lines, the official airline of The Strong. The Lost World of Dragons remains on view through May 10. Presented in the Fidelis Care Gallery. The exhibit is developed by Stage Nine Exhibitions and distributed by Exhibits Development Group.
================================================================================
Museum Hours: Monday–Thursday, 10 a.m. to 5 p.m.; Friday and Saturday, 10 a.m. to 8 p.m.; Sunday, noon to 5 p.m.
General Admission Fees (does not include admission to Dancing Wings Butterfly Garden®): age 2 and older $16, under age 2 free, members free. Fees subject to change.
Admission to Dancing Wings Butterfly Garden: General Admission fee plus $4 for members, $5 for non-members, under age 2 free. Entry is by timed ticket only. Fees subject to change.
Parking: Parking is available on a first-come, first-served basis in the museum's parking garage for $5 for non-members and free for current museum members through April 30. The garage can be accessed from Howell Street on the south side of the museum. Please note that, on high visitation days, the museum garage may reach capacity early in the day. If space is not available on site at the time of your visit, additional parking is available at neighboring municipal garages for a fee. The Strong is not responsible for fees incurred at off-site locations.