Wednesday, July 8, 2020
For Immediate Release
Shane Rhinewald, 585-410-6365, srhinewald@museumofplay.org
Noelle McElrath-Hart, 585-410-6325, nmcelrath@museumofplay.org
Visit the reopened Dancing Wings Butterfly Garden and be transported to a magical world during Fairy Magic at The Strong museum from Saturday, July 11 through Sunday, November 1.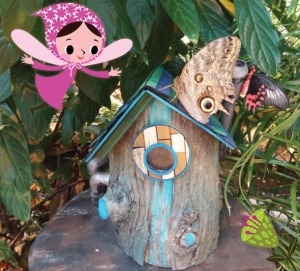 Listen to spritely music as you walk among hundreds of butterflies and whimsical flowers, including orchids and begonias. Get up close to charming fairy house doors donated by artist Chris Pallace and Kevin Serwacki of Blue Toucan Studios. Snap pictures as butterfly garden residents, such as Chinese button quail, peek at the magical dwellings.
"We're excited to welcome guests and members back to the butterfly garden," says Craig Sherwood, manager of grounds and live collections at The Strong. "The imaginative fairy houses pair great with the garden's colorful flowers and butterflies. We have been working hard to transform Dancing Wings Butterfly Garden into a magical area, and we're can't wait for people to enjoy it." 
Dancing Wings Butterfly Garden is the only year-round, indoor butterfly garden in upstate New York and is home to hundreds of free-flying, tropical and native butterflies, as well as a chameleon, turtles, a tortoise, and a green aracari toucan.
Garden fees apply for Fairy Magic. Guests may purchase general museum admission plus butterfly garden tickets at the museum's admissions desk. Presented in memory of Carol D. Simmons. Programs underwritten in part by Delta Air Lines, the official airline of The Strong.
================================================================================
Museum Hours: Reserved sessions are available Sunday–Thursday, 9 a.m.–noon & 1–4 p.m.; and Friday and Saturday, 9 a.m.–noon,1–4 p.m. & 5–8 p.m. All guests, including members, must have a timed ticket to enter the museum. Learn more at museumofplay.org/play-safe.
General Admission Fees: Age 2 and older $16, under age 2 free, members free. Non-members may visit the museum beginning July 6. Fees subject to change.
Admission to Dancing Wings Butterfly Garden: General Admission fee plus $4 for members, $5 for non-members, under age 2 free. The butterfly garden will reopen on July 11. Fees subject to change.
Parking: Parking is available on a first-come, first-served basis in the museum's parking garage for free now through the end of July. Starting August 1, parking is $5 for non-members. Members can use one of their six annual parking validations during their visit beginning August 1. Once all validations are used, members may park in the garage for $5. More details at museumofplay.org/visit/directions-and-parking.